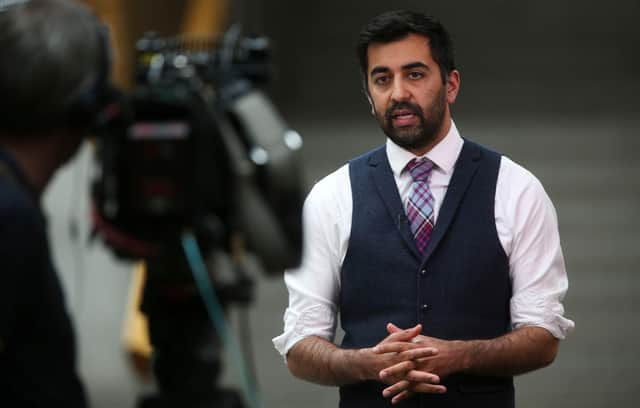 Mr Yousaf also reiterated that the Bill will not capture offensive opinion, a view supported by Professor James Chalmers: "The kind of thing that has been prosecuted under the stirring up hatred on the ground of sexuality in England has been the handing out leaflets calling for gay men to be hanged, not people shouting at each other about the definition of adult human female on Twitter."
Similarly, the Scottish Trans Alliance recently stated: "There is an obvious difference between civil debate and engaging in or encouraging others to behaviour that is threatening or abusive."
We are not confident that the distinction between 'offensive' and 'hate' will be obvious, or that real-world effects will be limited to what has been prosecuted in England, under tighter rules.
For those who do not follow the debate on sex and gender identity, it is difficult to overstate the depth of disagreement about what constitutes 'hatred'.
Some maintain it is hateful or transphobic to advocate for female-only spaces and services, or collect data on biological sex.
Across the UK, women have already faced real-world consequences for asserting that biological sex matters. They have lost their jobs, faced disciplinary action, been interviewed by the police, and had details recorded on police databases.
Scottish poet Jenny Lindsay has written eloquently about her experiences of being targeted for expressing 'wrong' opinions. Within higher education, there have been calls to remove academics from teaching, security required for lecturing, and lost opportunities to publish.
Against this backdrop, we have significant concerns about the Bill's provision for 'stirring up hatred' based on transgender identity, which currently has no freedom of expression protections attached.
Behaviour or communication need only be held to be 'abusive': how that will be interpreted remains to be established. Meanwhile, the Bill provides no protection for the characteristic of sex.
Consequently, we anticipate that the Bill will reinforce the self-censorship and institutional caution already evident in this area. We expect reporting to the police to increase, and that institutions, police, and prosecutors will come under pressure to block, investigate, or prosecute statements advocating for sex-based rights.
As an example of how low the threshold already is, in January 2019 it was reported that stickers had been seen on the University of Edinburgh campus, with slogans such as "Female is a biological reality". The university principal stated those responsible would be traced and disciplined, and that Police Scotland had been contacted.
People defending these proposals need to do better than suggest those expressing fears do not care about the victims of crimes motivated by hate. They need to explain how a law they expect to be so little used is expected to make so much difference in practice.
We concur that few incidents are likely to reach a courtroom, but think that complacently misses the point. The effects on freedom of expression will be experienced at one remove or further, from the prosecution process. Assurances from the Cabinet Secretary ring hollow. It is not in his gift to determine how this law is used.
Dr Kath Murray, Lucy Hunter Blackburn, Lisa Mackenzie work as the MurrayBlackburnMackenzie Policy Analysis Collective
A message from the Editor:
Thank you for reading this article. We're more reliant on your support than ever as the shift in consumer habits brought about by coronavirus impacts our advertisers.
If you haven't already, please consider supporting our trusted, fact-checked journalism by taking out a digital subscription.