Has England fallen out of love with Scottish accents? – Aidan Smith
The McMafia in the UK media world is not the force it once was
It was already, officially, a pretty grim autumn. Totems of TV like David McCallum and Mike Yarwood – small-screen giants from my square-eyed youth – died within days of each other last month. Then late on Friday night, a message popped up on social media that Mary Marquis had gone on her way rejoicing.
Oh no, not Mary! The grande dame of Queen Margaret Drive. Reporting Scotland's immaculate anchoress. Those Kelvinside vowels. That piled-high hair, possibly held in place with Upper Clyde rivets, yet another of the country's great feats of engineering. When she recited the headlines we believed them absolutely. As opposed to now, with news more of an elastic concept, for when I woke the next day expecting to read glowing obits there were none.
Turns out it wasn't true. Mary is still with us. "We were all in love with her" had been a typical reaction to what proved a bogus announcement, that tribute coming from Deacon Blue's Ricky Ross. Well, we all still can be.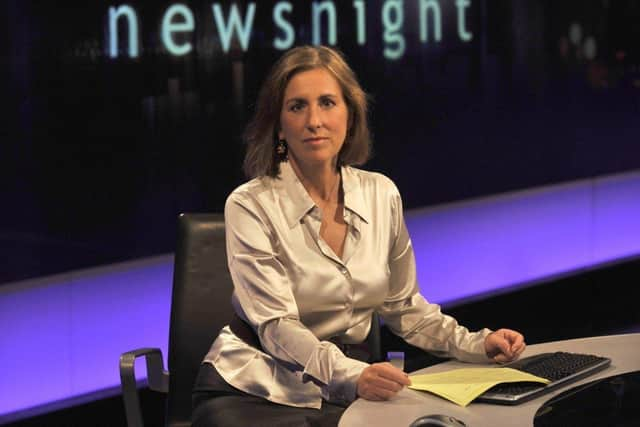 Marquis re-entering the consciousness, though, has got me thinking about Scottish voices. Turn on the TV right now and it can seem that the actor Brian Cox's is the only one still resonating UK-wide, and that to advertise central heating systems. Whither the Scottish Mafia?
Remember the special moment when our "meeja" folk seemed to be omnipresent, omnipotent and omniscient? Andrew Marr was in charge of political debate on Sundays. The other Andra – Neil – was the Bully XL of government interrogation. Nicky Campbell was prominent. The nation roused itself each morning with Jim Naughtie on the Today programme and retired each night with Kirsty Wark's helming of Newsnight.
Marquis herself went nationwide with Nationwide. She's quoted in Kenneth Roy's The Invisible Spirit: A Life of Post-War Scotland as saying: "Let's face it, you have to go to London at some point." Go, that lot did. In the Big Smoke, they've made a big noise. But the Mafia – or McMafia or Scottish Raj or whatever else became a collective term for the apparent Caledonian takeover – is not the force it was. Though Laura Kuenssberg now fills Marr's old role, the burr has quietened. And Wark has just announced she'll be leaving BBC2's flagship current affairs show after the next election.
Three decades amount to some shift with Wark stating: "It's an enormous privilege to be involved in such a rigorous, creative programme." Newsnight has been fortunate to have had her; UK broadcasting has been fortunate to have been able to call on all those Scots. My late father, a Beeb Scotland producer, was fond of declaring alliteration a "tiresome, tedious, talentless literary trick". Well, I'm obviously biased, but this gang have been tenacious tartan truth-seeking troupers.
So, doesn't the rest of the UK like us anymore? Was it something we said? Maybe, for broadcast bosses, we were a fad and now it's the turn of others. Although even when we were hot, there was a sense of Scots having to apologise for being Scottish.
In 2006, Middle England as represented by its house journal was decidedly sniffy about another Kirsty – Young – landing the gig hosting a much-loved radio institution. "Is Kirsty right for Desert Island Discs?" was the Daily Mail's headline. The appointment, the paper said, was "another example of the influence of the so-called Scottish Mafia".
Shock – Young had not been to university. Shock – she was exceedingly glamorous. "Too lowbrow," an unnamed BBC insider was quoted as saying. She was forced to deny there was any stealth or subterfuge involved in Scotland's seeming preeminence at the Beeb – for instance, involving tunnelling under Hadrian's Wall and top positions being seized by force, perhaps with a good old Glasgow Kiss. "I know we Scots do have quite a lot of good jobs," Young said, "but all I can tell you is that I'm not part of some secret Scottish organisation which rolls up trouser legs then hands them out between ourselves."
It should be acknowledged that, in 2006, "marmalade-dropper" headlines concerning Scottish influence extended beyond the goings-on at Broadcasting House. The Mail's core constituency wasn't enamoured by Gordon Brown, a frugal Fifer as Chancellor of the Exchequer in Tony Blair's government before replacing the latter, Edinburgh-born, as PM and being accused of hammering the wealthy on tax.
Also that year new British tennis No 1 Andy Murray declared his support for "anyone but England" at football's World Cup in Germany, a joke many did not get. Middle England eventually warmed to Murray after he triumphed at Wimbledon and also to Young as custodian of Desert Island Discs – and would be won over completely by her lyrical sign-off from BBC's coverage of Queen Elizabeth's funeral.
Beyond news and current affairs, our voice is still heard in TV dramas and comedies, and these days in more predominantly Scottish productions than in the past, when sometimes it seemed we were only granted minor roles as incidental characters, often shambling drunks. If this hurt we didn't show it, instead dreaming up a whole show based around a shambling drunk – Rab C Nesbitt.
We used to be big in voiceovers and especially for ads for financial services. But if the Scottish accent had previously been regarded as trustworthy, Fred "The Shred" Goodwin and the collapse of our biggest banks put a dent in that.
In 2019 a survey of UK regional accents rated us the most "attractive", ahead of Geordies and the Welsh. Conservative England seems to have fallen out of love with the Scottish voice, and perhaps the cross-border political squabbling from Brexit onwards has played a part in that. But on daytime TV, we rool OK ya bass, thanks to Lorraine Kelly, Loose Women's Kaye Adams and, maybe soon, Storm Huntley as Holly Willoughby's replacement on This Morning.
Don't try and gag us. The murmur could whip up into a storm all over again.
Comments
 0 comments
Want to join the conversation? Please or to comment on this article.