Halloween in Scotland: Traditions of the past - from apple dooking to turnip lanterns
The past few weeks have seen me writing or re-reading and editing some of The Scotsman's food and drink Halloween content, including looking through our wonderful archive of images, which has got me thinking of past Halloweens.
As with a lot of things these days, Halloween has slowly become more and more Americanised – as has our language (RIP using films instead of movies anymore). It has also meant the pumpkin reigning supreme over our traditional turnip lantern.
With this, October 31 has grown and grown in popularity, with more and more people decorating their houses with pumpkin themed decorations. There's wreaths, pillows, doormats, crockery and the much coveted, but very pricey pumpkin Le Creuset – Aldi's version just isn't the same. There has also been – I hope – more cooking with pumpkin.
The famous pumpkin spice latte from Starbucks seems to be arriving into shops earlier and earlier. With the continued commercialisation of Halloween, we seem to be losing our traditions around it, which is a shame. My nephews will be out guising, along with the children in their street, but inevitably for them it's trick or treating and there's no party piece to go alongside it.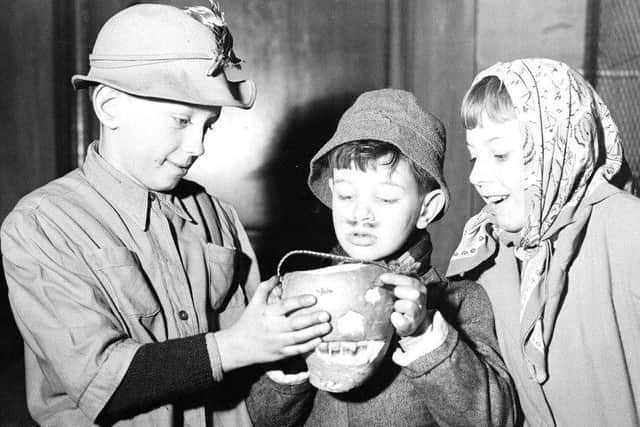 I remember the Halloweens of my childhood, going door to door and having to sing a song or recite poetry to get the treats, which were often fruit or monkey nuts rather than sweeties.
If this makes me sound about 100, I'm not, I promise. We also used to dook for apples – dooking for apples, also known as apple bobbing, dates back to a Pagan festival when the fruit was thought to be sacred – and try and take a bite of a scone, covered in treacle, hanging from a string in a doorway, without using your hands.
I have no idea where this tradition comes from – and one friend in Glasgow has never done it, so I am not sure if it was a geographical thing – but it was fun and very messy. My mother's birthday falls on Halloween, so as a family we were probably more likely to be throwing a party, hence the traditional games.
But these, plus the guising, are my memories of the night. There was also an attempt to carve a turnip into a lantern, another old tradition where the neep was carved and a candle put inside and adapted as a way to ward off the spirits of the dead at this time of year.
While I'll admit it is a lot easier carving a pumpkin, and I am a sucker for some seasonal decorating – anything to bring bright light and joy in the darker months – I do miss our traditions of Halloween.
We'll be celebrating my mother's 70th birthday today, before taking my nephews out guising. I may just bring a bag of apples, a turnip, some scones and a tin of treacle to pass on the Halloween games of our childhood, with an apology to my sister for the state her kitchen may get in.
So here's to Halloween now and from days gone by, no matter what you're up to.
Comments
 0 comments
Want to join the conversation? Please or to comment on this article.