Graham Linehan cancelled: In an increasingly Stasi-like Scotland, satire can be our saviour – Susan Dalgety
Comedian Shauny Boy, apparently Scotland's lone satirist, plans a 'political mockumentary' tentatively titled Nicola Ferguson Sturgeon: The Tartan Messiah
There would have been a few f-words, to say the least, a lot of eye-rolling and a sneer of disdain at the surreal antics of the political class he, and his creator Armando Iannucci, satirised so brilliantly in the hit comedy series The Thick of It. It has been off the air now for more than a decade. Iannucci went off to make a fortune poking fun at American politics.
His masterful TV series Veep was considered very funny, but slightly over the top, until Donald Trump came along and proved that real life is actually more bizarre than anything a brilliant comic writer can dream up. Malcolm Tucker, effortlessly played by Peter Capaldi, was last seen in the Red Lion pub next door to the House of Commons, regaling lowly parliamentary researchers with his finest moments while cadging pints.
Political satire in this country is a dying art. While the London-based magazine Private Eye and the BBC's Have I Got News For You continue to gently mock our political class, here in Scotland – where there is an abundance of material – there is nothing but tumbleweed, except for perhaps one notable exception, but more of him later.
Comedian Janey Godley, whose career has survived accusations of racism, a spell in the Tory party and an almost impenetrable Glaswegian accent, may consider herself a satirist, but she is just another SNP fan-girl. Her voiceovers of Nicola Sturgeon's daily Covid briefings, where she coined the phrase "Frank! Get the door", made most of us laugh during a difficult period, but they were nothing more than a love-letter to the First Minister. Her devotion was rewarded when Godley interviewed Sturgeon at Glasgow's Aye Write book festival in one of her first public appearances following her shock resignation.
The terminal state of political satire in the country that spawned both Iannucci and Capaldi should be a matter of concern to us all. It plays a far more important role than just providing a few belly laughs on a Sunday night. Satire, at its most effective, helps advance political arguments, particularly when such arguments are forbidden by the ruling elite. We only have to look at events over the last few days to understand this basic rule.
One of the finest comic writers of recent years, Graham Linehan, who created Father Ted, with such unforgettable characters as Dougal and Mrs Doyle, was banned from appearing at not one, but two, Fringe venues this week. According to a social media post by the first venue, Leith Arches, his views would "violate" their space.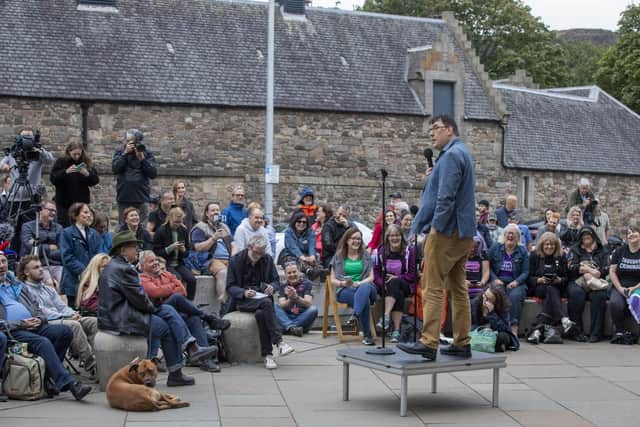 Linehan's thought crime? He doesn't believe that human beings can change their biological sex – a mainstream view one would think – but in today's 'progressive' Scotland, it is enough to get even a famous writer cancelled. His promoter, Comedy Unleashed, ended up plugging a mic into a small amp outside the Scottish Parliament where the 100-plus crowd was treated to an evening of bad jokes about comfort dogs.
Earlier that day, it was revealed that David Greig, one of the UK's best contemporary playwrights and director of the Lyceum Theatre, had issued a grovelling apology for the heinous crime of liking two tweets, both by feminist campaigners. His mea culpa was in response to an accusation on social media by writer Rosie Aspinall Priest that he held views that did not "align with the values inherent within Scotland's theatre sector". Barely had Greig deleted his social media account – presumably so that he was not tempted to indulge in 'wrong likes' again – than up popped Scottish Labour leader Anas Sarwar to announce that he had changed his mind about the SNP's gender reform bill after all.
Only a few months ago, he had whipped his MSPs into supporting the legislation he now describes as "deeply flawed". And he had contemptuously ignored the warnings of some of the most senior women in his party that the changes would affect women's sex-based rights. But with UK Labour's deputy leader Angela Rayner sitting next to him, no doubt kicking him under the table, he renounced his previously held commitment to self-ID… or did he? Who knows in a Scotland where words have lost all their meaning and blue-haired puritans have taken over?
But just as things couldn't get any more surreal, an unlikely hero wandered into view. Comedian Shauny Boy, apparently Scotland's lone satirist, announced a crowdfunder on Thursday to raise money for his forthcoming "political mockumentary", tentatively titled Nicola Ferguson Sturgeon: The Tartan Messiah. He describes it as his attempt to showcase "the hypocrisies of Sturgeonism" and warns that it will eviscerate "all of the players from the cultural and political spheres who benefitted from the PR-soaked, fantasy tartan nightmare we have all been trapped in".
I doubt if it will win a Scottish Bafta or that BBC Scotland will commission a series, but given Shauny Boy's previous work, it will be very funny, and very biting. And it might just help us break free from a political culture where a First Minister can launch an unfinished ferry with painted-on windows and no one points out the craziness, and acclaimed female poets like Jenny Lindsay are banned from venues because they write about, well, being a woman. Scottish society may be trapped in a Stasi-like state, as writer Suzanne Moore suggested this week, but satire may well prove to be our saviour.
Comments
 0 comments
Want to join the conversation? Please or to comment on this article.