Glasgow's heatwave: As thick raindrops bring relief from the heat of the night, sleep returns – Laura Waddell
'Taps aff' at 10am, pensioners' deck chairs and a paddling pool's worth of Fanta show many Glaswegians are warming to their new golden good life, but sleep can be elusive for some
The greenery was popping, tree branches and flower bushes bursting over garden walls, and every patch of grass or square upon which to idle was at its most bucolic in the sun. Workers ate lunch sitting on steps outside their homes. I envied well-prepared pensioners with deck chairs out and cans in their hands.
In the distance, across a patch of long grass, I could hear a man strumming a guitar, little but his hat visible. Passing a family dipping their feet in a blue plastic paddling pool, my mind flitted back to the man I'd seen that morning, taps aff at 10am on the already baking tarmac, as he pushed a supermarket trolley stacked with shiny two-litre bottles of Fanta. I wondered what kind of party he was planning to have with them; how much was enough Fanta to fill a pool.
My amble took me to the Govan Road Wee Forest, a verdant square of growth. I learned from the sign it was planted in 2021 during the COP26 climate summit, part of a network of tiny forests that aim to counter climate change by supporting urban wildlife and providing a place for humans to experience nature. Planted using a technique practised by Japanese botanist Akira Miyawaki, local volunteers take care of the site, a dense mix of – amazingly – 600 native Scottish trees.
It brightens up the corner of a small park, backed by tenements in neat rows, their stonework looking its proudest reflecting the afternoon's warm light. In the newsagent nearby, I scanned the shelves for anything cold. They had been doing brisk trade in ice poles, sweets, and scratch cards. Bags of ice had earlier sold out. During the heatwave, sun-seeking locals get the taste of a golden good life on their own doorsteps. We know it won't last forever.
Over the weekend, as the unsettled atmosphere threatened its inevitable storm, I was inside making my own thunder and lightning. That is, swearing on occasion while carrying out a weekly at-home treatment of IPL, the hair removal therapy which stands for Intense Pulsed Light. I admire the unshorn look when worn with confidence and a gallic shrug; with my dark hair and pale skin, going razor free in summer shorts is a more graphic statement than I want to make.
Wearing green goggles and wielding the light gun over my legs, I felt like Patrick Bateman, listening to summer pop from the radio to distract from singed hair follicles. My body happily worn out by sunshine and self-indulgence, when thick raindrops finally came, I had my windows wide open waiting. To the sound of their patter among the green leaves, I had the best sleep I've had in weeks.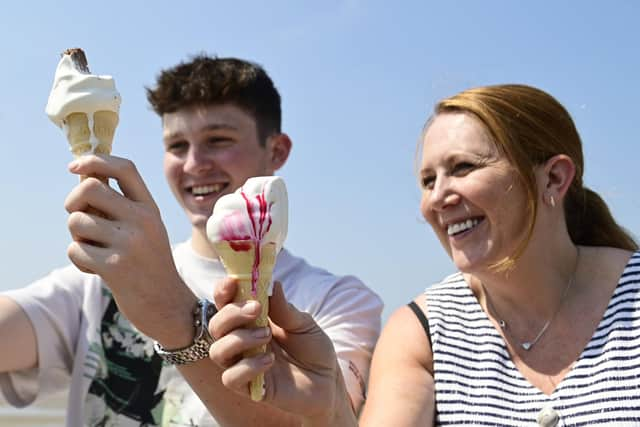 In Gloriosa, I find real culinary joy
Not due to take a proper holiday for another couple of months, I welcomed the rush of dopamine and vitamin D. I needed weekend away vibes without actually travelling anywhere. June's transportative temperature rise has given me a great excuse for an indulgent staycation of an extremely local kind. Friday was date night and, as a treat, I found myself seated in Finnieston's Gloriosa, candlelit for dinner service.
I can think of few better ways than capping off a week of scorching heat in the Costa del Clyde than with good company, a glass of wine and Gloriosa's signature focaccia – thick, salty, chewy, and served with a golden-green dish of fresh, grassy olive oil. From the wine menu, I chose a bottle of Salamandre. I think of orange wine – simply a differently hued variety of skin-contact wine – as a kind of goth rosé. What rosé is to a tipple in the sunshine, orange wine is to a long, cool summer evening. At the end of a scorching hot week, it goes down smoothly.
To start, a plate of panzanella, anchovies held. With huge wedges of flavoursome tomato on the plate, it had a visual wow factor, but I preferred the version served at Sugo on Mitchell Street, where, last month, I got to know my new work colleagues over dinner. The flavours in Sugo's were better balanced by a stronger hit of vinegar – and, points from this carb lover – more bread in the mix to soak up those lovely seasoned juices. That, at least, is my justfication for ordering a second focaccia.
Then arrived the pasta. First, paccheri rigati with Isle of Wight tomatoes, marjoram and parmesan. Cheese is the reason I am not a vegan, but a vegetarian; parmesan is where even that personal standard crumbles, the trifecta of exceptions rounded out by prawn crackers and Haribo. I used to have a real bugbear about restaurant menus erronously marking parmesan as vegetarian-friendly – because it contains rennet, it is not – but over time I gave in to convenience and gluttony.
There are few foods I enjoy more than simple, zesty pastas where herbs are key players, but while I regularly use sage, rosemary, parsley, basil and thyme at home, what do I know of marjoram? I have a new sensual impression of its warm woodsiness; my mouth waters at the thought of biting down on those ginormous al dente fresh pasta tubes, sunset orange sauce ringing the plate.
Just as I thought that was the benchmark, the star of the meal arrived: tonnarelli with crushed peas, mint and pecorino. I've eaten a lot of good things at Gloriosa; this was among the best. Buttery, indulgent, and fresh, the shape is essentially a flat spaghetti, and prone to flicking little droplets of joy off the ends when hunted down to the last strand.
Comments
 0 comments
Want to join the conversation? Please or to comment on this article.