Glasgow was an easy choice for Bruntwood SciTech's first venture into Scotland - Jamie Clyde
We're committed to developing and nurturing science and tech ecosystems across the UK by providing them with purpose-built state-of-the-art infrastructure and the specialist sector specific support they need. As home to one of Europe's most exciting and diverse tech and digital clusters, Glasgow was an easy choice for our first step into Scotland.
After extensive research, we knew that between Glasgow's rapid growth record, and highly welcoming and collaborative public, civic and academic ecosystems, it was the best place for us to expand.
That's why we put forward our plans for Met Tower, in the heart of the Glasgow City Innovation District in what couldn't be a better location - adjacent to George Square and right next to Queen Street Station, to create a new tech hub for businesses to start, scale, collaborate and innovate together.
These plans are progressing well, and we're excited to get started on what will become more than 200,000 sq ft of workspace for businesses from one person through to large corporate headquarters; they'll be a variety of flexible spaces suitable for all needs.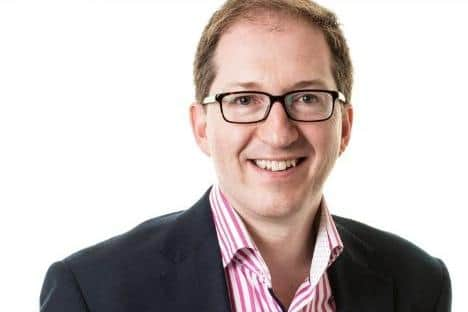 Despite a challenging year, the resilience of Scottish businesses is admirable. Bank of Scotland recently reported that the confidence of firms across the country was up eight points month on month to 30%, the highest figure since July 2022.
There is also a hugely varied talent pool in Glasgow with its science and tech sector making up more than a quarter of all jobs in the city. For us, we're investors, not just developers, and see the endless opportunities that Scotland has to offer.
With this in mind, our approach involves creating bespoke partnerships locally and embedding ourselves into the unique attributes, strengths and ecosystems of each city and their digital communities.
From start-ups to global tech companies, we want to be able to offer everything these businesses need in each of the cities that we provide workspace, so that they can embrace new opportunities, make new connections, find the highly skilled talent they seek, and access the funding they require to either get started or expand their regional, national, or international presence.
Following the initial positive reception to our £30m, 113,000 sq ft investment, we decided to further our commitment in Glasgow by submitting plans for an additional 100,000 sq ft of workspace. This has doubled our investment in the city to £60m.
The two interconnected buildings will offer tech and digital businesses the opportunity to colocate together in Grade A purpose-built space with the state-of-the-art facilities they deserve.
Both buildings will be connected and have access to a new restaurant for both the businesses located at Met Tower and the public, as well as multiple meeting rooms, a rooftop lounge and event space, a wellness room, secure cycle store with kit drying room, multi-faith room and cafe. Subject to planning, Met Tower will be open in Winter 2024 and the new building open in early 2026.
But Met Tower won't be a stand-alone cluster. Businesses working from the hub will be able to access our national network of more than 500+ science and tech businesses across 11 campuses to network and collaborate.
Our investment in Glasgow is for the long-term and, as we've demonstrated in our other cities, we are fully committed to driving forward growth. This is our first in what will hopefully be several exciting projects in Scotland.
We will use all the knowledge and experience we've earned over the past 40 years of recycling buildings and creating new world-class spaces to deliver what we hope will be a thriving, market-leading innovation hub for Scotland.
Jamie Clyde, Director of Innovation Services at Bruntwood SciTech
Comments
 0 comments
Want to join the conversation? Please or to comment on this article.