How the world's oldest life-saving body was born from Enlightenment philosophy – Susan Morrison
In the 18th century, some felt those in danger of drowning should not be saved, but Enlightenment thinking brought with it a belief that all lives have value
In 1835, Grace Darling became an overnight celebrity for her part in the rescue of the few survivors from the sinking of the Forfarshire. People sent fan mail, Queen Victoria chucked in £50, and Grace was awarded medals commemorating her courage.
She wrote a beautifully worded note of thanks for one, dated October 5, 1838: "I sincerely thank… and beg most respectfully to say that the medal, which your noble institution has been pleased to confer upon me, shall be considered a valuable relic so long as it shall please Almighty God to spare me in this world." Tragically for Grace, that wouldn't be long. She died aged only 26. She remains a hero to the RNLI.
The thank-you note was to the Glasgow Humane Society, a fellow rescue organisation. Grace was right, it is a noble institution. It's also the elder institution, founded in 1790, beating the RNLI by 34 years. Rescuing people from the water was a tricky business in the past, still is. There was little bystanders could do. How were they to help? Few could swim.
Shore-based safety equipment was fairly basic. People might throw some wood or a rope, but there was no chance of a life buoy, not until 1855, when "kisby" or "kisbie rings" were dreamt up by a British Naval officer, Thomas Kisbee.
Strangely, if you were in deep water, some felt that they shouldn't help. You might have thrown yourself there, presumably to end your troubles. That was a sin. And that was enough to stop attempted rescues. If you had fallen in, well, again, that might be some part of a divine plan. Best not get involved.
By the 18th century, Enlightenment thinking was washing over Scotland, and with it a belief that all lives have value, and that humanity could step in and change fate. Partly inspired by these new beliefs, a group of gentlemen met at the Tontine Tavern in August 1790 to found the Glasgow Humane Society. They had very clear aims and objectives. Get people out of the water alive, or failing that, recover their bodies.
The Humane Society started pulling people out of Glasgow's waterways almost at once, and the accounts of the rescues and recoveries map the growth of the city and its river. In 1790, the Clyde was shallow. People could walk across at lower tides, paddle off the Broomielaw and do laundry by Glasgow Green. But water doesn't have to be deep to be dangerous. In August 1796, "a young man, while bathing in the Clyde near Anderston was seized it is imagined with the cramp, and was drowned".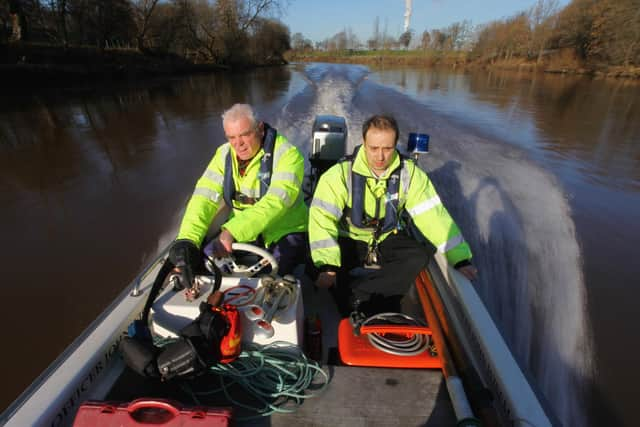 There was better news later the same day. "A woman while washing her feet in the Clyde... fell forward into the river. The society's boat was immediately put off; and she was taken up apparently dead but by using the means prescribed, she was happily restored to life."
By the middle of the next century, the Humane Society was rescuing and recovering from an industrial river. In July 1852, "the Citizen Steam Boat was going down the river, another boat came in collision with her, Mrs McKenley and her child were knocked overboard and were both drowned, the mother was got that night and the child next morning".
A full-time 'keeper' was appointed in 1859, George Geddes I. He was on call for 30 years, until he was succeeded by his son, George Geddes II who served until his death in 1932. Tragically, George Geddes III drowned during a rescue attempt in 1928.
People kept on falling into the Clyde. Thomas Arl "rolled" into the river in 1891. He was lucky. He was rescued by George Geddes, and after his recovery, confessed that had been in the company of some soldiers and women and had lost over £100. Drunkenness was a serious issue for the Humane Society. Many of the people they pulled from the river were the worse for drink. They noted that things would be greatly improved by the installation of riverbank railings, a very sensible idea even today.
Glasgow was also a city facing unimaginable levels of hardship, which led to people taking desperate action, and at their annual meetings, the society carefully noted how many suicides they were called to save or recover.
Sometimes people crashed down from a great height. On July 31, 1895, the American lady aeronaut, Miss Alma Beaumont, parachuted over Glasgow from her balloon, intending to land on the Green. Mr Geddes feared she would hit the Clyde, and readied his boat. He was right. She smacked into the water and went under, trapped by the ropes. George dived in and saved her. Mrs Geddes then loaned her a complete change of warm dry clothing, and Miss Beaumont went to the carnival she was promoting. The daring lady parachutist had form. She'd splashed down in the Tyne a few months before.
The 20th century saw the Humane Society hard at work through the wars, and all over the River Clyde. The body of young Thomas Hannah had to be recovered in a delicate operation from the river at Lanark, led by keeper Benjamin Parsonage. Being keeper seems to be a family tradition, since he in his turn was replaced by his son, George.
It's still there, and still working. There's a new man at the helm. George Parsonage is still active as a consultant, and he's also the keeper of the history, which he's thoughtfully shared online. Look it up, it's a fascinating read. You'll also find details of how to donate.
Yes, that's a very strong hint to bung a bob or two in their direction of the Glasgow Humane Society, the world's oldest, practical, lifesaving organisation.
Comments
 0 comments
Want to join the conversation? Please or to comment on this article.