General election: SNP needs to stand on cross-party independence ticket or many MPs are doomed – Kenny MacAskill
Having ruled out treating the general election as a de facto referendum, motivating independence supporters will be hard
Westminster elections are rarely comfortable for the SNP. The 2015 landslide was unique, coming in the lea of the referendum and garnering a galvanised Yes vote, with the Better Together parties divided. Normally, it's much harder to motivate independence supporters for an election to an institution they disdain. Some query why it's even contested.
It'll be even harder now. The sheen has come off the SNP, worn from without by 16 years of power in Scotland and undermined from within by scandal, headlines unremittingly grim from the arrest of senior players to the grinding down of vital public services, a new, untested leader. It's not going to get any better.
Westminster elections see the SNP fight for relevance, not just profile. The latter will be hard enough. An October or even winter election next year makes TV debates between party leaders even greater in importance. Adverse weather, dark nights, and all parties struggling to motivate activists make the media even more important. But the set-piece debates will be Sunak vs Starmer, with Yousaf sidelined and, when seen, on the back foot over devolved-issue failings.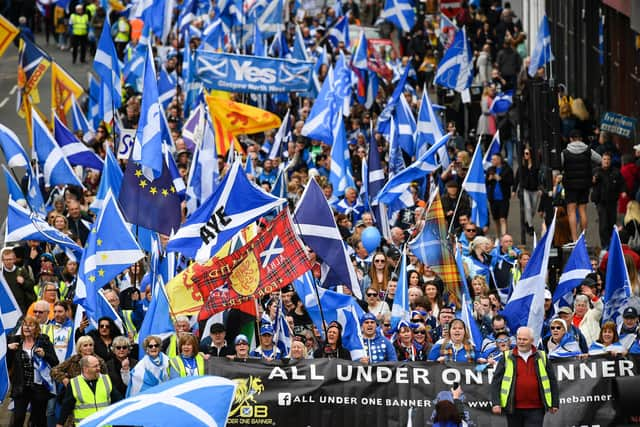 The SNP cannot form a government and are pledged to oppose a Tory one. That leaves them seeking relevance as kingmakers or Labour's conscience. Both are a hard sell. Starmer has ruled out a deal and that won't change. They don't need to as they know SNP can't oppose them.
As for keeping Labour to the left, they've hardly a track record to sell. In 2015, then SNP Westminster leader Angus Robertson sat them down on the Commons' green benches with the absurd intent of becoming the "real opposition", something they could never be, given simple arithmetic, and something, as an independence party, they should certainly not have been seeking. Even when the SNP leadership and circumstances changed, no gains were made from the leverage they had. Pledging to do so now rings hollow when they cannot point to any successes over eight years.
Having ruled out a plebiscite election, motivating independence supporters will be hard. As in 2017, the real fear must be that voters sit on their hands. They suffered then and, as things stand, history could repeat itself. They've also divided and disillusioned many SNP supporters as polls showing party support lagging that for independence confirm.
There's a way to galvanise the Independence vote and that's to have a united front for the Yes movement and push for an independence mandate. The SNP brand's damaged, a hindrance, not a help. But independence support remains in the high 40s which is quite remarkable. A Scotland United ticket, call it what you like, the equivalent of the Bloc Quebecois, offers salvation.
The SNP leadership has been approached. Reject it and they'll pay a heavy price and many of their sitting MPs know it. Too many have sat mute during all the latest shenanigans even when challenged as to what they want their political obituary to be: "Served in Westminster 2015-24"? Who knew?
To galvanise the Yes movement, it has to be cross-party and none, focussed on independence, not Westminster deals or seats. Stand as SNP and many are doomed, do so on a pan-independence ticket and they've a chance. They need to mobilise the movement.
Comments
 0 comments
Want to join the conversation? Please or to comment on this article.