But look what happens when Scotland's elected representatives, acting true to the manifestos they were elected on, do something in the Scottish Parliament that these Westminster men disapprove of. Unionist arguments for the future of Scotland within the United Kingdom so often betray through their tone a position that political powers are something that may be bestowed upon the Scots. With the threat of using a section 35 order, this logic carries through to power being taken away, overruled.
It's very possible to write dispassionately about how this constitutional diminishment of Scotland erodes our democracy. As Rishi Sunak and Sir Keir Starmer mull aloud so casually whether they'll go ahead and block a decision taken by Scotland's parliament, the facade that the United Kingdom is a nation of equals has never been so paper thin.
But living under these circumstances, I despise the arrogance of it too. That unionists of government and opposition, indistinguishably block-headed on the matter of Scotland's sovereignty, believe they have the right to rein in the leash.
This authoritarian condescension is ultimately a reflection of how, deep down, these Westminster men think of Scotland's place in the Union: as subordinate. As we can see by the use of Section 35 to block the Gender Recognition Reform Bill, they seem to think they have a god-given right to pull rank above the democratic mechanisms of Scotland.
In a debate on the matter at Westminster on January 17, Conservative MP for Sleaford and North Hykeham, Dr Caroline Johnson, accused the SNP of rushing the legislation through Holyrood. This has come up before – a letter urging the SNP not to "rush" the changes was circulated in 2019 and signed by some of its own party, including Ash Regan, who later quit over the issue.
Those in Westminster who seek to block it under the grounds that it was "rushed" appear to know very little about either the Bill, or Scottish politics in general. After two lengthy, drawn-out, much publicised, discussed, and debated consultations (the second of which was especially cruel for the minority under discussion), the Bill has been described as one of the most consulted on in the history of the Scottish Parliament. To accuse the parliament of rushing it through is either dishonest, as so much of this 'debate' has been, or deliberately dismissive of our political agency in Holyrood – or both.
The politicisation of gender reform, up until now, has been so toxic it will take time for Scotland to recover. Right-wingers worldwide, including anti-abortionists, have seen opportunity in the culture war chaos, but let us not forget the flames were first fanned in Scottish politics by those seeking to drive a wedge through the independence movement, and in particular, rival the progressive, feminist image of Nicola Sturgeon's leadership.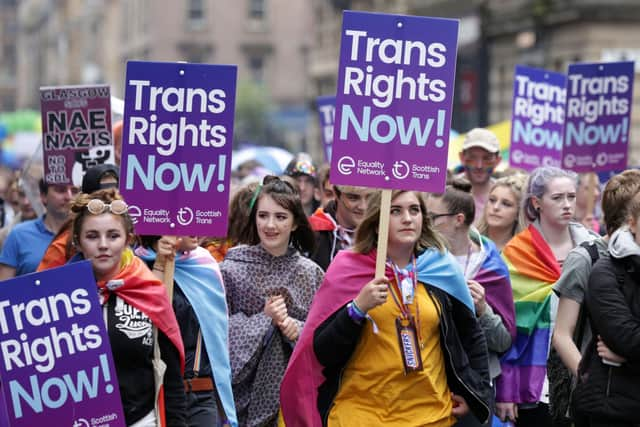 Although it became a campaign issue for Sturgeon's rivals for top job within the party and for Alex Salmond's unsuccessful Alba Party, Scottish voters never really took the bait. Will Scotland stand up for self-determination and protect all of our rights from being trampled on by Westminster?