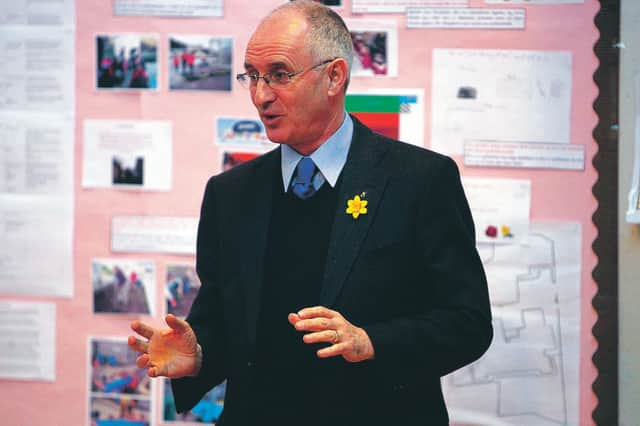 David Thompson stresses his loyalty. Picture: Matt Somerville
Although this is legal, especially as it does not have the official blessing of the SNP hierarchy, who claim to be upset that Thompson is "splitting the party", there are reasons to worry about a new political party with no other purpose than to allow nationalist votes to be double-counted.
The Scottish Parliament's electoral system – the Additional Member System – was designed to be proportional, providing a more reliable conversion of votes into seats than Westminster's notorious first-past-the-post system. It improves proportionality by using a "top up" of regional list seats, which are allocated to parties that are under-represented in the constituencies. This gives a fairer and more accurate representation of citizen's preferences, and allows a greater diversity of political opinion to be voiced in Holyrood than would occur under first-past-the-post. It also (usually) ensures that no single party wins a majority of the seats in Holyrood without winning a majority of votes.
The idea of forming a new political party as a satellite to the SNP subverts the intentions behind Holyrood's electoral system. If the SNP were to win 45 percent of the vote across all the constituencies in a region, they might win a clean sweep of constituency MSPs. The regional list gives the other fifty-five percent a voice. A party that is already over-represented in constituencies will not be allocated regional list seats for a very simple reason: they have already won their "fair" share of seats.
Alliance for Independence is seeking to exploit the fact that the Scottish electoral system allows citizens two votes: one for constituencies and one for regional lists. The purpose of permitting such "split ticket" voting is to allow people to vote tactically at the constituency level (for a party that can win), while voting for their preferred party (which may be different) on the regional list. This system has allowed smaller parties like the Scottish Greens to flourish. Although the Scottish Greens are pro-independence, and often work with the SNP, their main purpose is to represent voters who prioritise environmental issues.
By contrast, the Alliance for Independence does not appear to have any substantive policy differences or disagreements with the SNP. Thompson has emphasised his loyalty by stressing his long membership of the SNP. He openly admits that Alliance for Independence has been formed to allow nationalists to compete for regional list seats, from which they would otherwise be excluded because they are already over-represented in Scotland's constituencies. Such "satellite parties" are not usually a feature of democracies; they are more often found in non-democracies where ruling parties seek to "game" electoral systems, confuse voters, or provide an illusion of choice.
Although Scottish nationalists are rhetorically committed to proportional representation, the 2021 election will be pivotal for them.
A convincing mandate is required to support their claim for a second independence referendum. However, proportional representation is not designed to provide single parties with convincing mandates. Alliance for Independence hopes to deliver 24 list seats to add to the nationalists' tally, reintroducing the disproportionality that the Additional Member System was designed to prevent.
Scotland needs more governmental scrutiny and diversity of representation, not less. It is already in danger of becoming a "dominant party system". The dominance of a single party belies the fact that Scottish society remains deeply divided on the issue of independence, while day-to-day issues like the economy and education are in urgent need of attention.
In this context, attempts by nationalists to construct an artificially inflated pro-independence majority should set off alarm bells.
Alison Smith is an author and political analyst at Political Developments