Gaelic needs strongholds and thriving communities to survive as a language – Scotsman comment
It is astonishing to think that in the space of just 20 years between 1991 and 2011, the proportion of Gaelic speakers on Skye fell from 74 per cent to 46 per cent.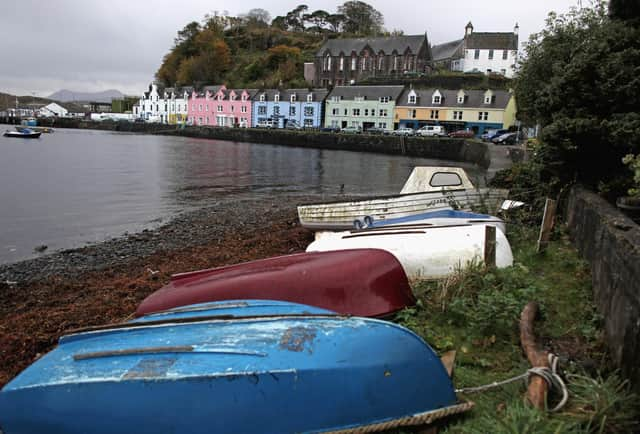 Portree aims to become a stronghold of Gaelic (Picture: Jeff J Mitchell/Getty Images)
But the town of Portree is now bidding to lead the fight to save the language on the island and beyond by turning itself into a Gaelic speaking stronghold.
Shopkeeers are being encouraged to welcome customers in Gaelic and use it on signs, while the Pier Hotel will have a Gaelic-only hour with visitors will be encouraged to join in and native speakers on hand to help.
Fay Thomson, of the Portree and Braes Community Trust, said the idea was to promote spoken, rather than written, Gaelic, to make it "fun" and "fashionable" once again.
"There is so much fun and wit about Gaelic," she said. "But everyone, of whatever age, seems to lack confidence to speak it it."
This seems like part of the approach that needs to be taken if Gaelic is to survive. A language that is not in everyday, ordinary use within a community of sufficient size is in trouble.
But maintaining that kind of community also depends on the health of the local economy, as the Scotsman's Gaelic-language columnist Murray MacLeòid pointed out, in both Gaelic and English, in an article in September: "... no recovery will ever occur in these heartlands unless action is linked to employment, to crofting regulation and to housing, all vitally important elements in allowing people to remain in these places in the first place. No people, no community, far less a Gaelic speaking one."
Fios bhon neach-deasachaidh:
Tapa leibh airson an aithris a tha seo a leughadh. Tha sinn an eismeil ur taic nas motha na bha riamh agus buaidh a' Choronbhirus air buaidh a thoirt air luchd sanasachd. Mur eil sibh air a dhèanamh mar-tha, ma se ur toil, nach beachdaich sibh taic a chumail ri ar obair-naidheachd earbsach, a tha sinn a' dearbhadh a tha fìor, le bhith toirt a-mach ballrachd digiteach.
Want to join the conversation? Please or to comment on this article.