Four long years of Brexit border warfare show the vast gulf between Scotland and England - Lesley Riddoch
Let's hand it to Boris Johnson. Announcing a Brexit deal on Xmas Eve was a master-stroke.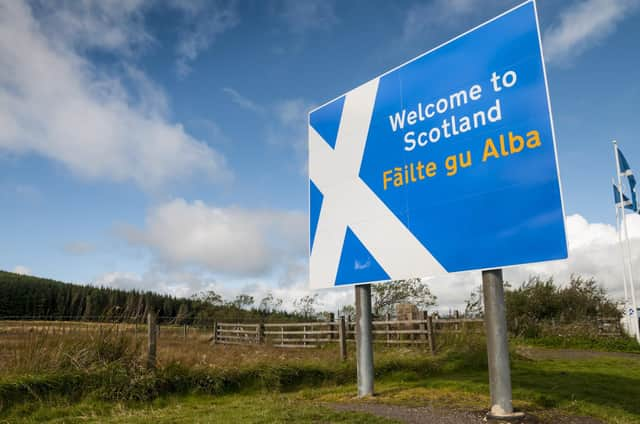 No scrutiny from TV and radio news teams; no energy amongst the British political class to object; disarray as shadow ministers threatened to resign if forced tovote for the PM's deal.
51 per cent of Brits would vote Remain today, yet no mainstream Westminster party now articulates that point of view except (sometimes) the vacillating Lib Dems - all
eleven of them. This is what passes for democracy in the Mother of Parliaments and Wednesday's vote is a foregone conclusion.
But no matter how much the Prime Minister and Brexit-supporting media fluff up his thin deal as Britain's ticket to the sunlit uplands, an inconvenient truth remains which news outlets across the world have clocked.
Scotland voted to Remain in the EU and the forces behind that distinctive position are no more resolved by 'Boris' Deal' than the quest for independence was quashed by 'Gordon's Vow'.
The secret is out thanks to Brexit - Scotland and England just see the big things in life very differently.
The 'interfering' European Court of Justice is much hated down there but looks like useful protection from a relatively progressive Big Sister up here. Why? Maybe it's the millions of workers who got their first overtime pay as a result of EU legislation. Maybe it's the fact Britain was finally forced to enact mandatory, statutory paid holidays - the last major European state to do so - by EU laws. And of course, for long decades while Westminster resolutely ignored Scotland, the EU offered recognition via the Committee of the Regions.
Now many English voters are celebrating an imminent end to freedom of movement in the belief that will limit 'harmful' levels of immigration, while most Scots are mourning the loss of their right to work, live, love and learn abroad, the lost vitality of European citizens and the Scottish industries which face collapse without a flexible, European workforce.
How is it possible for Scots and English voters to see such different outcomes in the self- same deal?
It's hard to avoid the conclusion - that the multiple crises of 2020 have only served to re-establish Scotland's distinctiveness.
Lest anyone forgets, not one single council area in Scotland voted Leave - a fact that's redrawn the border at Berwick with renewed clarity.
To the south, the North-east of England voted Leave by 58 per cent. To the north the Scottish Borders voted Remain by the very same margin.
The only consistency - each neighbour voted in line with the country it inhabits. What is that if it is not meaningful national difference - not just over EU membership but also the Prime Minister's vainglorious schtick?
Four long years of Brexit border warfare have served to accentuate national difference and minimise the perception of domestic disagreement.
And since lockdown in March, there's also been a general and palpable sense of relief that Scotland was not governed by Boris Johnson and his 'contracts for cronies' during the Covid crisis.
Of course, in European terms, Scotland's death toll has been shamefully high. But ironically, for many critics the main problem is the FM's willingness to follow the four
nations' approach and not deviate soon or hard enough from poor choices made elsewhere. Fair-minded Scots will also concede that a life-saving earlier lockdown was essentially impossible while Westminster held the purse strings plus the power to close borders and restrict foreign travel.
Hindsight is a marvellous thing.
But so too is the realisation that Scotland's devolved government and health services have neither collapsed nor lagged behind. Scots now expect our systems to work more efficiently and humanely than the 'Mother Ship" and disappointment arises from doing not much better.
Changed days - these high expectations speak volumes.
Scotland has emerged from 2020 as a separate legislative and political entity, drifting steadily further from English norms and Westminster control.
Just such a rising tide of confidence in self-government prompted Iceland to jump ship in 1944, after years without support from Nazi-occupied Denmark. Wartime isolation also prompted the Faroese to vote for independence, prompting the Danes to concede the world's most powerfully devolved parliament instead.
Despite the federal leanings of Labour these days, such a 'more powers' solution for political unrest in Scotland is unlikely to come from Westminster.
Even though disruption to the status quo and the unexpected experience of self-government through Covid have become powerful drivers for change; mini test-runs for what might follow; Awareness-raisers for social and political differences that might soon be irreconcilable.
In Scotland's case the insurmountableobstacle might seem to be Brexit but Westminster parties have more explaining to do about the vastly differing definitions of democracy exposed during these four stressful years.
Having cheerfully thrown devolution and the 'union of equals' under the Brexit bus, much hinges on what Boris Johnson does next.
Despite the near-unanimous opposition of the Scottish Parliament, the Internal Market Bill lets the Prime Minister shift subsidies from Scotland to Brexit-supporting Red Wall seats in the North-East in the name of 'levelling up.'
Then what? A Tory leader who believes he personally snatched victory from the jaws of defeat (give or take the entire financial services sector) is unlikely to hesitate now.
So, despite the horror of pandemic and the dislocation of Brexit the big question for 2021 has hardly changed. In May, will Scotland opt for independence or knuckle down for more of the same?
A message from the Editor: Thank you for reading this article. We're more reliant on your support than ever as the shift in consumer habits brought about by coronavirus impacts our advertisers.
If you haven't already, please consider supporting our trusted, fact-checked journalism by taking out a digital subscription.