Four-day week: My organisation introduced it without cutting pay and the effect was dramatic – Andrew Bartlett
Securing cultural change across a nation's workplaces never has and never will be easy.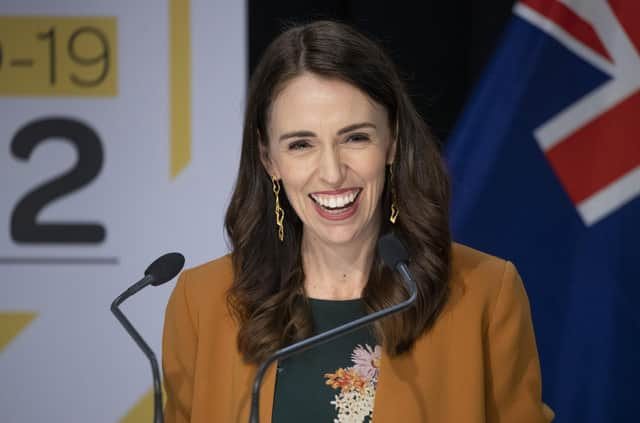 New Zealand Prime Minister Jacinda Ardern is among the world leaders who are increasingly interested in the idea of a four-day week (Mark Mitchell/New Zealand Herald via AP)
Whether that's the relaxing of dress codes, increasing the prevalence of working-from-home or even just the modernising of a working space, change is often treated with caution and suspicion.
A change that we introduced at Advice Direct Scotland in 2018 also raised eyebrows – but the results are in and we wouldn't have it any other way.
Two years ago, we changed to a four-day week for all staff. And we didn't cram a five-day working week into fewer days; we delivered an actual reduction in the time staff spent at work each week.
Not left versus right
Pay remained the same – this was a fundamental change which we believed would bring out the best in our staff, make them happier and increase their productivity.
Since this came into force, absenteeism has dropped by an astonishing 77 per cent, and our customers – the people of Scotland seeking advice on anything from holidays to deliveries to employment rights – still receive the same high level of service, operating over the same hours.
Nicola Sturgeon has expressed support for a four-day week but the issue should not be seen as a political matter of left versus right, says Andrew Bartlett (Picture: Andy Buchanan/pool/Getty Images)
The concept of a reduced working week is back on the agenda after it was raised at the SNP conference in November.
And while the idea may split opinion among Scotland's political parties, if you look across Europe there are many different economies of different persuasions making this work.
This doesn't have to be a debate of left versus right.
On the face of it some employers may be resistant, especially if they simply look at the crude numbers involved when slashing a week of, say, 40 hours down to 32.
The importance of productivity
But it's so much more than paying people the same rate for a free day off each week.
As any business owner knows, a workforce is only as valuable as the fruits of its labour.
Ensuring that Scotland is one of the most productive countries in the world can help everything from exports to global reputation.
As Jenny Stewart, a productivity expert for KPMG, told a Scotland-focused report in 2019: "Amid growing geopolitical and economic uncertainty, improving productivity is fundamental to how much we earn; how fast our wages grow; and how much of a contribution every individual in Scotland pays in taxes to support good quality public services and a vibrant, sustainable economy."
These words ring even truer given the strains Covid-19 has placed on the world's workplace.
After all, it's no coincidence that two of the world's most efficient economies – Norway and Denmark – have four-day practices already well embedded in their cultures.
Good for companies and customers
In New Zealand – a country often praised for the well-being of its economy – Prime Minister Jacinda Ardern said recently a four-day week may be the cornerstone of the country's fightback from the effects of coronavirus.
What's good for companies and organisations tends to be good for customers too.
More productive and motivated workers will be more focused on the consumer and, if your business is an attractive place to work as a result of your four-day week, you're likely to recruit the best and most talented staff.
And what of the workers themselves?
Unsurprisingly, most like the idea of having an extra day's flexibility each week, but the general public are supportive too.
A recent survey showed 70 per cent of Scots back the concept, with only eight per cent saying they oppose or strongly oppose the proposition.
We've seen many benefits at Advice Direct Scotland besides the vastly reduced sickness absence rate.
Many employees choose to do something special with their day off, whether that's additional time with family they didn't get to enjoy before, or volunteering in their community. Others take some much-needed time to recharge their batteries.
Before full home-working was introduced amid the pandemic, positivity was boosted in the office as workers would get together to discuss what they did with their time off.
Creative thinking and careful planning
The exercise has been of great worth to our organisation and helps build bonds and common interests between colleagues.
With more people working at home now and, probably, in the future, that sort of relationship building will become more important than ever.
Naturally, there will be some industries in which this change just isn't possible.
However, with some creative thinking and careful planning, it could be applied to more sectors than you might think.
There's a role for government as well. Few want to see politicians dictate to businesses and their staff precisely when they can and can't work.
But active promotion of the benefits of a four-day week – and perhaps even introducing it as standard in some government departments – would make a tremendous impact on perceptions of the concept.
Nicola Sturgeon has been clear that she embraces the idea.
Why wouldn't we?
There would be an economic bounce too – a report by the think-tank Autonomy suggested such a move could create 60,000 public sector jobs in Scotland.
It said while there would be a cost initially to the public purse, that would be a fraction of the overall budget and the benefits – such as improved public health and reduced strain on the NHS into the future – could soon compensate that outlay.
The arguments in favour of a four-day week are numerous and wide-ranging, from the benefits in productivity to the public health and work-life balance bonuses.
But in some ways, the concept was best summed up by Joe Ryle, a campaigner with the 4 Day Week Campaign.
His message to businesses is simply this: "Why wouldn't we want to be happier, healthier and – at the same time – more productive at work?"
Andrew Bartlett is chief executive of Advice Direct Scotland, which operates Scotland's national advice service.
A message from the Editor:
Thank you for reading this article. We're more reliant on your support than ever as the shift in consumer habits brought about by coronavirus impacts our advertisers.
If you haven't already, please consider supporting our trusted, fact-checked journalism by taking out a digital subscription.
Want to join the conversation? Please or to comment on this article.