Forth tunnel: Think it's ridiculous? Engineers built one in the 1960s – Susan Morrison
I once met a man who had walked under the Forth to Fife. He was the mining engineer who had built the tunnel linking the collieries of Valleyfield and Kinneil in 1964.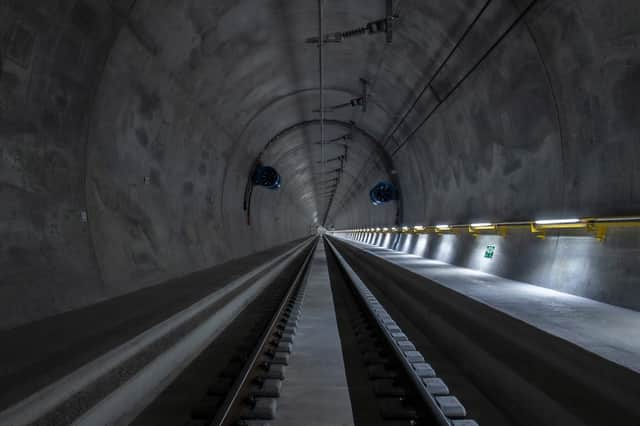 He was modest about his accomplishments, like any good engineer. Well, apart from Isambard Kingdom Brunel, of course, who, quite frankly, never got enough of blowing his own trumpet. In fact, I bet he had a machine in the works somewhere for self-trumpet blowing.
Scottish engineers, however, tend to be more modest. Look at Montgomery Scott of the USS Enterprise, a man so reticent about his achievements that he even muddies his accent so no part of Scotland can claim this intergalactic son.
Not so long ago, Linlithgow nearly came to blows with Aberdeen over birthplace rights. In a straight fight, my money would have been on Aberdeen. Let's face it, Linlithgow, you do a mean palace, but you're not streetfighter fit like Aberdeen.
Linlithgow neatly sidestepped fisticuffs to boldly go where no town councillor had gone before and promptly unveiled a plaque in Scotty's honour anyway, so there. And why not?
It is fitting that we memorialise the man who kept that rust bucket moving in space. The USS Enterprise was a bit of a let down from an engineering point of view. Could barely get out of second gear without the clutch grinding.
I've driven cars built by British Leyland that performed better. And yes, there probably will be irate Trekkies out there who will send snarky emails, but they tend to be in Klingon, so I don't understand them.
Our modest mining engineer was cut from the same cloth as Telford and Stevenson, men who let the work speak for themselves. It took them 18 months, he told us, to complete the job. No mean feat to work under the Forth cutting a tunnel joining the coal seams of the two mines.
On the day they made the breakthrough, he satisfied himself that it was safe, and then strolled through from Kinneal across to the Fife mine, where he had his lunch in the Valleyfield canteen, and then he walked back. He was, he said, very pleased with the standard of work. He also said they had better buns in the canteen in Fife.
Obviously, we need him back. The Greens have announced that we need a tunnel to link Leith and Kirkcaldy. This came as a surprise to us here down in the Republic. We didn't realise we needed to get to Dundee an hour faster.
Too ambitious, the critics sneered. Too ambitious? Let's dream bigger.
Let's turn our engineering genius to the problem of our pavements. People are constantly digging trenches in the flagstones, be it utilities, trams or, I sometimes suspect, a bloke who got a pneumatic drill for Christmas and has taken it up as a hobby. They leave behind a legacy of crazy paving to fasttrack the unwary to a free trip to A&E.
Let's get ambitious. Get the best of our engineering brains to work out a way to raise the entire city on a hydraulic lift, fix all the wires, pipes and drains, then put the whole thing back down again, complete with pavements we can walk on.
Boldly go, Scottish engineers, remember Scotty.
A message from the Editor:
Thank you for reading this article. We're more reliant on your support than ever as the shift in consumer habits brought about by coronavirus impacts our advertisers.
If you haven't already, please consider supporting our trusted, fact-checked journalism by taking out a digital subscription.
Comments
 0 comments
Want to join the conversation? Please or to comment on this article.