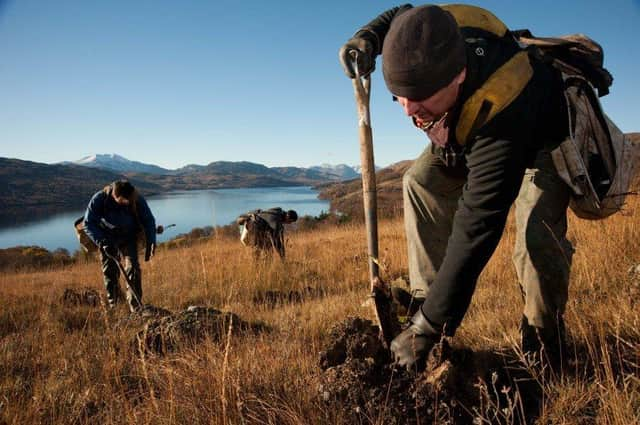 New figures show that despite the COVID-19 challenges, Scotland delivered over 80 per cent of all new tree planting in the UK.
In 2021, we need to rebuild the economy after the pandemic, to establish a clear carbon pathway to net zero, and to address the nature emergency. The forestry and wood processing can deliver in all three areas.
A significant increase in tree planting since 2018 has attracted hundreds of millions of pounds of investment in wood processing facilities across Scotland Those trees have also sequestered carbon and created more places for people and wildlife to enjoy.
In the year of environmental super-summit COP26, of green recovery from Covid-19 and a renewed focus on biodiversity, Scotland's forestry and wood processing sector is elevating the triple bottom line to a new 'triple top line'.
Stuart Goodall is Chief Executive of Confor: promoting forestry and wood
Back in the 1990s, our industry signed up to detailed standards for managing forests in a ground-breaking partnership with government, environmental organisations, access groups, and many more.
These robust standards embedded the triple bottom line in everything the sector does – balancing economic, environmental and social outcomes. In 2021, we have the opportunity to take trees and timber to the top of the 'balance sheet' – creating a triple top line that delivers for a green recovery, net zero carbon targets and nature.
Like all the best ideas, Confor has a plan to deliver this triple top line, set out in its manifesto for the Scottish Parliament elections in May, Building a Greener Future.
Scotland has a Forestry Strategy which runs through to 2029, has cross-party support, and is planting 80% of the UK's new woodland. This planting happens in diverse, modern forests with a wide range of tree species, locking up tens of thousands of tonnes of carbon each year.
The forestry and timber industry contributes £1 billion annually to Scotland's economy and supports more than 25,000 jobs. It has grown since that calculation in 2015, with the next statistics available in 2022.
Large investments by forestry and wood businesses are providing skilled and often hi-tech, well-paid jobs from Dumfries and Galloway to the Highlands, mainly in rural areas where employment is most needed. The latest example is in Troon, Ayrshire, where Alexander Timber Design, part of Glennon Brothers, moved to a 24-hour shift pattern, taking on 25 more employees to make timber frames to build the new homes Scotland needs. The site now employs almost 250 people.
Scotland is the only part of the UK to have set wood use targets, a vital step to decarbonise construction by substituting 'carbon-heavy' building materials like concrete and steel with low-energy wood, a material that locks away carbon and which can be reused and recycled.
The good news doesn't end there.
Modern productive forests are also designed to deliver for wildlife and for people. Confor's analysis of available evidence has shown there is no trade-off between providing wildlife with a home and people with the wood they need to build their home.
And our forests and woodlands are more popular than ever with the public, who have found solace in them during the Covid-19 lockdowns.
If we plant more trees, manage our woods well, and use more home-grown timber, the Scottish forestry and wood industry will continue to thrive – and so will Scotland's economy, environment and people.
To do that we need to invest in skills, in timber transport and in innovation.
That's our manifesto for success, which won cross-party support at our pre-election forestry and wood hustings.
As an industry we will continue working to deliver that triple top line - to help write the next positive chapter in Scotland's 21st century forestry and wood success story.
Stuart Goodall is Chief Executive of Confor: promoting forestry and wood