Fish and chips: The campaign to save this national institution begins right here – Aidan Smith
Grim news – a national institution is under severe threat. Rising costs have dealt it a severe battering. And the most recent survey of lifestyle choices reveals that among young people it's pretty much had its chips. Have you guessed what it is yet? That's right, the fish supper.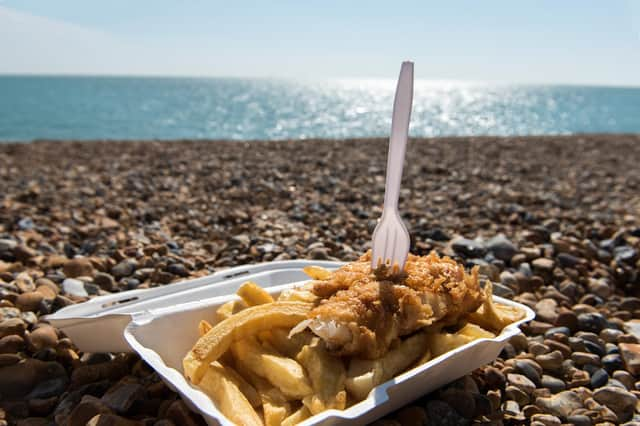 Rocketing prices and young people preferring other takeaways have placed fish and chips in peril (Picture: Getty Images/iStockphoto)
Fish and chips have been around for 160 years but are currently facing their biggest challenge. The price of fish has rocketed, as have the prices of cooking oil and the energy needed to crank up those deep fat fryers. Every week shops are closing.
But it's not just that the great yet humble fish supper is a casualty of the cost-of-living crisis. If the section of the public least likely to be counting the pennies right now still fancies blowing some on a takeaway on a Friday night, then it's not going to be cod or haddock accompanied by potatoes chopped into the classic batonnet shape.
Generation Z are not beholden to tradition. Yeah yeah, they'll sigh when you point out that fish and chips won us both world wars. So supply was safeguarded by the UK Government – simpler times, they'll mutter. There's a superabundance of choice for us when we've drunk enough and we're going to take full advantage of it.
According to a new YouGov poll, only one in 14 of those under 25 would choose fish and chips as their favourite takeaway with Chinese takeaways and pizzas rating as the most popular. Pensioners, meanwhile, remain the most loyal to the iconic combo.
Now, tastes in food, as in everything, change. They evolve and develop. Most of this is driven by a genuine curiosity and a desire to experiment, but goodness me there are a lot of pretentious twerps around – food snobs who view what they eat as the most reliable indicator of oneupmanship.
The fish supper is just about the most unpretentious meal out there. Does it not explain better than any other who we really are? There is still no such thing as bona fide British cuisine and we continue, in our desire to be seen as more sophisticated and adventurous, to bastardise the food of other countries (chicken tikka masala, deep-pan pizzas).
Surely, with horizons narrowing and countries turning in on themselves, we should just stick to good old fish and chips.
It may not quite be true that my life has been bound up in greaseproof paper and, until the practice was outlawed, a page from the local rag. But at various staging posts there seems to have been a fish supper waiting for me.
The last one I ate was a fortnight ago on the beach at Eyemouth and me and my wife and our four kids were agreed that the shop, Mackays, merited a strong seven out of ten. I can't date the first but remember the thrill as a child of being allowed to eat with my hands, of not having to ask to leave the table because I was in the car, and of steaming up the windows.
That would almost certainly have been in Montrose, gaspingly near the end of a holiday excursion, interminably pre-motorway, so the shop emerged out of the drizzle like a shimmering desert mirage. The best fish and chips in the world, my young self decided there and then, until venturing further into Angus when Gourdon became the best. Then Inverbervie and they're still the best.
Before primary school leavers' parties began copying American proms, my "qually" was rounded with a walk – no stretch limos for us – to the local fish and chip shop where, after standing on the girls' feet all through the St Bernard's Waltz and the Gay Gordons, the boys paid. I still bump into Elaine, my dance partner. "Thanks for my supper," she always says.
Later as a teenager, desperate for money for LPs, I worked in that shop. For three nights after which I was let go. The post-pub surge was overwhelming and I couldn't wrap fast enough. I still bump into the Italian proprietors, Franco and his brother Nino. "Sorry for being rubbish," I always say.
Fish and chips got me sacked for the only time in my working life – so far, anyway – but they also played a starring role in the best job I've ever had.
My father was a playwright, among other things, and for every Edinburgh Festival Fringe production I was assistant to the assistant stage-manager.
My favourite of the plays was Jock, a one-man tattoo romping through a thousand years of Scottish history and starring Russell Hunter – and though operating the strobe-light during the murder of Lord Darnley was good fun, similarly banging a drum to signify the death-charge of Black Douglas, swinging Robert the Bruce's heart in a casket, my favourite moment was the interval dash for a fish supper, crucial to the action in the second act.
Every night my heart wasn't in a casket but my mouth. Would the queue be too long? Every night I made it back to the theatre in time – just. The audience smelled the fish and chips before they saw them – and on glimpsing them they were salivating. The sensation was enhanced by the brown sauce – this was Edinburgh so there was none of your sacrilegious Glasgow vinegar.
Hunter made a meal of his meal as he eulogised its ranking in the world culinary order. "And the crumbs off the great heavenly table," he said, "are all the wee crispy bits at the bottom." One time this was too much for a mature woman in the front row who lunged at him as a teenybopper would her pop idol.
Truly, that was the apotheosis of the fish supper – and now it must be saved for the nation.
Want to join the conversation? Please or to comment on this article.