Fiat currency experiment has been running for decades all over the world. Here's why it's coming to an end – Jim Duffy
The fiat currency experiment went badly wrong in 2009 and now, with a black swan event such as the Covid pandemic, it is hurtling out of control, says Jim Duffy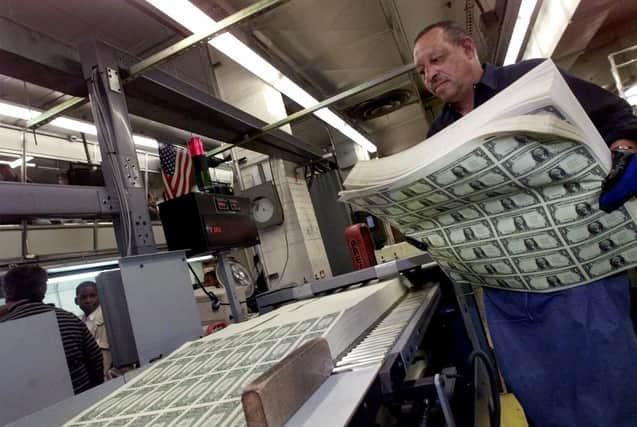 Did you know you were part of a big experiment? Each and every one of you is in a big old petri-dish being watched and scrutinised by those running this global project. It's been operating in some form of controlled environment for decades.
But, unlike a traditional experiment where scientists are involved, this one is a little less formal. It doesn't adhere to strict rigour in how it makes assumptions, inferences and conclusions. It is not peer reviewed either. No, this experiment is being run by central bankers and a large group of super-wealthy grey-haired white men. It is called the "fiat currency" experiment. It's coming to a conclusion soon. Of course, you don't know that you are part of it – yet.
I was recently sent a book to read called The Great Depression. It tells a story of what took place in the USA before and after 1929. For those of you who don't know much about this epoch in history, it was jolly awful. People quite literally lost the shirts off their backs, their homes, their livelihoods and their lives as the economy collapsed. It took a whole decade just for America to get back on its feet. And really from there, what we see in the USA today is iteration upon iteration of financial and economic progress from that date.
Unfortunately, nothing has really changed. In short folks, we are currently living in the next Great Depression, but we just don't know it yet. And every day the pound in your pocket is closer to becoming obsolete. And if you think I'm being a tad dramatic, then answer me this question: How much has your trust in government and banks deteriorated over the last decade? Probably about as much as the value of a quid at the supermarket...
And herein lies the value proposition behind the big experiment we are living within. A fiat currency, such as pounds, dollars and euros, is one that is decreed and thrust upon us by government. It was introduced as paper currency to replace people trading in good, silver and ostensibly coins.
Value of money based on trust
The state took control of gold and introduced a trust element to money. What I mean by this is that instead of you giving me a half ounce of gold to buy my horse, you give me a piece of paper that promises on trust to pay me for the horse.
I trust that you will because I also trust that the bankers behind the piece of paper are decent, honourable people who have created a fabulous, sophisticated, audited accounting system where the transaction is logged and my paper money is safe. Are you starting to get the picture?
Now I'm not having a go at banks and the people who work within them. This is all about the central bankers who are running the fiat currency experiment where they control the "value" of money based on the trust we have in them.
So, that said, let's get back to that half ounce of gold. Fifty years ago, a half ounce of gold would have bought you a full basket of groceries and a few luxuries in your shopping trolley. In 1970, a half ounce of gold was worth about $18. At that time, $18 was enough to feed a family of four for a fortnight as a loaf of bread was about nine pence (I'm conflating two separate currencies, but you get my drift, right?).
Today that same $18 dollars would probably feed a family of four for about a day. A decent loaf of bread today costing around £1.35. This is a massive devaluation in the value of fiat currency. But, a half ounce of gold today is worth around $1,000. Ooft!!! What a difference.
And this is where the experiment we are part of is failing as it has no one true scientist running the show. One could flippantly say that it has burst its budget and needs more funding to continue.
And more funding is on the way right? The Federal Reserve in the USA is a massive money printer. Essentially, it is ground zero for the big fiat currency experiment we live in. So, it has to keep printing to keep the experiment going.
US stock markets white hot
Only what it has done is change the parameters of the experiment to increase the money supply. As the Abba song goes, "money money money", and the US Fed and the Bank of England are printing it like there is no tomorrow.
What this means to you and me as participants in this experiment is that the pound in your pocket will ultimately buy less and less, while that half ounce of gold will become more valuable. Printing money at this rate creates hyperinflation where the cost of goods and services will head north, so your pound deflates. In short, it will take £2 to but that same loaf of bread.
The results of all this are hiding in plain sight. Fiat currency is failing as the experiment went badly wrong in 2009. Those running it knew then that it was a goner, but they continued with it. And now, with a black swan event such as a pandemic, it is hurtling out of control.
The conclusion? Well, apart from the US stock markets running white hot and about to burst, it really is business as usual. We can buy Tesla cars on cheap credit and take out cheap mortgages. We can use our credit cards and buy online at Amazon. Life goes on... and Musk and Bezos are laughing all the way to the bank as their wealth soars into orbit.
But, look beyond this and the next stage of the experiment looks ominous. A decade from now, our children will be truly skint, indebted with nearly 100 years of rolling, compounded national debts.
Watch out for a big reset coming though. I'm predicting within the next five years, as those running the experiment change the dynamics so that the pack of cards does not fall down, it will continue but with a new "gold" or asset to pin our hopes against.
Up until then, we have to continue to "trust" the central bankers. But will you?
A message from the Editor:
Thank you for reading this article on our website. While I have your attention, I also have an important request to make of you.
With the coronavirus lockdown having a major impact on many of our advertisers - and consequently the revenue we receive - we are more reliant than ever on you taking out a digital subscription.
Subscribe to scotsman.com and enjoy unlimited access to Scottish news and information online and on our app. With a digital subscription, you can read more than 5 articles, see fewer ads, enjoy faster load times, and get access to exclusive newsletters and content. Visit www.scotsman.com/subscriptions now to sign up.
Our journalism costs money and we rely on advertising, print and digital revenues to help to support them. By supporting us, we are able to support you in providing trusted, fact-checked content for this website.
Comments
 0 comments
Want to join the conversation? Please or to comment on this article.