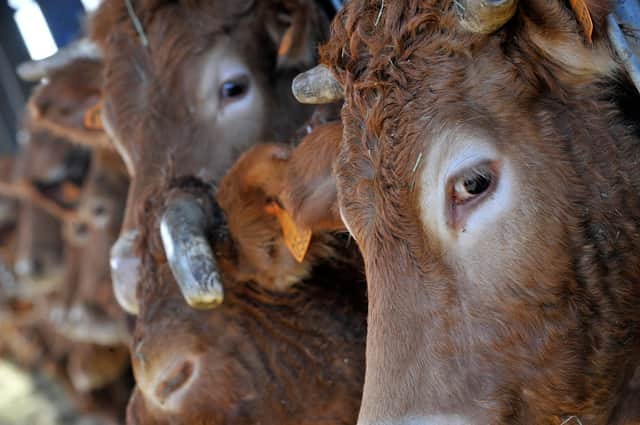 The Limousin breed is significant in beef production
But rather than getting on with what should be the main purpose of the organisation – the promotion of this native French breed noted for its ability to convert grass into top quality beef – the Society is riven with splits and schisms along with legal bills and accusations of chicanery thrown in for good measure.
The Society has just picked up a five-figure legal bill, the major part of which was used to withdraw the membership of one long-term successful and supportive Limousin breeder who just happened to be a bit outspoken.
It is also believed that another pedigree breeder, now an ex-breeder, is ready to lodge a seven-figure claim relating to a loss of value in his herd which he is alleging was down to registration failings by the Society.
Waiting to see how this claim which is believed to be on a "no win no fee" basis gets on, other breeders who have lost out from bulls being de-registered by the Society are queueing up for compensation.
Adding to this turmoil, questions are now being asked about the use of semen from a French bull that did not have the necessary documentation. Sadly, these questions have not been asked until after a large number of offspring of his were on the ground, including several in some of the top herds.
It is important to stress at this point, that this article has nothing to do with a criminal charge of fraud dating back to February last year. That charge is still live, and this article has no comment on it.
Reacting to some of the turmoil, the Limousin Council, which is the fancy name for Board of Directors, does seem to have taken a hammer – costing more than £20,000 in legal fees – in order to quieten and expel a member who seemed to have more information on some of the issues facing the Society than the Council would have liked.
There is no doubt his 'up and at them' attitude irked those sitting around the top table, but his removal has cost the Society dear as well as highlighting damaging weaknesses in its internal structures.
Many of the potential claimants for compensation come as a result of buying bulls initially registered with the Society only to have them de-registered later; often after they had sired pedigree stock. They might, as dedicated Limousin breeders, have been prepared to discuss the issue without recourse to legal claims if the Board had opened communication channels.
Other breed Societies, such as the Aberdeen Angus and Beef Shorthorn, have not only survived an influx of foreign genetics but have benefitted from the infusion.
As it is, de-registered non-pedigree Limousin cattle are now commonplace in market sales up and down the country. Many of them display hybrid vigour arising from their mixed mating parentage and they are being snapped up by commercial producers.
But this means registration income has been affected, or put another way, lost by the Society.
The problem is the "Limmy" Society still seems to be in denial or rather it is not presenting a unified front in dealing with the various issues it faces. One member told me that many of his colleagues sitting round the top table were still intent on running their own agenda and had forgotten the grassroots members and the need to promote the breed.
While supposed to be working with a code of corporate responsibility, he believed some breeders preferred to attack fellow members with the threat of increased on farm inspections and other distractions.
In its short history in this country, the Limousin breed has grown to be significant in the production of beef. In my life as an agricultural reporter, I have seen the breed influence the livestock industry in this country by taking, at various times, all the major honours in the show ring and all the red tickets at sales of finished stock.
I want to be able to report, the Society is back on an even track, dealing with matters openly, fairly, and transparently. That does not seem to be the case currently.​​​​​​​​​​​​​​​​​​​​​​​​​​​​​​​​​​​​​​​​​​​​​​​​​​​​​​​​​​​​​​​