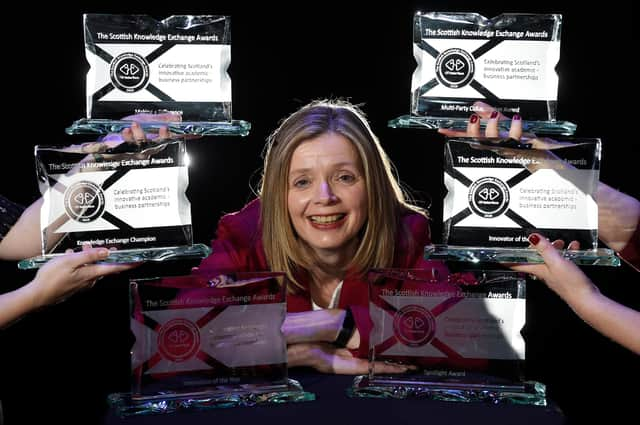 The expression "necessity is the mother of all invention" comes to mind when I think about the creative changes we have made in our daily lives, as well as the monumental achievements by business-academic partnerships in tackling medical and economic responses to COVID-19 in different ways.
It was therefore apt that we celebrated the annual Scottish Knowledge Exchange Awards yesterday (April 21), on World Creativity and Innovation Day.
This year, we knew the Awards were going to be different, being held online for the first time. And whilst we were not able to meet up in person, we were still able to network and celebrate what has been happening in the worlds of business and academia.
The record number of entries to the awards was a fantastic demonstration of the strength of collaborative working. Many of the partnerships ably demonstrated how this community stepped up to the challenges of the last year with impressive levels of creativity and innovation. My congratulations go to all the winners, who are:
Scottish Leather Group (SLG Technology), Bridge of Weir, and Edinburgh Napier University for the development of new, high value products and processes using sustainable materials, which have significantly impacted on manufacturers, as well as contributing to education, and art.
The Scottish Capsule Programme (SCOTCAP) – Digital Health & Care Innovation Centre, Scottish Government, Highlands and Islands Enterprise, NHS National Services Scotland, NHS Highland, NHS Grampian, NHS Western Isles, Medtronic, CorporateHealth International UK Ltd, University of Aberdeen and University of Strathclyde. The collaboration was tasked to co-design, deliver and evaluate the use of a "Pillcam" containing a digital camera as a viable, safe, and cost-effective alternative to colonoscopy and develop an innovation to adoption roadmap for NHS Scotland.
COVID-19 Collaborative Response
The Lighthouse Laboratory in Glasgow, a major new COVID-19 testing facility by BioClavis Ltd, University of Dundee and University of Glasgow, processing COVID-19 PCR testing samples from across the UK, recently reaching the 10 million test milestone.
Cobb Vantress, a global poultry genetics business, and University of Edinburgh have worked together since 2013 across animal welfare, disease resistance, food security and preserving biodiversity to ensure a sustainable global poultry industry.
Dr Jakub Rycerz, KTP Associate, from the University of the West of Scotland, who collaborated with Phoenix Instinct Ltd, Forres, on the design and manufacturing of a SMART, light-weight carbon fibre wheelchair frame integrating electronic systems.
Knowledge Exchange Champion
Professor Malcolm Macdonald, University of Strathclyde, is instrumental in the development of Scotland's space sector. His work as Director of the Scottish Centre of Excellence in Satellite Applications from 2014-2020 supported the creation of 16 new companies, and his media work has promoted Scotland on the global stage. Prof. Macdonald is leading the Space Technology Cluster as part of the Glasgow City Innovation District.
Knowledge Exchange Heroes
Dr Andrea Taylor, Head of Business Development, College of Medicine and Veterinary Medicine, the University of Edinburgh. Andrea is passionate about Knowledge Exchange and a relentless champion of her team. Her drive and ambition has led a proactive industry engagement strategy delivering significant investment and nurturing new company formation.
Innovation of the Year (sponsored by Marks & Clerk)
Scotmas Group Ltd, Kelso, and Robert Gordon University for the development of a new and innovative method of producing disinfectants without harmful by-products for use in hospitals, water supplies and food production applications.
I hope that these champions inspire other businesses/organisations to contact us to explore what might be possible by tapping into academic expertise.
Dr Siobhán Jordan, Director, Interface