Everyone knows drug policy isn't working, but reform remains last political taboo
Politicians seem destined to advocate what they think people want, rather than what the situation requires.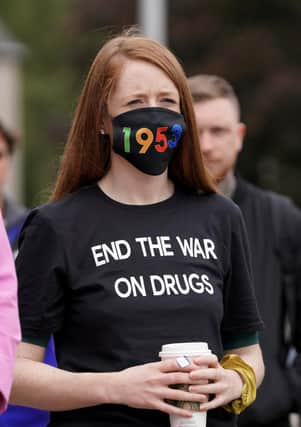 The year is 2008, I'm studying politics and my school goes on a trip to Westminster where politicians talk about the ways they can make Britain better. One Liberal Democrat MP, Lembit Opik, discusses the need for penal reform, says locking people up for cannabis use is unfair, and warns we don't help drug addicts by jailing them. Everyone applauds, and it seems attitudes are changing.
It's 2011, I'm at university and the Liberal Democrats are now widely hated for going into coalition with the Conservatives. Trying and failing to maintain their values in government, the Home Office Minister Norman Baker writes a report based on international evidence showing the impact of drug legislation. It's minimal, to say the least. He argues, citing evidence, that toughening drug laws has no impact on drug use, and claims it's more "complex and nuanced than legislation and enforcement alone". His report is not policy recommendation, just research, but it's still too much. He's forced to resign, and Downing Street says drug policy is working.
It's 2022, and London Mayor Sadiq Khan wants to trial ending the prosecution of young people caught with cannabis, and his leader Sir Keir Starmer dismisses the move, saying smoking cannabis near children's windows has a devastating effect on people's lives. He does not, presumably, have evidence for this. Starmer, a former head of the Crown Prosecution Service, who no doubt knows the difference between someone importing heroin and someone smoking cannabis, still thinks the latter can "devastate" people's lives.
Or perhaps knows that's what certain papers need him to say.
It's September 13 2023, and SNP MPs are asking about a trial of drug consumption rooms, something shown by numerous studies to reduce deaths as well as increasing the uptake of both detoxification and drug dependence treatment and reducing crime in the community. The Scotland Secretary says he won't block the pilot, but says he doesn't support it.
The times, they are a-changin' but the conversation doesn't. In the time since I saw that first speech by now reality star Mr Opik, there have been 9302 drug deaths in Scotland, according to official figures. Other than a drop last year, deaths have also risen every year since 2014.
Many of these fatalities will not have been from just taking drugs, but people not taking what they thought they were. Criminal supply lines water down or spice up drugs. After all, what are these people going to do, produce a receipt?
In short, the current approach to drugs is not working, either in stopping supply or preventing people using. Everyone knows this, there is not a person in politics who can say with sincerity that any administration is preventing the use of illegal drugs. To paraphrase US TV show The Wire, the war on drugs can't even be called that. Wars end.
It won't be overnight, no matter the difference decriminalisation would make. But even an honest conversation about drugs can make it safer. Not all users are addicts. Not all drugs kill you. Some might be fun (not that I would know). Being addicted doesn't mean you're a criminal. Charities and experts know more than yet another politics graduate, and being tough on drugs means hearing some hard truths.
Comments
 0 comments
Want to join the conversation? Please or to comment on this article.