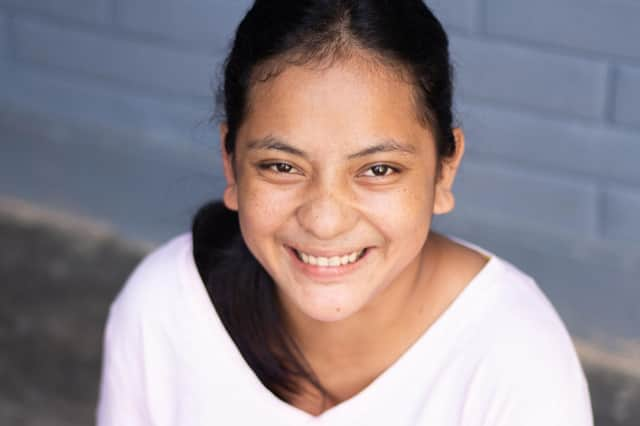 However, long before the coronavirus pandemic, poor health was already keeping thousands of children from the classroom, especially girls.
Chronic sickness in rural Nepal causes unnecessary pain and suffering, due to lack of access to healthcare and pain relief. It also places a huge burden of care on girls.
Girls like Sunita, who left school after both her mother and father became ill and were unable to care for themselves.
Without the support of a strong healthcare system, her father's cancer diagnosis meant a poor prognosis for Sunita's hopes of an education. Her family did what they could to manage but Sunita fell behind in class and eventually had to drop out of school altogether.
Lifting burden of care from young shoulders
In Nepal, an estimated 120,000 people need palliative care, but such care doesn't extend much beyond urban populations even though 80 per cent of people live in rural areas. The result is a mounting burden of care on younger generations, putting their education and hopes for the future in jeopardy.
Access to quality care and essential medicine at or close to home stops families from having to choose between healthcare today and the education of future generations.
With the support of Edinburgh charity EMMS International's Nepalese partner INF, and its Green Pastures Hospital in Pokhara, Sunita's family has now been receiving the care they need.
Access to quality care relieved the pain of her father's cancer. But it also lifted the burden of care from Sunita's young shoulders. Now she is free to return to school when classrooms re-open, safe in the knowledge that her loved ones have the care they need.
With the help of UK government funding, EMMS will soon be working with INF and other local partners in Nepal to bring such support to many more families, and we are calling on the public for your support too. We are asking you to support our campaign and give girls like Sunita a chance to fulfil their aspirations by returning to school, safe in the knowledge that her loved ones are receiving the care that they need.
A more prosperous future
If we raise the money that we aim to, and so earn matched funding from the UK government, then we can bring access to quality palliative care and essential pain relief at or close to home for 20,000 families in rural Nepal. With their loved ones well cared for, 1,646 young carers can return to school and enjoy the hope that education brings for them and their communities.
Sunita is not alone in this situation. Unpaid care is believed to put the education of 22 per cent of Nepal's youth at risk and with it their opportunity to create a more prosperous future for themselves and their families. This burden of care affects girls disproportionately and they are most likely to sacrifice their education to work as unpaid carers. Every girl matters, and access to quality healthcare lifts the burden from girls, restoring their opportunity to learn at school, earn money and participate fully in society.
At the launch of our Every Girl Matters fundraising appeal, Professor Jason Leitch, national clinical director of the Scottish government, said, "We've seen this year how vital quality healthcare is in securing not only our physical well-being but also our ability to go to school, go to work and spend time with our families. Yet this current global pandemic is not the only challenge that we or countries like Nepal face."
'Build back better'
The UK government's outgoing development minister, Baroness Sugg said: "The benefits of schooling are truly transformative and span generations. For every additional year a girl stays in secondary school, she can increase her future earnings by up to 20 per cent. Widening access for education improves their chances of finding a job, escaping child marriage and their ability to choose how many children to have. By educating girls today we can genuinely change the world of tomorrow."
We've all heard the "build back better" mantra, but better means more than resilience in the face of a global pandemic. It means understanding barriers that hold girls and other marginalised groups back and will continue to do so post-pandemic unless something changes. Quality healthcare breaks down some of the hidden barriers to education for girls. It helps girls break free from the cycle of sickness and poverty.
Your donation can make this a reality: it can show that every girl matters – £32 provides professional care at or close to home for a family fighting sickness and poverty. The UK government will double donations to the Every Girl Matters appeal, pound for pound, until 19 February 2021, helping us to reach even more families.
The coronavirus pandemic has demonstrated the need for global solidarity time and time again. It has shown that our health and prosperity are inextricably linked with global neighbours near and far. Global cooperation will see us out of this pandemic. It is already giving us the promise of a vaccine. Let's all build on that cooperation and tackle the structural inequalities that hold girls back. Let's show that every girl matters.
You can support the Every Girl Matters appeal by visiting www.emms.org/everygirl or calling 0131 313 3828 (in office hours). EMMS International is an Edinburgh-based Christian healthcare charity working in Nepal, Malawi and North India to bring access to quality, dignified healthcare.
Dr Cathy Ratcliff is chief executive of the charity EMMS International
A message from the Editor:
Thank you for reading this article. We're more reliant on your support than ever as the shift in consumer habits brought about by coronavirus impacts our advertisers.
If you haven't already, please consider supporting our trusted, fact-checked journalism by taking out a digital subscription.