Even with a vaccine – Holyrood elections and indyref 2 look unlikely – Brian Monteith
At this time of year it is normal for political columnists to take a step back from the immediate crises afflicting our democratic institutions or the parties and their leaders in order to look for what changes might play out in the months ahead.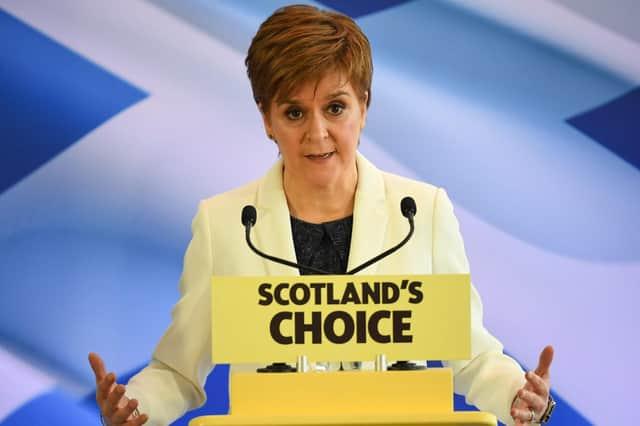 Nicola Sturgeon has said she wants to hold a referendum in the early part of the next parliament
Back in January of last year I was writing of the problems confronting the Labour Party (especially in Scotland), it having lost badly to Boris Johnson in the preceding December. I also considered the challenges to be faced by the contenders in the Scottish Conservative leadership election. Who would have thought these moments of seemingly huge political opportunity, where fundamental changes of direction might have been crucial to a party revival, would soon be rendered redundant by a Coronavirus that would engulf the country?
I have re-read what I wrote back then and, sadly, can only conclude I could rewrite those same columns with only a few tweaks here or there. Both parties remain locked-in to their respective political death wishes, having learned relatively little from recent history about how not to take on Nicola Sturgeon and her SNP machine. With some notable exceptions of a few MSPs from both parties – Scottish Labour continues its appeasing of the nationalists by talking up the idea of "more powers" rather than focussing on the serial failures of SNP incompetence under existing powers – while the Conservatives continue to specialise at undermining their own prime minister and the policies he stands for.
Such were the potential problems facing the First Minister last January who would have wagered she would end the year in a stronger position than when she started? Let us remember Brexit was not making the impact on the polls she had long hoped for (and tried hard to foment). The threatening clouds of the Salmond trial were due to arrive before the Ides of March.
Then along came Covid-19, daily media briefings arrived and her focus on being the nation's Chief Matron as well as Chief Mammy took hold and paid dividends. No opportunity to take political advantage was wasted and – with the people looking for a strong, self-assured leader in such circumstances – the polling numbers started to climb.
Real opposition towards Nicola Sturgeon is badly needed, not so much in the parliament itself as actually making the arguments through the Scottish media that expose the First Minister's double standards.
Is there any other political figure who could so brazenly demonise the possibility of the UK leaving the EU without a trade deal and then have her MPs vote in favour of No-Deal in the final debate of parliament? Is there anyone else who could criticise the improved fisheries deal (marginal though for the moment it is) when her own policy of rejoining the EU's Common Fisheries Policy would eliminate the benefits at a stroke? Who else would complain about Scottish seed potato exporters losing 5 per cent of their market due to a failure to get agreement on our produce meeting EU phytosanitary standards (when they obviously did for decades before) – but be willing to put at risk the export of the same produce to the rest of the UK that accounts for 50 per cent of Scotland's seed potato sales?
Most absurdly of all, who else would suggest holding a second independence referendum, while we still face the spectre of Covid-19 taking people to an early grave and the politicians' responses to the pandemic are forcing the economy into a recessionary spiral?
The First Minister continues to be a walking, talking contradiction with no sense of irony. And still she gets away with it.
Might it not be more sensible to see how Brexit now beds in – especially given there is an actual trade deal in place – and to focus on reviving the private sector economy so that the public sector does not face years of self-imposed austerity? Might we not want to see what the new UK-Norwegian fishing agreement brings our fishing communities – a beneficial deal that would be impossible had we remained in the EU's CFP?
Rather than hold a referendum this year I think, for the reasons articulated already in this paper by John McLellan, it is far more likely we shall see the Holyrood elections postponed until the autumn or even next year. If the decision is taken to delay democratic accountability SNP supporters will know immediately there is no prospect of a referendum – how could such a bigger event be possible but not the Scottish Parliament elections?
Would a postponement be the First Minister's means of holding on to power without provoking a civil war in her own party by failing to deliver the referendum? Would it allow her to traverse the undoubted turmoil that is coming from the fallout of the Alex Salmond trial?
Likewise, if Boris Johnson's government was to announce a temporary delay to the elections of the mayoralities, various municipal authorities and the Police & Crime Commissioners in England – he certainly would not be going anywhere near granting a referendum in Scotland – irrespective of the views of the Scottish First Minister.
And even though there are now two vaccines to fight off Covid-19 I cannot see them being administered in sufficient number to end the lockdown restrictions our various governments are so addicted to before the summer.
After the unknowns that materialised in 2020 it seems risky to make any predictions about 2021 but I believe there will be no Scottish referendum this year – and I very much doubt during Johnson's term of office.
Brian Monteith is editor of ThinkScotland.org
A message from the Editor:Thank you for reading this article. We're more reliant on your support than ever as the shift in consumer habits brought about by Coronavirus impacts our advertisers.
If you haven't already, please consider supporting our trusted, fact-checked journalism by taking out a digital subscription.