European Super League: Amid outrage from millionaire footballers about greed, market forces sorted it all out – John McLellan
My two sons get on fine but are very different people, so after the news that six leading English Premiership football clubs were joining a breakaway European competition from which they could not be relegated, one quietly got on with his revision while the other was stomping around the house declaring he was finished with Chelsea.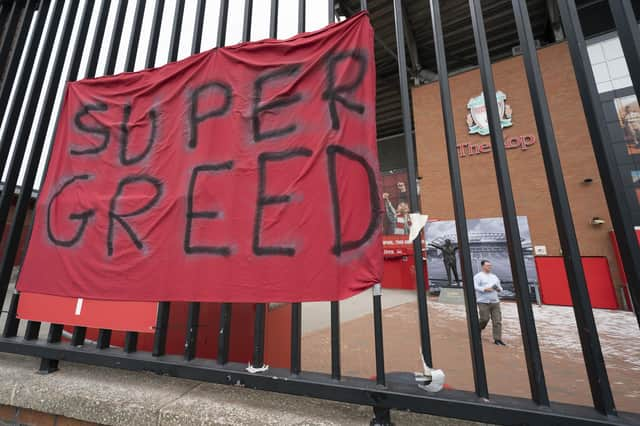 A protest banner against the proposed European Super League is seen outside Liverpool's Anfield Stadium (Picture: Jon Super/AP)
If the club's oligarch owner Roman Abramovich called to ask him to change his mind, I didn't notice.
If sport really matters to you, it really matters and, if it doesn't, you wonder what the fuss is about. Football is either the beautiful game, working man's ballet, drama without a script with unrestrained joy one minute and paroxysms of despair the next, or it's 22 people kicking a ball and each other for the privilege of putting functionless silverware in a display cabinet.
As Police Scotland will testify, its dark side is violence and the rise in domestic assault every time the Old Firm play, but whether you like football or not, for good or bad, sport matters.
At its best, it represents community cohesion and civic pride, it improves fitness and well-being and, as we've learnt in lockdown, its absence contributes to a colourless existence with fewer occasions to guide us through the year.
At least the Super League spat provided brief variety for a news agenda dominated by politics and the pandemic, and a change of tone from the gloom of the Duke of Edinburgh's death. The emotion from fans, pundits and ex-players was akin to a national tragedy, the death of all that's decent in sport, the triumph of greed over good, with thousands of "Big Six" fans mourning the loss of what they thought their clubs represented.
"Disgusting," said football luminaries Alan Shearer and Gary Neville, and anyone who'd ever pulled on a pair of boots.
It even reached the Commons, where Sport minister Oliver Dowden said he was "appalled" by a "tone-deaf proposal" and promised to bring the full influence of government to bear.
"We are examining every option, from governance reform, to competition law, and the mechanisms that allow football to take place," he said.
Edinburgh South MP Ian Murray, who has championed direct fans' involvement at Hearts, called for the Scottish government to follow the UK government with a fan-led review, but after three days of spleen venting it was, as Kenneth Wolstenholme might have said, all over.
After Chelsea and Manchester City announced their withdrawal, the other four English clubs pulled out and the Super League crumbled. With the deepest of irony, supporter-owned Barcelona remained defiant.
Amidst the outrage, there was the unmistakable whiff of humbug, not least the lectures about money and greed from players who earned more in six months than most of us in a lifetime, and thousands more for just talking about it; the BBC pays Gary Lineker £1.75 million and Alan Shearer £400,000.
Sport is indeed about a lot more than cash, but from the "biscuit tin" days of big club football owners raking in thousands in gate takings and paying the bare minimum to players on restrictive contracts, to NBC paying over £5 bilion just for the broadcast rights to three Olympic games, finance is at its heart.
By definition, professional sport is driven by money and has evolved through breakaways, rebellions and commercial disputes. The English Premiership and the Scottish Premier League are both splinter organisations because the bigger clubs wanted a better deal and more control than the FA or SFA allowed.
Kerry Packer's World Series cricket circus in 1977 was all about broadcast rights, not producing better batsmen and possibly the biggest breakaway of them all, the Rugby League in 1895, was as much about attracting and keeping good players and big crowds as it was about compensating working-class amateur players for loss of "broken-time" wages.
And while football might be a national religion, for organisations with as murky recent histories as Fifa and Uefa to clothe it in the vestments of the real thing's morals is risible.
Similarly, far from being the essence of the game, the principle of relegation and promotion at all levels, so even the smallest village club can aspire to European glory, is relatively recent. Promotion to the National Scottish leagues is just eight years old, and direct promotion and relegation to the English football league was only introduced in 1986.
As for "disgusting", what does that make Six Nations rugby, or the closed Pro-12 and Super 6 leagues in which Scottish professional rugby clubs compete? Wind your necks in, boys.
What matters is supporters' perceptions and this episode shows the power of fans, as both customers and an essential part of the product. Lockdown demonstrates the importance of big crowds to sporting spectacle because mass reaction affirms what can otherwise look like a training knockabout.
The whole concept is diminished without spectators, draining excitement from the closest contests and magnifying the boredom of a bad goal-less draw. As well as loss of ticket income, boycotts risked a sub-standard product which would be a lot harder to sell to Far East live-stream markets, while supporters packed existing Champions League matches. Put another way, the fans demonstrated market power, and what happens when businesses take clients for granted.
Why, though, is government intervention required? Market intervention isn't justified because the market sorted it out, and surely how private sports clubs organise their competitions is a matter for them, with disputes over breaches of contract, restraint of trade or whatever settled in the civil courts. Oliver Dowden wouldn't touch video assistant referees, after all.
Amid talk of a breakaway British League involving Rangers and Celtic, I am reminded of the motto of my "wee team", Queen's Park, the last amateurs in Scotland's professional set-up. Ludere causa ludendi, play for playing, the game for the game's sake. After 150 years, the Spiders went pro in 2019. This time next year, we could be Partick Thistle.
A message from the Editor:
Thank you for reading this article. We're more reliant on your support than ever as the shift in consumer habits brought about by coronavirus impacts our advertisers.
If you haven't already, please consider supporting our trusted, fact-checked journalism by taking out a digital subscription.
Want to join the conversation? Please or to comment on this article.