Euan McColm: Politicians not being guided by science on school policy
At note-06pm on Friday, 2.3 million people in Scotland began living under the strictest level of the new coronavirus restrictions.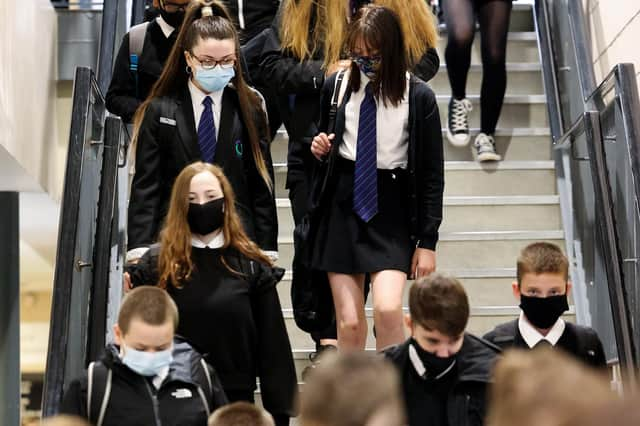 The government pushed the button marked Level Four and almost half the country entered into what looks remarkably like the lockdown we lived through earlier in the year. People are encouraged to work from home, instructed not to visit friends, and banned – unless they have work or caring commitments – from travelling outside their local authority area.
People who live in Glasgow, Renfrewshire, East Renfrewshire, East Dunbartonshire, West Dunbartonshire, North Lanarkshire, South Lanarkshire, East Ayrshire, South Ayrshire, Stirling, and West Lothian must feel that they are back at square one.
But there is one big difference this time around: this time, schools remain open. For this, we must thank – or perhaps blame – campaigners such as the Us For Them Scotland group. This organisation has become a go-to for media organisations reporting on coronavirus. Us For Them Scotland's founder, Jo Bisset, has appeared on TV not only to insist schools remain open but also to argue that face coverings are "ineffective" and "invasive". I'll take my guidance on the value of face masks from the World Health Organisation (which is very much in favour), but it's a free country and Bisset is, I suppose, entitled to her opinion. Equally, others are entitled to think she is talking rot.
I wonder whether the Scottish Government should be listening to groups such as Us For Them when it comes to schools remaining open.
Yes, it is true that the spring lockdown was hugely disruptive for pupils, parents and teachers. With little warning, school life changed completely. It was difficult. Of course it was. But the circumstances demanded a drastic response. The reason, you may recall, was that coronavirus is a fiercely virulent infection that has devastating effects. The deaths of more than 50,000 people in the UK so far should help keep that fact fresh in the mind.
So what has changed? Nothing, so far as I can see. The risks to children – if they have no underlying health problems – from Covid-19 may be less grave than the risks to adults, but that is not really the point, is it? After all, once infected, a child may swiftly pass the virus on to someone whose chances of bouncing back quickly are less favourable.
Right now, huge numbers of kids and school staff across Scotland are being sent home to self-isolate. A positive test for one pupil can mean huge disruption for dozens. Teachers are now expected to find a way of teaching classes which are fractured, with some kids remaining at school while others are learning from home. Inevitably, this means neither group can expect to get the attention they need.
Us For Them Scotland and others campaigning for schools to remain open argue that their closure has a negative impact on the mental health of children, and that any enforced break in education will have a long-term negative impact in terms of academic achievement. These are certainly issues to which we should be alive but I am bound to note that many of those who insist schools must not close hold the sort of anti-mask views that put them firmly in crank territory.
A Edinburgh University study found that reopening schools following coronavirus lockdowns is linked to a surge on transmissions within a month. After analysing data from 131 countries, researchers found that the return of children to class was followed by an average 24 per cent rise in the R transmission number, the measure of how many secondary infections are caused by a single person with the virus.
Politicians are, I'm afraid, not being guided by the science when it comes to schools. Instead, they are capitulating to campaigners whose insistence that they have the best interests of children at heart is all very touching but doesn't seen to take into account the wider impact of transmission of the virus in classrooms.
Neither teachers nor pupils have some invisible shield that protects them from coronavirus. And, since this is so, insisting that schools remain open creates a break in the wall that the new restrictions are supposed to build.
We may follow every piece of advice the government gives, but while kids continue to mix in confined spaces, the virus will find its way into homes across the country. More people will die because schools have remained open during these Level Four restrictions.
Now, you may think this is a price worth paying. Those who do not appear to have no say in the matter.
First Minister Nicola Sturgeon has said she will do everything in her power to keep schools open, even when Level Four restrictions are in place. This is precisely what campaigners such as Us For Them want and it is, I'm sure, convenient to capitulate to noisy campaigners shouting about children's best interests.
But I am willing to believe that teachers also have children's best interests at heart and so think it worth listening to the likes of Larry Flanagan, head of Scotland's biggest teaching union, the EIS. Flanagan suggests that decisions should be made on the basis of data and risk. If the science says closing a school might mitigate the spread of coronavirus, he wants the Scottish Government to do just that.
Yes, we all want kids to have as normal an education as possible but we are not living in normal times and failing to recognise that will come, I fear, at a most regrettable cost.