Euan McColm: Gordon Brown's latest 'save the Union' plan faces reality check
Reform of United Kingdom will never be enough to satisfy SNP demands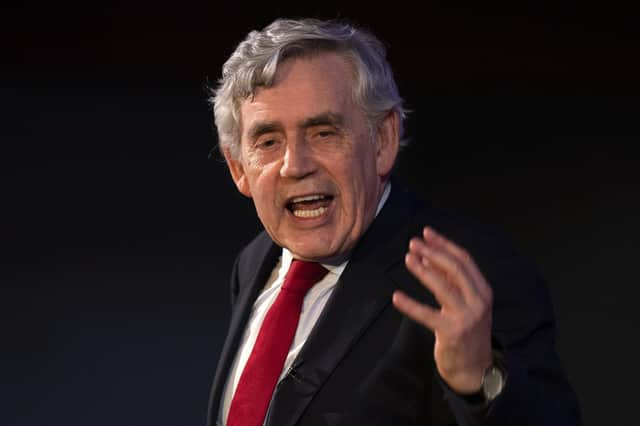 It's that time of year, again, when Gordon Brown emerges from his study with another save-the-Union plan.
Since leaving office, the former Prime Minister has spent much of his time thinking about the constitution. Those with long memories may recall the Brown of old who was allergic to the idea of expanding devolution. When Labour was in power at Holyrood, he preferred a cautious approach to matters constitutional.
But since the SNP rose to power in 2007, Brown has seen change in the structures of UK politics as the best route to blocking the break-up of the Union.
The latest iteration of the Brown project is the Alliance for Radical Democratic Change, a collection of high-profile Labour figures – including Scottish Party leader Anas Sarwar, Welsh First Minister Mark Drakeford, and Manchester Mayor Andy Burnham – which aims to lead a constitutional revolution.
Among the changes this group wishes to see are the end to centralisation of power in Whitehall and Westminster, the devolution of effective economic and social powers to the regions and nations, action to make cities and regions "centres of initiative for full employment and good jobs", and better co-ordination between all levels of government to "achieve a fairer, greener and wealthier Britain".
After severe losses in its traditional heartlands both north and south of the border, Labour is desperate to show that it hasn't lost touch with the priorities of "ordinary voters".
The specific mission in Scotland is to do this while winning back voters who defected to the SNP some time ago. These voters have made clear they want something different from the current arrangement of the UK so here, says Brown, is something different.
Whether it's enough, though, well…
Unsurprisingly, the SNP is far from impressed.
In advance of a meeting of Brown's new group in Edinburgh on Thursday, the Scottish Government's independence minister Jamie Hepburn demanded Brown apologise for remarks he made before the 2014 referendum, when he urged people to vote No and, instead, back a reformed UK.
Well, of course Hepburn demanded an apology. The SNP, after all, has reached the miserable stage where all it has left in the tank is self-pity and grievance.
In the real world – the one Hepburn would like us to forget exists – the SNP did very nicely indeed out of defeat in 2014. The Smith Commission, which followed the referendum, saw new powers transferred from Westminster. Lead SNP negotiator John Swinney posed approvingly with the document outlining the ways in which Holyrood had been further empowered under Smith. Indeed, so happy were the nationalists that it must have been a full 24 hours before the SNP began to complain that they – and Scotland – had been stiffed.
With polls predicting Sir Keir Starmer will be the next Prime Minister of the UK, Labour may soon be in a position to deliver some of the reforms Brown outlines. More importantly to Labour, right now, is that the prospect of change in enough to persuade some SNP voters to switch their allegiance.
The nationalists, who can see clearly what Labour is up to, have no choice but to rubbish the Brown proposals. Why would a party that wants independence suddenly throw its weight behind a reformed UK? The SNP game until election day is to tear any Labour proposal apart.
But, once the election is over, I'm not so sure failure to engage on constitutional reform makes much sense for the SNP.
There was a time, in the 1990s, when the Scottish nationalists were far from enthusiastic about devolution. The SNP manifesto for the 1997 General Election stated: "New Labour's scheme for a Scottish Assembly is fatally flawed and will deliver no real power."
But, once Labour had won power and the prospect of a devolved parliament in Edinburgh became real, the Nats changed their tune. Then leader Alex Salmond campaigned alongside Labour's Donald Dewar, urging Scots to back a new parliament – and to endow it with tax-raising powers.
So, don't be surprised if the SNP changes its tune on the reforms now being proposed by Brown.
Yes, the nationalists want independence above all else, but it would be madness for the SNP to turn its nose up at new powers that might fall short. After all, if the SNP hadn't moved on the devolution issue all those years ago, it might not be in its current dominant position.
There is, I'm sure, in the dreams of Labour politicians, a different kind of UK that satisfies the majority of Scots and spikes the nationalists' guns. And, perhaps Brown and his gang have the solution. Perhaps they can peel off SNP support and put an end to relentless constitutional sniping.
I am, however, far from convinced that they can.
It's more likely, I think, that the next Labour Government will offer concessions to the SNP which will be accepted and then denounced as an insult. Anything short of support for full independence will always, to nationalist eyes, look like a betrayal.
Gordon Brown and his colleagues believe they are drawing a blueprint for a new UK, with devolution enhanced and power decentralised, a nation of equals from north to south and every point in between.
Hurrah and thrice more hurrah to all that but I've a feeling reality is going to want to have a word about that. Labour knows – or should – that concession to the SNP is always followed by the angry demand for more.
Sure, the Alliance for Radical Democratic Change might change the UK for the better and pour oil on troubled constitutional waters. But it might also be a gift to the SNP, which will snap up the offer of any new powers that bring it closer to its independence dream – and then demand more.
Comments
 0 comments
Want to join the conversation? Please or to comment on this article.