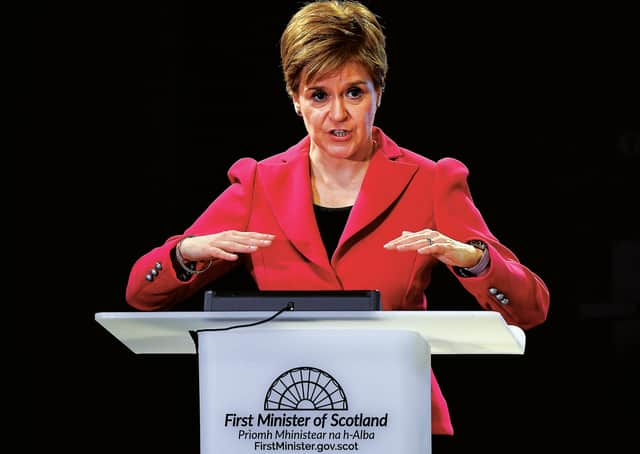 Nicola Sturgeon delivers her update on measures to avoid the spread of Covid-19 before the press conference by Boris Johnson. Picture: Jeff J Mitchell/Getty
After calling in to a meeting with Prime Minister Boris Johnson and other senior politicians from Wales and Northern Ireland to discuss the coronavirus crisis, First Minister Nicola Sturgeon called a press conference in Edinburgh. Having gathered various broadcasters and print journalists on Thursday afternoon, she outlined the situation – it had been agreed that we had moved from a "contain" phase to a "delay" phase, where the priority was to try to slow down the spread of the virus.
Before taking questions, Sturgeon went on to say official advice was now that anyone displaying symptoms of coronavirus should stay at home for seven days, adding that overseas school trips should be cancelled.
It didn't take long for the UK government to react to the First Minister's televised outing. She was, said a source, a "total disgrace". This was nothing more than a nationalist playing populist politics with a global crisis.
Former Conservative Party chairman James Cleverly said this was not leadership, it was pathetic, while various commentators expressed outrage that the First Minister should have dared speak before Johnson had addressed the nation.
If anyone was playing populist politics with a global crisis, it wasn't Sturgeon. For those guilty of that, we should look at the First Minister's critics, whose attacks on her were badly misjudged.
Sturgeon's opponents frequently criticise her for placing the matter of independence above all other matters. It is often easy to agree.
But was this really someone playing populist politics? Was the case for Scottish independence boosted by the First Minister doing her job?
That is all she was doing. Sturgeon was perfectly entitled to call a press conference. In fact, it was her responsibility to get information out there as quickly as possible.
Week after week, Sturgeon's opponents attack her government's records in the key areas of health and education. They criticise falling standards and lay the blame at the feet of the First Minister.
These same critics can't now credibly attack Sturgeon for being proactive when it comes to this issue which has massive implications for both the Scottish NHS and our national education system.
That voters outside of Scotland were able to hear the First Minister's statement is neither here nor there. All she was doing was outlining – as was her responsibility – the situation for Scots.
Former Scottish Tory MP Paul Masterton – a victim of the SNP fightback in last December's General Election – represented a rare voice of reason among the First Minister's opponents. She was perfectly entitled to hold a press conference after the Cobra meeting and anyone annoyed by this was free to suggest to Johnson that he should do the same.
Isn't the real question about why Johnson didn't do that rather than why Sturgeon did?
Our current Prime Minister is fiercely protected by advisers who carefully control his public outings. They prefer to submit their boss to soft Facebook Q&As than to interviews with the likes of Andrew Neil. They have a good idea of the Prime Minister's inadequacies, of his tendency towards the gaffe.
Could it be that what really upset Downing Street sources was that Sturgeon dared to speak to voters about coronavirus with the sort of calm authority that the Prime Minister struggles to approximate?
Sturgeon is right to be proactive when it comes to this pandemic. History is littered with the corpses of politicians brought down by events over which they had no control. The First Minister has no control over the coronavirus but she has, to some degree, the opportunity to shape how the public views her handling of this crisis. She has a made a decent start.
Experts predict we are around three months from the virus's peak in the UK. There is worse – much worse – to come.
With this in mind, the attacks on Sturgeon look all the more petty.
The weeks ahead will be tricky for both Sturgeon and Johnson. The NHS across the United Kingdom was under intolerable pressure before coronavirus swept on to the scene. Both leaders have made a great deal of their commitment to the NHS, and how the service responds to increasing numbers of cases will reflect back on them.
There will surely come a point at which the number of those infected and who require hospital treatment (the elderly, the very young, those with underlying heath problems) becomes significant enough that bed shortages will follow. As hospitals struggle and changed priorities mean the cancellation of operations and long-standing appointments, the First Minister will be in the firing line. When people die, as they will in increasing numbers, the bereaved will ask whether she could have done more. This may not be fair, but nobody ever said politics was fair.
And while the NHS groans under mounting pressure, the education system is also feeling the strain.
The First Minister has said that gatherings of 500 or more people should be cancelled. A great many schools would easily meet this standard; though, for now, they are to remain open. Whether this remains the case for much longer is far from certain.
The timing could hardly have been worse for pupils, many of whom are just weeks away from sitting the exams that will determine whether they get into university or college. Nobody can say with absolute certainty that the National Five and Higher exams won't be disrupted.
A number of universities have announced that they have moved to online teaching and examinations in an effort to slow the spread of the virus. This, however, would not be practical as a solution for exams in which many thousands of teenagers will participate. Unless, of course, the government can rustle up a hazmat-suited invigilator for each individual child.
Political attacks on the First Minister last week were hopelessly misjudged. Those trying to make political capital out of the coronavirus crisis are playing a foolish game.