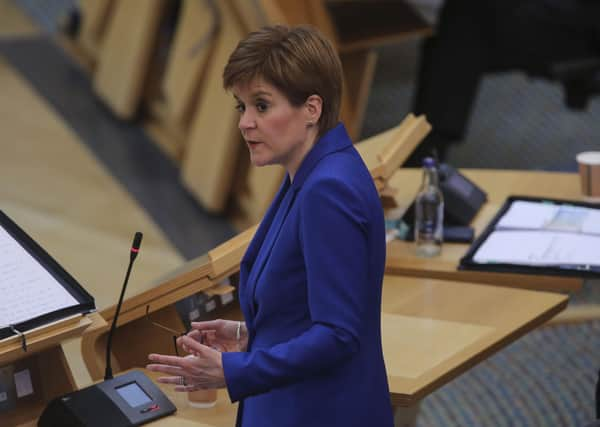 The SNP may have led the Yes campaign to defeat in 2014's independence referendum but the story goes that First Minister Nicola Sturgeon will soon have the opportunity to correct this failure. Indyref2 will be along imminently.
But here's the thing: it won't.
There won't be another independence referendum before next year's Holyrood election and there won't be one any time soon afterwards. This was true even before the coronavirus pandemic arrived to divert the attention of our political leaders.
On Friday, Sturgeon said it was her hope that, sooner rather than later, we could get back to a normality where the constitutional issue would return to the fore.
Supporters of Scottish independence, who are perpetually urged by nationalist newspaper columnists and activists to prepare for round two of the independence ding dong, will have been cheered by this. I daresay the First Minister's words will have supported the mistaken belief many hold that indyref2 is on the horizon.
It will certainly suit Sturgeon if that is the effect of her words. She has, after all, spent much of the past six years maintaining the enthusiasm of her supporters by dangling, tantalisingly closely, the prospect of a second vote on the constitution.
But the First Minister knows, say some who know her, that another referendum is a long way off.
The power to hold a referendum remains at Westminster. If it is to happen, then Boris Johnson will have to agree to it. It is as simple as that.
Ah, says the optimistic Scottish nationalist, but if Sturgeon leads the SNP to a thwocking great victory in next year's Scottish parliamentary elections, she will have a mandate to hold a referendum. An overall majority at Holyrood – which is a possible, even likely, outcome, given recent opinion polling – would gold plate that mandate.
The problem remains, however, that a mandate to carry out an action which you are unable to perform is useless.
I invite those who continue to kid themselves a majority for the SNP next year will mean indyref2 is on to ask themselves what it is about the Prime Minister that makes them think he would give the Scottish Government what it wants? What is it in the nature of this man that makes you think he'd gamble his career on a referendum he might lose?
There exists a small but vocal faction in the SNP that believes the First Minister should consider every option, including running a wildcat referendum which – as the law stands – would have no authority. It seems inevitable that tensions between this faction and the majority of the SNP, which remains loyal to Sturgeon and supports her rejection of an illegal ballot, will grow after next year's election.
Some supporters of the First Minister relish the prospect of the fight. The new fundamentalists who demand a referendum will, says one Sturgeon ally, have to show exactly how they are going to organise a referendum that's recognised as legal and would allow for Scotland's return to the EU. If they cannot do this then, in the words of this particular campaigner, "they can shut up or f*** off".
Another way in which some of the most enthusiastic nationalists convince themselves that another referendum might be held is through court action. In this Technicolor daydream, judges order the United Kingdom to forfeit some of its sovereignty.
If there was case law to suggest such a preposterous turn of events then we can be sure the SNP would have presented it to us by now.
Of course no such precedents exist.
One party source told me: "There's something problematic about the idea of going to the courts to try to force the UK government to give us the power that goes beyond the pointlessness of the exercise. Would we really be happy in an independent Scotland to see a court strip a democratically elected government of power? Of course we wouldn't."
The myth that indyref2 is on the horizon is at the heart of what has become an unhealthy codependent relationship between the SNP and the Scottish Tories in recent years. The nationalists need the prospect of another referendum to be real in order to maintain political momentum. The Conservatives need the prospect of another referendum to be real for precisely the same reason.
But both Nicola Sturgeon and Jackson Carlaw know that the referendum over which they – in normal times – argue ferociously is a figment of their imaginations.
Scottish Labour leader Richard Leonard last week sought to make his party relevant in the constitutional debate. His party would, he said, strengthen its opposition to another referendum.
This is all very well and good but the Scottish Conservatives under former leader Ruth Davidson established themselves at the party for those opposed to indyref2 and Labour may find there's little room for them on that territory.
Leonard said his party, which had delivered the Scottish Parliament and the transfer of powers from Westminster to Holyrood, was "fully committed to continuing this unfinished revolution of democratic reform and decentralisation within the United Kingdom".
There is something in this but it will take a more authoritative figure than Leonard to open up this debate.
Nationalists and Unionists can continue to argue over a referendum that won't take place for a long time (the only scenario in which I can see this changing is if Labour's Keir Starmer wins the next election but falls short of an overall majority, requiring him to offer the SNP a referendum in exchange for its support. But we must wrestle with a number of ifs and buts before we arrive at that particular destination). Or they can look at where consensus on changes to the devolution settlement might be achieved.
For the past six years, Scotland has indulged the fiction that a second independence referendum was imminent. It's time for us to stop playing along with this fantasy.