Empty supermarket shelves: Brexit is not the problem this time, it's our expectation to eat summer produce in winter – Stephen Jardine
It seems empty supermarket shelves are like buses. You wait ages for one to come along and, next minute, they seem to be everywhere.
"This is Brexit!" screamed social media as shoppers from Plymouth to Portobello posted pictures online of shelves that should contain courgettes, aubergines and tomatoes but instead offered only thin air. While leaving the EU has been hugely problematic, it's not the cause of the current shortages. Instead, unexpected bad weather in Spain and Morocco has created a perfect storm for supermarket supply chains.
At this time of year, southern Spain produces 80 per cent of the salad and vegetable crops in UK retailers but the past 21 days have seen a record 16 nights of sub-zero temperatures. As any gardener will know, when the mercury hits zero any plant stops growing and ripening and instead concentrates on conserving energy to survive.
As a result, the harvest of peppers is down 70 per cent, with cucumber production halved. Across the Mediterranean in Morocco, the problem has been heavy rains which have flooded the fields and disrupted transport links. The fallback should be the great greenhouses of the Netherlands which help supplement winter fruit and vegetable production but, like the UK, the Dutch are facing soaring energy costs and many producers have cut back on cultivation as a result.
None of these facts impacted on the most determined anti-Brexit campaigners who managed to find images of tomatoes on sale in Portugal which proved in their minds a great conspiracy between the supermarkets, the media and the UK Government to cover up the effects of Brexit and leave us facing scurvy.
Except just across the Irish Sea, the shelves are also empty. Dublin's oldest fruit-and-vegetable suppliers, Jackie Leonard and Sons, warned of serious shortages as a result of, you guessed it, the situation in Spain and Morocco.
Brexit has seriously disrupted supply chains in the UK and caused enormous problems for business, but it's disingenuous to blame the current situation on the outcome of the EU membership vote. While it's tempting to blame everything from Sam Smith's trousers to the price of parking in Edinburgh on that decision, there's more than enough fake news around without manufacturing anymore.
The situation is expected to ease as winter loses its grip on Europe and fruit and vegetable production closer to home ramps up. Until then, the solution is in our own hands. We've grown accustomed to Moroccan strawberries in January and Kenyan fine beans in February but we won't starve without them. Right now parsnips, turnips, kale, leeks, beetroot and brussels sprouts are all in season and grown right here in our own country.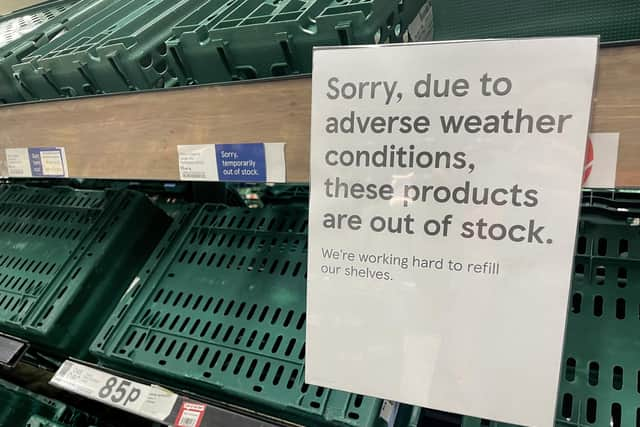 Eating them will taste better because they will be fresher, it will cut unnecessary food miles and it will also be cheaper because most are sold in their raw form, not in 100g or 200g of packaging that's comparatively expensive.
The big issue here is not Brexit but our obsession with eating out of season. The supermarkets have encouraged us to expect summer produce in winter. Right now, there is an issue but it will pass and it might just be a useful moment to remind ourselves that Scotland is a land of food and drink and we're more than capable of feeding ourselves.
Comments
 0 comments
Want to join the conversation? Please or to comment on this article.