Electric rail freight is sparking into life with a new service - John Yellowlees
With initial support from the Department for Transport's First of a Kind Programme, Varamis Rail has leased from Eversholt Rail a 35-year-old former passenger-carrying four-car electric multiple-unit, refurbished internally with seats removed to accommodate small consignments, to provide a proof-of-concept service running five nights a week in both directions between two locations convenient for the motorway network, Mossend near Glasgow and Birmingham International Station.
This 100mph train represents Britain's first all-electric railfreight operation, and the aim is that impact road feeder services too should be all-electric to maximise the environmental impact.
Mossend is an existing freight location, with facilities that were already geared to road/rail transfer. At Birmingham International, a passenger station dating from 1975, the former Red Star Parcels area that is used will be capable of further improvement.
Varamis gained its operating licence in September 2022, and began its nightly operation with a 1745 last drop-off time at Mossend and midnight at Birmingham International the following month. The train has behaved faultlessly, with maintenance during the day at ScotRail's Shields Depot, and the period since then has proved a steep learning curve for all concerned. These include signallers who have to learn that this is a train worthy of the priority normally accorded to passenger service, terminal staff and the company's own train planning team who have worked with Network Rail to dovetail its operation around other overnight operations and engineering possessions, aiming to shave minutes progressively off the schedule to bring the 290-mile journey down to four hours.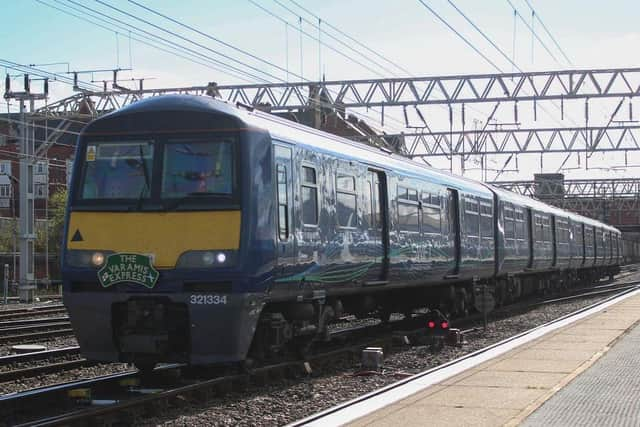 8 May will see a two-week pilot with Volta Trucks to provide three electric road vehicles for two or three round trips at the Birmingham end and four in Scotland capable of reaching from an 0500 arrival Falkirk and Edinburgh and even Aberdeen and Inverness by breakfast-time the same day. Rail cannot on its own achieve the last leg from terminal to warehouse, but the train's fitting-out to accommodate 168 standard supermarket-size roll-cages is key to fast transfer, and Varamis will be delighted to yield to the expertise of road haulage colleagues in seeking the agility that will be essential to its success. In the West Midlands there are seven major distributions hubs within a 25-mile radius of Birmingham International for which early-morning delivery should be possible, and with sufficient flexibility it should be possible to offer a fast and reliable service for despatch of spare parts to the likes of the agriculture sector, keeping businesses running without the need to hold large reserves of spares.
The proof-of-concept service has been deliberately confined to city-edge locations for fast access by road, but could be the prelude to accessing city-centre passenger terminals such as London Euston during their quiet overnight periods, with last-mile delivery by e-bikes. Eversholt has a further four such trains available either for running up to twelve cars in multiple or to provide additional routes. The intention is that the present second-hand passenger stock should be only a stopgap pending development of dedicated fleets as Varamis secures a reputation for reliability which will greatly benefit from the road-based expertise that delivery partners can bring to either end of its linehaul operation.
John Yellowlees, Scottish chair, CILT
Comments
 0 comments
Want to join the conversation? Please or to comment on this article.