She is, by all accounts, one of the bright, rising stars in the SNP, a possible leadership candidate in the future (say, next year) and she has two enormous advantages – she has done a 'Real Job', and, glory be, that Real Job was as a teacher, to be precise a modern studies teacher, rising to be a head of department before, eh... ascending (?) further to being an MSP.
So she knows, from fairly recent experience what the day-to-day life of a classroom teacher in a secondary school in Scotland is like, and I've no doubt that this clever, engaging young woman was a successful professional teacher. Indeed, I imagine there are times – like say, the last few weeks – when she longs to be back in the classroom, any classroom. "Anywhere, but somewhere else" as the poet Robert Lowell put it.
So I have to say I was a wee bit disappointed by two of her early publications. One was an open letter to Scotland's teachers, and the other was her contribution to Humza's "New Leadership, a Fresh Start" document, a glossy magazine where the word "fresh" was being used rather loosely, as if of a can found at the back of a cupboard which has passed its sell-by date, but which might, hey, still be fresh.
Teachers are a very collegiate and supportive bunch and I imagine Jenny's former teaching colleagues will be delighted for her, but I wonder how they found her letter, which for me had the feel of a ChatGPT product, formulated from a whole host of previous documents and blurbs. It is fine in its intentions – to thank teachers and to reassure them (and their support colleagues) that "all of you are valued".
Might it have been more realistic to mention the bruising industrial action these valued teaching colleagues have just undergone; might it have been braver to mention the problems of teacher retention and recruitment and to suggest solutions? No, it just trundles blandly along, platitude after platitude, stringing together the naïve cliches that have come to characterise 'education speak' in today's Scotland: "… I am committed to delivering excellence and equity in school education through empowering and supporting our teaching profession and putting learners' needs at the centre."
Sigh. Truisms abound. Where else would 'learners' needs' be? Somewhere north of Shetland? When, oh when, will our politicians release themselves from chanting this kind of drivel while our schools suffer?
The policy document which overall has the subtitle "equality, opportunity, community" has 16 bullet points of policy, all of which are promised by 2026. That seemed a bit on the optimistic side given that Nicola Sturgeon promised to close the poverty-related attainment gap in 2015 and yet it remains much the same, and possibly a bit worse, here in 2023. Jenny promises to "focus" on it, whilst "raising attainment for all". Just to be honest, someone needed to tell Nicola way back then that the way to get rid of the poverty-related attainment gap is to reduce poverty, not to dicker about in schools (at considerable expense) and I hope Ms Gilruth takes that on board.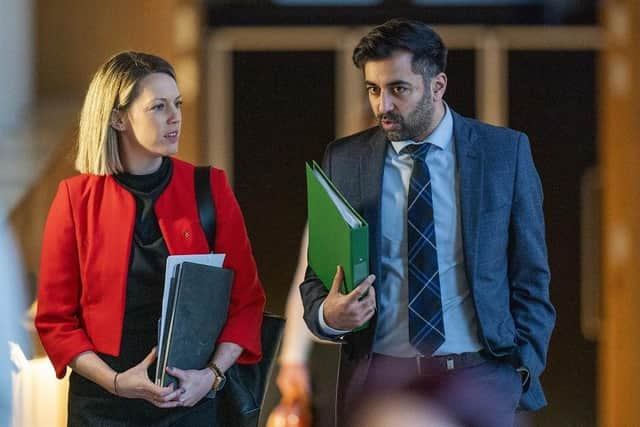 There are also some noises about childcare provision for one and two-year-olds, the United Nations Convention on the Rights of the Child, reducing of the number of children going into care, and the promise of a "joined-up approach to supporting our disabled young people as they make the transition to adult life". This is all fine, though it's not really much to do with mainstream day-to-day school life. We're also, apparently, going to be expanding further the provision of free school meals, turning it further from a means-tested to a universal benefit. I don't personally think that's a good use of money, but at least it's a testable target.
However, there's a real lack of anything that could be called 'policy' or 'strategy' which might begin to deal with the ongoing crisis in Scotland's schools – no reconsideration of the Curriculum for Excellence or the presumption of mainstreaming, nothing on vocational education, or co-curricular education, or the crisis in teaching numbers and teacher burnout; indeed nothing at all really about making teachers' lives easier. Curiously there's also nothing about the nearly unanimous 2022 SNP conference motion which called for a statutory play-based kindergarten stage for three to six-year-olds, with 'school', starting at six – now there was a good and brave idea, already the practice in several countries which have much better educational success than Scotland.
Cabinet Secretary, please, please start focussing on a few good ideas that will actually change and improve Scottish education, and have a courageous vision for improvement rather than a further load of whimsical soundbites suggested by the 'national education bodies' which are in the process (unlike our bottles) of being recycled. In fact, maybe don't talk to the 'educationalists' at all – maybe start by getting in your ministerial car and going and talking to those teaching colleagues you worked with back in the day.
Cameron Wyllie writes a blog called A House in Joppa. His book, Is There A Pigeon in the Room? My Life in Schools, is published by Birlinn