Tram inquiry: Hothouse political atmosphere saw too many afraid of raising concerns – Donald Anderson
Despite its problems, Edinburgh's tram line has helped boost the city's economy by billions of pounds
Well, it's taken a long time for Edinburgh Tram Inquiry report, too long many would say, and I do have some sympathy for that point of view. I must also confess that the only trace of amusement in the report is reading Lord Hardie trying to reapportion costs allocated to his inquiry to lower the total and then setting out how officials at Tie, the arms-length tram delivery company, did almost the same thing – although his intentions were perfectly innocent.
However, it's here, so what do we learn from it? Firstly, there is little that will surprise. Most of the conclusions were self-evident from the start and the recommendations are thankfully based on common sense. The tram company went rogue and good governance was replaced by self-seeking and arrogant incompetence, but why?
I think the truth lies in the fact that almost all the officials in Tie were appointed at the peak of the jobs market. However, when the project was being delivered, we were in the immediate aftermath of the 2007 crash. Unfortunately, Tie officials always appeared more focused on ensuring the project and their paycheques continued, rather than delivering it efficiently. The arms of this arms-length company were way, way too long.
All of this took place in a hothouse political atmosphere in which "on time and on budget" was a mantra repeated so often that too many people lived in fear of contradicting it. The delivery of the utility works was a critical issue and senior council officers were dispatched to Dublin to learn from the massive problems that utility works created there. They returned brimming with confidence that they would do it better. They didn't. It was a shambles.
Edinburgh residents and local businesses along the tram route – some of which went bust – paid a high price for incompetence and maladministration. I have much sympathy with Lord Hardie's suggestion that misleading elected members should perhaps be made a criminal offence. However, in the aftermath of the Lucy Letby case, we should seek a common ethical framework for public employees, and all should understand that whether or not it is spelled out in their contract of employment, they have a duty of candour and should always protect the public interest.
If we can take any comfort from the inquiry, it is that lessons have already been learned. The tramline to Newhaven was delivered efficiently after the officials involved sat in on Hardy's Inquiry to do just that.
Remember, the tram line was an economic development project as much as it was a transport one. Edinburgh has lost the crown jewels of its economy – our banks and financial companies are no longer the force they were – but it can still boast the strongest city economy in the UK outside London.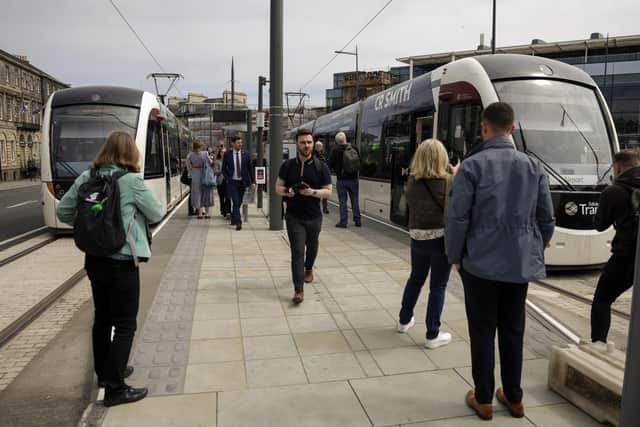 That's not all down to the trams and the literally billions of pounds of investment that they've helped deliver. However, they have more than played their part in that success. That's the one comforting thought we should have as we look back on the tram project.
Donald Anderson was the leader of Edinburgh City Council from 1999 to 2006
Comments
 0 comments
Want to join the conversation? Please or to comment on this article.