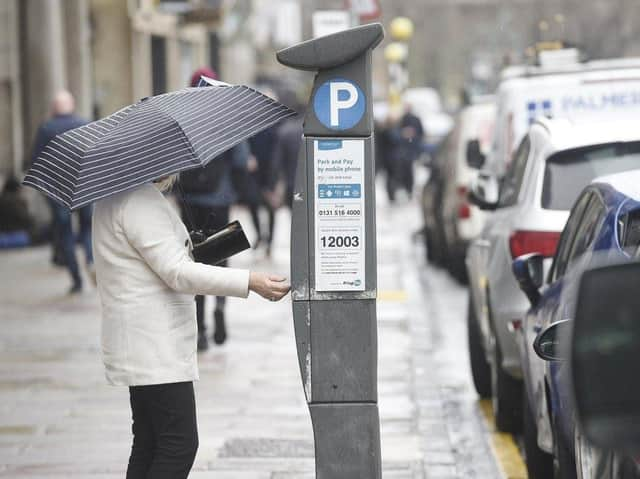 Parking charges will apply on Sundays from April 11 in Edinburgh city centre.
Last Friday morning I walked along Princes Street and passed just a handful of people.
In a couple of weeks, that is supposed to change as non-essential retail reopens for the first time since Christmas. However with the work-from-home message still in place, suburban cafes and shops are likely to benefit most. The city centre faces a long, slow journey back to recovery.
That makes Edinburgh City Council's decision to introduce Sunday parking charges from tomorrow even more inept and inexplicable. The timing really couldn't be worse. Officials say it is because "Edinburgh is now a seven-day city". Where have they been for the past 12 months?
At the moment Edinburgh city centre resembles a small Borders town on a quiet early-closing Wednesday. The idea this it is some bursting metropolis that needs controlled would be funny if it wasn't so dumb.
The city plan to become carbon neutral by 2030 is laudable. Reducing traffic to reach that target is a good ambition that deserves all our support but the pandemic has put a speed bump in the way and we need to get over that first.
After a year of telling people to avoid public transport, we can't expect them suddenly to board trains and buses. The reality is that people who have a car feel safer using it to get around at the moment. You only have to look at traffic volumes on our roads to see that is true.
We will need a big promotional campaign to get people back on to public transport again and even with that, it will take time.
Until then, the car will be king for many people and we need to recognise that. When retail reopens from April 26, shoppers will have a choice – the giant retail parks around the bypass with their unlimited free parking or the city centre with its new seven-days-a-week parking charges.
While a long-term goal to reduce city centre traffic is essential, now is not the time. The billion-pound St James development in the city centre finally opens in June and needs thousands of visitors every day just to make it work.
How are they going to arrive? By bike? Walking from Corstorphine? A few might but many people venturing back into the city centre in the coming months will come by car and need to be welcomed and encouraged.
A few smart local authorities around the country have actually cut or abolished parking charges in the short term to help support town and city centre businesses.
In Edinburgh that is not possible because for years council finances have been built around catching motorists who are 15 minutes late getting back to a car that is parked causing no obstruction. You will rarely see a dog or litter warden but the parking tax collectors are everywhere.
No one wants to see more traffic on our roads. Cutting cars is the way ahead but right now we need to accept they have a place in our towns and cities while we are on the road to recovery.
A message from the Editor:
Thank you for reading this article. We're more reliant on your support than ever as the shift in consumer habits brought about by coronavirus impacts our advertisers.
If you haven't already, please consider supporting our trusted, fact-checked journalism by taking out a digital subscription.