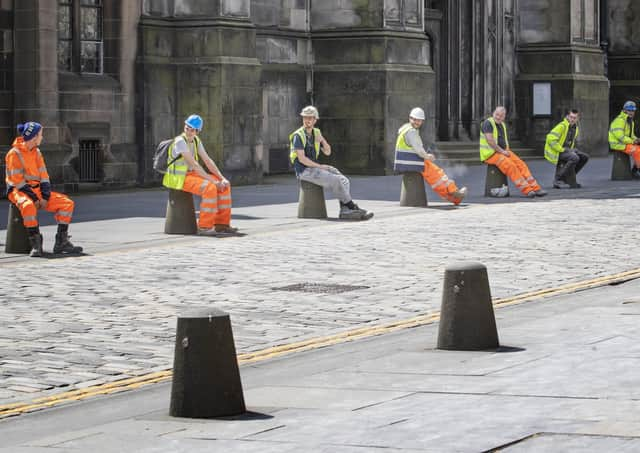 Construction workers comply with social distancing during their break along Edinburgh's Royal Mile
Nevertheless, it does seem as though it is now a matter of when rather than if the two-metre social distancing rule will be relaxed across the United Kingdom, including in Scotland.
The approach of the UK as a whole has always looked cautious in this regard, if not in others, when the recommendation of the World Health Organisation has been one metre all along.
The shorter distance has been accepted already in Northern Ireland for pupils only, allowing them to return to a full-time teaching timetable in September.
Now the Prime Minister and his Cabinet colleagues have been busy over the weekend dropping hints that England will also be making changes to its universal application of the two-metre rule.
The most likely outcome looks like an announcement, perhaps on Tuesday, that it will be replaced by a one-metre rule at least in certain siutations and with certain added safety measures, such as the wearing of face masks.
All that is likely to add up to irresistable pressure on Nicola Sturgeon to follow suit once her advisers return with the results of their own review into the scientific evidence in ten days time.
Of course, an upsurge in infections in the coming days or a different pattern between Scotland and the rest of the United Kingdom would change that, and you cannot rule out the Scottish Government's chief advisers coming to different conclusions to their counterparts elsewhere.
So the nation will wait with a growing sense of anticipation to
 see what conclusion the First 
Minister and her advisers might reach.
An easing of the two-metre rule would transform life in Scotland.
Depending on the scope of any change, our schools could expect to return almost to normal from 
11 August, re-opening would suddenly become a viable option for countless hospitality and entertainment venues and the possibilities for public transport and other workplaces would be radically different.
The day on which the Scottish Government's review of the social distancing rules is due to be completed, 2 July, is shaping up to be one of the most significant dates of the year for the nation.