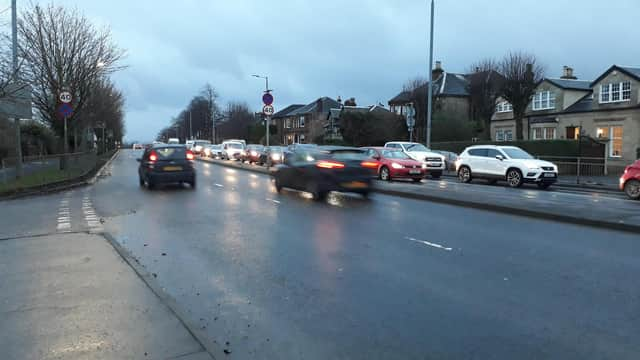 Tighter restrictions, which state people 'must not leave or remain outside' the home unless it is essential to do so, are being introduced on Saturday in an attempt to stem rising numbers of Covid cases (Picture: The Scotsman)
If that's an oversimplification, the basic message is the same – to help avert devastating changes to our lives in the future, we should start by trying to prevent needless deaths right now.
Road traffic significantly fell during the first lockdown last March.
Remember that? Empty roads. Audible birdsong. Families venturing out for bike rides.
But not now. OK, it's winter, but as The Scotsman revealed this week, traffic in Edinburgh and Glasgow is on the rise despite the start of mainland Scotland's second proper lockdown last week.
At some points, it has even reached the levels of a year ago.
The immediate concern for ministers is too much travel risks spreading the highly transmissable virus further and faster.
However, the longer term problem is reducing vehicle emissions is also a cornerstone of their ambitious climate change targets.
And the eyes of the world will be on how Scotland is doing in ten months' time when the postponed Cop26 – the United Nations' 26th Conference of the Parties on climate change – comes to Glasgow.
Some timely information on this was released this week by the Scottish Parliament Information Centre (Spice), which highlighted that transport is Scotland's largest source of greenhouse gases, accounting for more than one third.
Within that, cars account for the largest proportion – 39 per cent.
That is more than two-and-a-half times that of aviation and three times that of both vans and lorries.
By contrast buses and coaches account for just four per cent and trains one per cent.
You might think vehicles are becoming cleaner and greener, but Spice noted that reducing transport emissions has proved stubbornly difficult.
They have fallen by just 0.5 per cent in more than 30 years – when the Scottish total went down by nearly 46 per cent.
However, the extremely ambitious target is a 41 per cent reduction between 2018 and 2032 – just 11 years' time.
Significantly, nearly half of that is to come from reducing car travel.
That just happens to be exactly what ministers want us to do right now – as an immediate step to save lives from Covid.
Despite the focus on cutting car emissions, Spice pointed out there had been "no significant behavioural shift" away from cars over the last decade, as I've reported a number of times, contrasting that with ministers' vain efforts to persuade us to travel by bus and train instead, and walk and cycle more.
On top of that, it noted that major road schemes such as dualling the A9 and A96 are likely to increase emissions.
From Saturday, Scotland's Covid restrictions are being tightened, such as non-essential "click and collect" services being banned, to further limit travel.
But while yet more clampdowns might follow to help get us out of the pandemic, they are likely to be nothing compared to far more dramatic measures like road tolls that look increasingly likely if we are to achieve the reductions in car use needed to help save the planet.
A message from the Editor:
Thank you for reading this article. We're more reliant on your support than ever as the shift in consumer habits brought about by coronavirus impacts our advertisers.
If you haven't already, please consider supporting our trusted, fact-checked journalism by taking out a digital subscription.