Whichever way you cut the deck, the shambolic events surrounding the revolving door at 10 Downing Street exposes a deepening crisis in British democracy, and demonstrates an urgent need for change.
It seems inexplicable that a new prime minister can take office without having offered so much as a set of rudimentary policy ideas or commitments. Even more troubling is the fact that such an extraordinary occurrence is tolerated. Yet here we are in modern Britain, a zombie state stumbling and shuffling on, well in advance of Hallowe'en.
Over the past few days, prominent international media outlets have run explainer-style pieces outlining the quirks of British democracy to their audiences. One, by CNN, made the most pointed observation of all, thanks to a headline which read simply: 'Britain has a new prime minister that no one in Britain voted for'.
Like his predecessor, Rishi Sunak has entered Downing Street immediately hamstrung by a crisis of credibility. The mandate secured by the Conservatives in 2019 is hopelessly irrelevant to the severe challenges of 2022, and the manifesto that secured the party its victory three years ago has been repeatedly shredded.
But it is not just Mr Sunak's authority that is in doubt. Public trust in the political process is at risk. It is a fragile thing and once broken, it is very hard to repair.
The most obvious and immediate solution - a general election - has already been ruled out by the 42 year-old. Fittingly, we learned as much from briefings Mr Sunak gave to MPs on Monday afternoon, as opposed to hearing from the man himself the same day.
That is, of course, in his gift, but it is a decision designed to protect his beleaguered party at the expense of the public good, and it renders him weak from the get-go.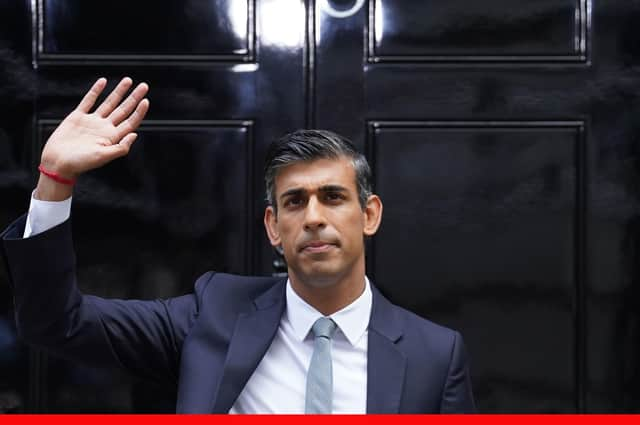 Clearly, Mr Sunak, a politician of myriad contradictions who has yet to convincingly set out his own brand of Conservatism, believes he has the talent and patience to unite the Tories over the next two years and rehabilitate its dire status in the polls.
But even he must concede that such a feat would be tantamount to sorcery. As things stand, his party is unleadable, and the country he leads is near ungovernable.
No matter what he has said about the urgent need to fix a "profound" economic crisis, it would be morally indefensible were Mr Sunak not to call an early election. The chaos that has engulfed the Conservatives has dealt irreparable damage to the country, and only a new government with a new mandate can command authority.
But British politics can and must go further. So much of that damage was brought about by the fleeting premiership of Liz Truss - a fever dream that will soon be relegated to a footnote - who was, of course, rejected by a majority of her MPs. Instead, she was swept to power thanks to her party's membership. Such an absurd situation cannot be repeated.
Supporters of the existing system point to the importance of allowing ordinary members of the public to join a party and influencing its future direction, and reason that allowing them a say over the next leader recognises the vital and often thankless role they play in volunteering and selecting local candidates.
In any case, they point out, it is a useful tool with which to create a meaningful relationship between those who govern, and those who are governed, and helps broaden the base of British political participation.
Not all those arguments are without merit, but they ignore a fundamental farce at the heart of the current arrangements; namely, in a country of more than 67 million people, allowing just 172,000 Tory members a say over the next prime minister is little more than an affront.
The problem lies not just with disproportionate power wielded by such a tiny, unrepresentative proportion of the population instead of accountable, elected representatives; the system itself invites and incentivises the kind of shrill and aggressive discourse that has left so many people lamenting the entire political class.
Even more worryingly, there is precious little transparency about the process by which the party's internal democratic workings - the same applies to Labour. The party is under no obligation to submit itself to the regulation of a body such as the Electoral Commission, and repeated concerns have been voiced about online voting security, eligibility requirements, and the role of private firms hired to oversee the administration of it all.
In any case, given the Tory membership so resoundingly rejected Mr Sunak earlier this summer, how can they possibly support the status quo given he now finds himself prime minister?
There is every chance that the Conservative grassroots will help oust Mr Sunak before he can make good on his promises of uniting the party and fixing the economy. Many MPs, particularly Johnson loyalists, view him as a divisive figure.
Anyone who considers the idea of yet another Tory leadership contest in the next year little more than a wild fantasy would do well to reflect on the events of recent weeks.
Were that scenario to come to pass, it may signal a repeat of the turmoil that has engulfed British politics. That would be fatal to the Conservative party. But it would be just as disastrous for country at large.