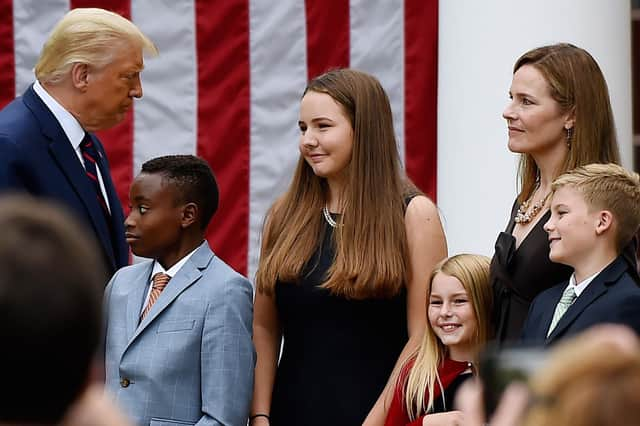 Donald Trump walks by Judge Amy Coney Barrett (right) in the Rose Garden of the White House (Picture: Olivier Douliery/AFP via Getty Images)
The Covid superspreader event will go down in history as one of the most bizarre moments of the most bizarre presidency of all, beaten only by the sight of a Covid-infected Trump taking a cavalcade around the hospital, waving from the car window in the style of a fully-fledged despot.
In appealing to gun-toting voters who see masks as muzzles, the kind who congregate to spite a highly viral illness, so dedicated was the Trump camp on a show of strength that they sacrificed their own health and that of their families, White House staff and the presidential chain of command one month before one of the most bitterly fought elections America has ever seen. Biden is masked and on the campaign trail. Trump is left gasping for air on the White House balcony.
Barrett is staunchly anti-choice or, as her supporters have it, "pro-life", a sentiment tweeted also by Trump from his plush Walter Reed hospital suite in full capital letters, reminding us his election was always an assault on women's automony and his campaign for a second term has Roe vs Wade in sight.
Barrett has argued for guns, violent correctional facility discipline and shunning immigrants. Mystal continued, "Her nomination has been made with one issue in mind: abortion. The conservative men who have been attacking a woman's right to choose for a generation have long pined for a woman to do the final work of denying women their right to their own bodies."
The contradiction of 'pro-life' views nestled inside conservative politics which make living and breathing harder for anyone who doesn't want their kids shot at school, ethnic minorities to be brutalised by police or women to die trying to access reproductive healthcare has long been seen by US feminists. Irish feminists, who recently succeeded in repealing the 8th Amendment and legalising abortion, are also acutely familiar with the deathly impact of 'pro-lifers.'
I suspect that's why Irish feminism has largely been vocally opposed to the anti-trans movement taking root in their community. They are wise to the wider agenda of restrictive conservatism often lurking in the background, and they want no part in it. Self-identification passed into law in Ireland in 2015.
British activists hostile to proposed reforms in Scotland and the UK have been met with opposition when planning speaking events there. An open letter penned by Irish feminists two years ago read: "There is no difference between 'feminists' spreading transphobic and transmisogynist ideas or spreading racism or homophobia. We want no part of it, and we don't want it here."
It's worth noting many are aghast at what is happening in the UK, as feminist communities are hollowed out by obsessive transphobes, willing to cosy up to anyone opposing trans rights no matter how blatantly anti-feminist their other activities. This can be seen in the interest taken in UK activism by staunchly anti-abortion 'pro-family' US group the Heritage Foundation, or how quickly 'legitimate concerns' over public consultations devolved into attempts to return to the days of Section 28 by attacking LGBT education outright.
The damage is awful, not only to trans people and supporters, but often to themselves; it's not uncommon to hear of individuals so consumed and embittered by the subject they've alienated friends and colleagues, deeply paranoid they're at the mercy of a coordinated 'trans agenda'.
Back in May 2019, I wrote about how Gender Recognition Act reform was being used as a wedge issue by some Salmond-supporting SNP figures to court retrogressive fringes of the party, aiming to undermine a leadership typically depicted as forward on social issues, setting the foundation for rival bids.
Since then, online outrage and conspiracy peddling hasn't channeled into meaningful support for rival factions or new parties. Parking the GRA reform has, inevitably, made things worse. But it didn't take long before it all devolved into appalling attacks on their own side's leading lights, young women candidates and LGBT party activists. Some are willing to cannabalise their own party, jeopardising independence at its most crucial moment, by stoking in-fighting much, much nastier than anything in 2014.
It is deeply cynical to hold up the odd idiotic, violent tweet as proof that a whole class of people are predatory; this is exactly what happened with the moral panic preceeding Section 28. Hate didn't win then. But the fearful believe it now, shunning those who should otherwise be natural allies when far-right sympathies, crushing austerity, and a global pandemic are exacerbating rates of domestic violence and general inequality.
In all these situations those who seek power from amidst chaos know they're stoking fires. They gamble on winning. But nothing is normal during a pandemic. Trump, for once, is ravaged by the effects of his own anti-social, anti-democratic campaigning. Mostly, though, it's others who suffer. Those most at risk from anti-choice 'family values' conservatism are those with least social standing, least representation in political parties, the judiciary, and the press: women, LGBT people, immigrants, ethnic minorities, the working class, the elderly and the very young.
These groups have always been used as fodder in political power struggles. Some take the bait back to their own communities where it spreads like toxic mould, and you can bet anti-abortionists are delighted by the damage wrought by anti-trans conspiracists aiming their ire at LGBT and women's charities, progressive politicians, inclusive libraries and bookshops. The pattern is the same. Trump's demented anti-masker movement makes it possible to trace how self-sacrificing courting conservative extremists really is.
A message from the Editor:
Thank you for reading this article on our website. While I have your attention, I also have an important request to make of you.
The dramatic events of 2020 are having a major impact on many of our advertisers – and consequently the revenue we receive. We are now more reliant than ever on you taking out a digital subscription to support our journalism.
Subscribe to scotsman.com and enjoy unlimited access to Scottish news and information online and on our app. Visit www.scotsman.com/subscriptions now to sign up.
By supporting us, we are able to support you in providing trusted, fact-checked content for this website.
Joy Yates
Editorial Director