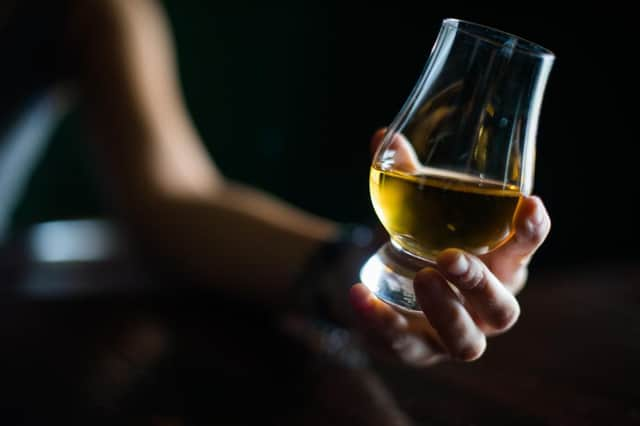 The Scotch industry has taken a £300 million hit since the imposition of US tariffs. (Picture: Shutterstock)
If Liz Truss is positioning herself as the self-appointed guardian of the beleaguered Scotch industry, it may be time for those tending to the nation's stills to pour themselves a large measure.
In an op-ed for the Daily Telegraph, the conduit of choice for all official UK government announcements, the International Trade Secretary vowed to scrap the "unacceptable and unfair" US tariffs faced by Scotch producers, while condemning the EU for having "failed to stand up" for British and Scottish interests.
"This issue encapsulates why it is so important for Britain to have its own independent trade policy," she thundered. "For the first time in almost 50 years, we'll be able to strike our own trade deals, set our own tariff policy, and export the best of Britain abroad in a way that we haven't been able to as part of the EU."
The tubthumping continued at length, with familiar talk of "EU intransigence". Nowhere, however, did Ms Truss find room to mention the real reason the Scotch industry is suffering: the Trump administration.
Funny that, given it is only a fortnight since she went to Washington to impress upon Robert Lighthiser, the US trade representative, the need to urgently end the "punitive" tariffs. Sadly for Ms Truss and producers of Scotland's most famous export, all she brought back from her trip was jetlag.
An innocent victim of Trump-EU trade war
With a fourth round of talks over a US trade deal set for next month, Ms Truss is too meek to engage in sabre rattling, and too shameless to resist some default Brussels bashing. In the meantime, the industry is hurting. Since its introduction last October, the 25 per cent tariff on single malts has resulted in a 30 per cent drop in exports, worth around £300m.
It is the innocent victim in Trump's escalation of a long-running spat with the EU. The imposition of the tariffs was an unnecessarily harsh retaliatory measure, sparked by aircraft subsidies for the plane manufacturer, Airbus, a firm Washington believes has unfairly benefited from vast sums of state aid from European governments. Brussels, in turn, argues the same subsidy benefits are enjoyed by the US giant, Boeing, a firm much feted by the White House as the nation's biggest manufacturer and exporter.
It is a vexed dispute which has been playing out for 16 years now, and both parties have complained to the World Trade Organisation about the other with no resolution in sight. Since Trump came to office, however, the US has rolled out an aggressive blunderbuss strategy, and Scotch producers have been left picking out the buckshot.
There are plentiful valid criticisms of Trump's approach, not least the pain it is inflicting on US-based importers, distributors, stores, and restaurants, as well as aficionados of the drink. But the most obvious one is his brazen hypocrisy.
While his government has stood by its tariffs, the US president's private family firm has openly embraced the Scotch industry in an attempt to project some much-needed glamour and prestige at its loss-making resorts in Scotland.
It is largely forgotten now, but the Trump Organisation partnered with the Glendronach distillery in Aberdeenshire to produce its own bespoke malt, complete with none too subtle Trump branding.
The limited-edition run - bottled in 2012 to mark the opening of his inaugural course in Scotland - has pride of place in the bars of Trump's properties, and to this day, you can pick up a bottle while visiting Turnberry - provided you have £4,000 to spare.
Whenever a signed bottle comes on the open market, it fetches a few thousand more than that price. Whether its popularity is testament to the whisky or the lucrative US politics collectors market is debatable.
That deal was merely the tip of the iceberg. The executives at Trump's Scottish resorts are savvy enough to know that their primary customer base – well-heeled Americans – have narrowly defined expectations of a golfing holiday to Scotland, and key to that is a nip or two of something special after they trudge off the links.
The range of malts stocked at the Clavis bar, which opened on World Whisky Day in 2017, were chosen with the help of Gordon & MacPhail, Elgin-based whisky specialists, and the resort has maintained a close relationship with some leading distillers. As recently as last year, it teamed up with Macallan to host a four-course tasting menu.
Of course, it is debatable how much these partnerships have helped Trump's firms in Scotland, which remain resolutely in the red, having incurred repeated multi-million-pound losses under his ownership.
The fundamental point, however, is that on the one hand, Trump is using his public office to punish the Scotch industry for a dispute it played no part in, while on the other, his resorts are using its products to help sell a luxury lifestyle.
Some observers have suggested the tariffs are no accident, but a broad brush punishment designed to exact revenge against the Scottish Government and the SNP, not least because of its defeat in the courts of the Trump Organisation over an offshore windfarm development on the Aberdeenshire coast.
Could a sitting US president be quite so petty? I'm not so sure. But Trump is no stranger to holding a grudge. Take a case in point from recent history, when Michael Forbes, a longstanding critic of the 73-year-old, who refused to sell to his land to make way for Trump's northeast resort, was announced as Top Scot in the 2012 Spirit of Scotland awards.
The event was sponsored by Glenfiddich, and in the weeks that followed Mr Forbes's victory, Trump tweeted no fewer than seven times about the family distillery, describing it as "garbage", banning it from his properties, and calling on Scots to boycott it.
It might stand Ms Truss in good stead to remember the episode if and when she returns to Washington, a city where spite, malice and revenge are served neat.
A message from the Editor:
Thank you for reading this story on our website. While I have your attention, I also have an important request to make of you.
The dramatic events of 2020 are having a major impact on many of our advertisers - and consequently the revenue we receive. We are now more reliant than ever on you taking out a digital subscription to support our journalism.
By supporting us, we are able to support you in providing trusted, fact-checked content for this website.