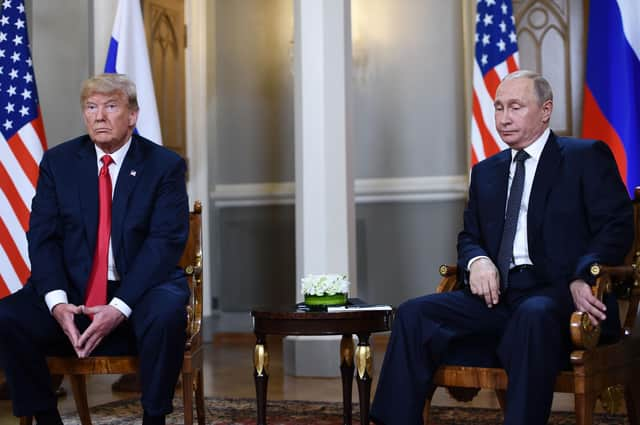 Honest, decent Republicans – including judges appointed by Trump – helped thwart the ambitions of this overgrown toddler of a man, but the threat posed by the forces he has unleashed very much remains.
And there is an obvious example of what the United States could have become had he succeeded: Vladimir Putin's Russia.
The fall of communism and the Soviet Union brought freedom to the countries of eastern Europe, new states like Estonia and Ukraine, and to Putin's reborn country.
However, the former KGB agent has successfully subverted the country's fledgling democracy to the point where it is now classified as an "authoritarian" regime on the Economist Intelligence Unit's Democracy Index, along with North Korea, China and Iran.
Trump is no Putin and America's long commitment to democracy meant it was far less likely to fall to dictatorship, but still he tried. And, even after a violent mob of pro-Trump supporters stormed the Capitol building, killing a police officer, eight senators and 139 members of the House of Representatives were prepared to support him, objecting to the election results in at least one state despite there being not a shred of evidence of significant voting fraud, as multiple court rulings attest.
Had Trump been re-elected or managed to stay in power, his repeated threats to lock up political opponents might have become more serious.
Certainly, in Putin's Russia, standing up to him is a life-threatening activity as the poisoning of opposition leader Alexei Navalny with Novichok demonstrates. Showing extraordinary bravery, Navalny returned to Russia following treatment in Germany and was immediately arrested.
Foreign Secretary Dominic Raab has condemned the "Kafkaesque" and "politically motivated" detention and signalled the UK may grant refuge to his supporters because of the risks they now face in their own country.
As Putin entrenches his dictatorial power in Russia, Joe Biden will carry the best wishes of the free world as he moves to re-establish America as its spiritual leader.
A message from the Editor:
Thank you for reading this article. We're more reliant on your support than ever as the shift in consumer habits brought about by coronavirus impacts our advertisers.
If you haven't already, please consider supporting our trusted, fact-checked journalism by taking out a digital subscription.