Donald Trump vs Joe Biden: Americans' basic decency means they will not choose 'untrustworthy' Trump over 'doddering' Biden – Henry McLeish
In the US presidential election numbers game, Trump's 91 indictments are a bigger problem than Biden's 80 years
Writing about US politics is unsettling. Fact and fiction fuse in a country intent on sacrificing democracy on the altar of toxic intolerance and cultish ideas that to participate in public affairs requires human sacrifices, metaphorically speaking. Destroying the character of your political opponent has become the driving force behind the Republican party.
Recent events reflect this grim reality. Keeping the government from shutting down when the fiscal year ends in October is the big issue on Capitol Hill. House Speaker Kevin McCarthy battles with what some Republicans refer to as their "bat-shit crazy" colleagues on the ultra-right of the party who are manic in their determination to undermine Joe Biden's programme of government.
A recent Wall Street Journal poll about the 2024 election had Biden and Donald Trump "locked" at 46 per cent each, suggesting that the race at this point is too close to call. Paul Waldman, an author and commentator, wrote on MSNBC's website: "If that makes you feel like your country has gone mad, you're not alone."
Biden and his son Hunter continue to be the subject of Republican vitriol. Hunter Biden is about to be indicted on a "felony gun possession charge" – the court appearances will not help his father. In the spirit of revenge, the president will be the subject of a House impeachment inquiry based on the charge that he engaged in "bribery, corruption and the abuse of power to help enrich his son" while in office. There is no case, but Speaker McCarthy is pandering to extremists who wish to oust him. Biden has a war room in the White House with dozens of lawyers and communications staff ready to deal with this impeachment.
In a few states, including Arizona and Colorado, there are attempts to use the 14th Amendment of 1868, which bans insurrectionists from holding office, to force Trump's name off the ballot. More are expected in other states.
Adding to the air of bewildering unreality, Trump is polling higher than all the other potential Republican candidates put together, averaging 52 per cent, compared to his nearest rival Ron DeSantis's 18 per cent. The prospect of a presidential candidate being in court or jail but also about to enter the White House remains a stupefying possibility.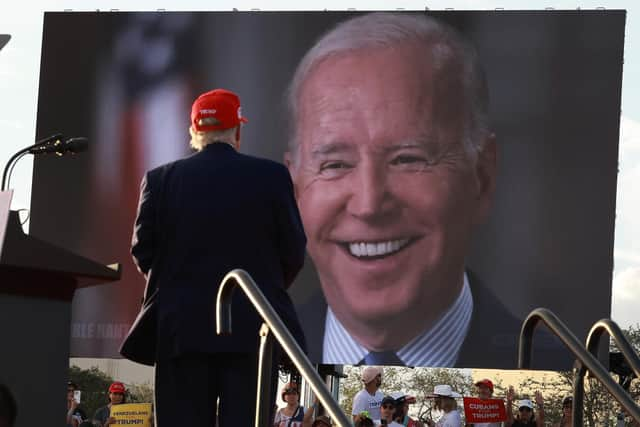 A recent CNN poll suggests diminishing confidence in Biden among Democratic-aligned voters, with concerns about his age. His approval ratings remain stubbornly below the mid-40s in the polls. The inevitability of a Biden-Trump rematch inspires little enthusiasm.
This renewed focus on Biden's health and age may yet become an important factor in determining who occupies the White House. In an Associated Press-NORC survey last week, 77 per cent of Americans, including 69 per cent of Democrats, said Biden was "too old to be effective during a second term".
With Biden 80 and Trump 77, there should be little to divide electors as far as age and health are concerned. But that is not what the polls are saying. Biden, the butt of Republican hatred and showing tangible signs of the effects of ageing, is generating concerns amongst Democratic voters. In personality politics, age and health are political weapons.
Eighty-one-year-old Senate minority leader Mitch McConnell's "freeze" at recent events, when he lost his focus in answering questions, possibly the result of concussion some months earlier, resulted in more media criticism of Biden than Trump. The decision of ex-Speaker Nancy Pelosi, 83, to run again for another six-year term has also not helped the president.
Age is more than just a number, but the polls don't suggest that recent concerns over Biden's frail-looking appearance, occasional gaffes and momentary lapses of concentration will necessarily change voting intentions. Never letting Trump take the oath of office again could be the crucial factor for millions of independent voters. Biden may have a number problem, but so does Trump – his spectacular collection of 91 indictments. That too is not just a number.
Trump will spend the next 14 months totally absorbed in avoiding convictions, keeping himself out of prison, and raising funds to pay his enormous legal fees. His head will be totally immersed in the possibility of serving time. Even for Trump, this will be challenging.
His apparent narcissistic personality disorder – or, for some, depleted brain capacity – will prioritise personal survival over political success. The deeper his legal quagmire becomes, the more unhinged, deranged and desperate he is likely to appear. Columnist Rex Huppke, writing in USA Today, said the "also-older-dude Trump spouting unhinged, conspiratorial, fact-free rants..." was "generally sounding like the senior crank at the end of the bar".
Trump's embrace of martyrdom keeps him riding high in the polls for both the general election and the Republican presidential nomination. But this could change. What may determine the fate of these 'super-agers' is the raw, emotional, human decency of the US electors. An unusual word-association exercise was carried out in the AP-NORC poll. Biden was identified with slow, confused, bungling, doddering, disorganised and old. Trump was identified with liar, dishonest, untrustworthy, corrupt, criminal, and crooked!
Journalist Frank Bruni, writing in the Washington Post, said there would be "remedies for Biden's limitations but no reprieve from Trump's excesses". "Old is workable," he added. "Depravity is a dead end."
Henry McLeish is a former First Minister of Scotland and a visiting professor at the University of South Florida
Comments
 0 comments
Want to join the conversation? Please or to comment on this article.