Donald Trump remains a threat to democracy and that means no one should consider 'Going Underground' – Scotsman comment
When Paul Weller sang about "the braying sheep on my TV screen" and how they "make this boy scream", he spoke for everyone who has ever shouted at the television in frustration at the state of politics.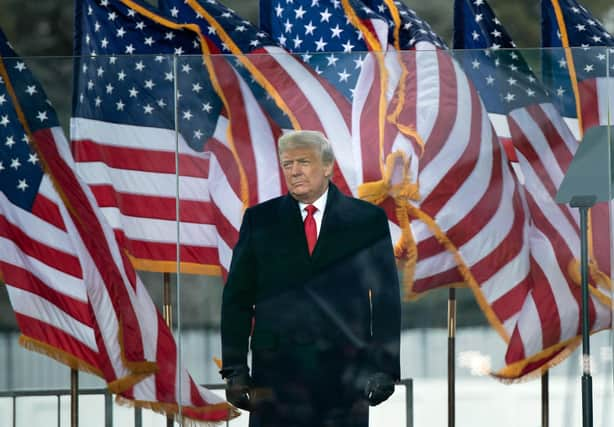 Many of us will have been there for one reason or another and Weller made his clear in the song's lyrics: "You choose your leaders and place your trust/ As their lies wash you down and their promises rust/ You'll see kidney machines replaced by rockets and guns."
His solution to this state of affairs was the title of the 1980 song, considered by many to be his greatest, and "Going Underground" is an understandable reaction when you feel powerless to make a difference.
But, however understandable it is to turn our backs on society when it seems to us to be embarking on a foolish, nasty or dangerous course, it is also a mistake.
Weller was wrong, and the last two US elections help explain why. In the 2016 vote, Donald Trump became President based on the support of about a quarter of American voters because the turnout was just over 55 per cent and the electoral-college system meant he could win despite Hillary Clinton receiving nearly three million more votes.
In 2020, the turnout soared to 66.7 per cent and Trump was defeated. Four years of lies, support for white supremacists and multiple domestic idiocies, including his bungled attempts to deal with the Covid crisis, could all have been avoided if only decent Americans who saw through Trump had gone to the polls in 2016 to make sure this grubby, small-minded man did not get his hands on power.
Weller's song was right about at least one thing: in a democracy "the public gets what the public wants". But if the public is not careful, if too many people fail to take part in elections, that can enable a minority to install Trump or someone who, like him, is prepared to try to overthrow democracy itself to stay in power.
To quote Mitch McConnell, the Republicans' Senate Majority Leader, the attack on the US Capitol by a Trump-inspired mob was a "failed insurrection". If democracy is to be preserved, we need the "demos", the people, to go overground and stand up for their right to rule.
A message from the Editor:
Thank you for reading this article. We're more reliant on your support than ever as the shift in consumer habits brought about by coronavirus impacts our advertisers.
If you haven't already, please consider supporting our trusted, fact-checked journalism by taking out a digital subscription.
Comments
 0 comments
Want to join the conversation? Please or to comment on this article.