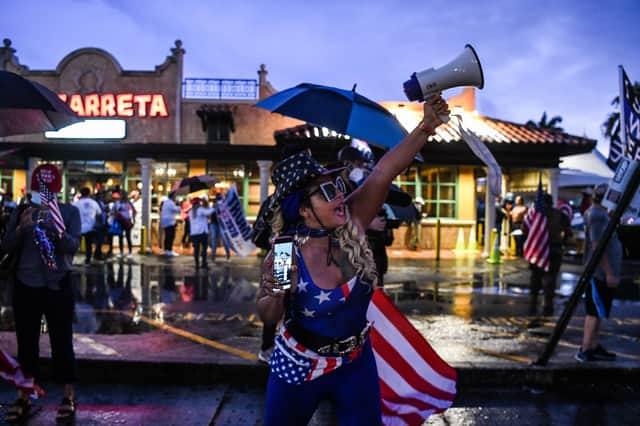 Some 70 million Americans voted for Donald Trump, despite knowing he is a narcissist who exploits racial tensions, spreads hate, and mocks science (Picture: Chandan Khanna/AFP via Getty Images)
Thanks to the behaviour of President Trump and his equally unattractive side-kick, Giuliani, the cornerstone of any democratic system – the integrity of its electoral system – has been trashed with a sledgehammer.
Decent Joe Biden may have won but the man who wanted to Make America Great stops at nothing to make America appear rotten and ridiculous in the eyes of the world, so long as there is a vestige of hope he can steal the election.
Those of us who have been repelled over decades by Washington's corruption of other people's democracies, particularly in Latin America, find irony in Trump's willingness to replace America's cloak of moral superiority with the trappings of a banana republic.
However, it is now a mistake to speak of "Trump" as if he was a freak who inadvertently gained entry to the White House abetted by deluded folk, worshipping at the feet of his celebrity.
About 70 million voted for him in full knowledge of what he is – the narcissist who exploits racial tensions, spreads hate, builds walls, mocks science and lives by crude mendacity. That is the package they endorsed or were prepared to overlook.
Without the pandemic, he would probably have won. Even in defeat, he has exacerbated divisions in American society to ensure his legacy will be long-lasting and malign. How sad that the nearest there's ever been to a "Scottish" US president turned out to be Donald John Trump.
US conspiracy theorist Alex Jones shouts "America is Awake" to a crowd of Trump supporters gathered outside a building where votes are being counted in Phoenix, Arizona (Picture: Olivier Touron/AFP via Getty Images)
A message from the Editor:
Thank you for reading this article. We're more reliant on your support than ever as the shift in consumer habits brought about by coronavirus impacts our advertisers.
If you haven't already, please consider supporting our trusted, fact-checked journalism by taking out a digital subscription.