Donald Trump and Boris Johnson show the perils of celebrity politics – Joyce McMillan
There have been times, this week, when the political scene – at least in the United States and here in the UK – has seemed pretty much like a tale of two celebrities, although their stories could hardly be more different.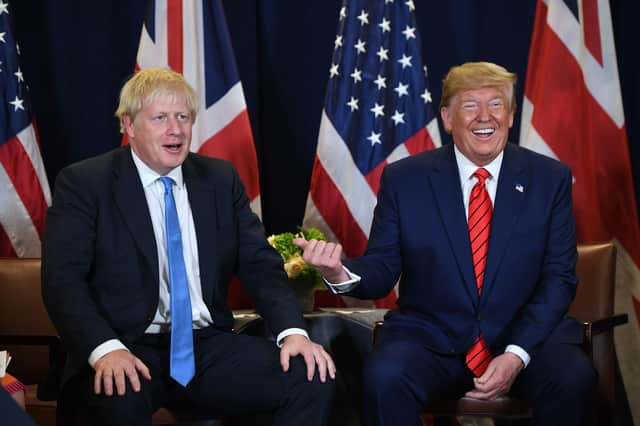 In America, there is Donald Trump, the privileged son of a wealthy father who – through his role as anchor of the US version of the television reality show The Apprentice – built up a base of popular recognition, fame and support that enabled him to win the presidency, and whose reluctant departure from office has now escalated into one of the great political dramas of our time.
Here in the UK, by contrast, there is the 23-year-old Premier League footballer Marcus Rashford, apparently one of the few people in Britain who now has the moral authority and popular support to hold the Johnson government to account, at least where the welfare of children in low-income households is concerned.
Last summer, he mobilised a public campaign which succeeded in persuading the UK government to reverse its bizarre decision that children in England from low-income households could somehow do without the free meals on which they depend, during the holidays.
And this week, Rashford has been back in the news again, as it emerged that the free school meals provision for England during the current lockdown does not always take the form of voucher payments to families, but may, with government support, be outsourced by schools or local authorities to a range of private companies – one of which, in return for a £30 payment per child per school fortnight, was discovered to be providing those children each week with a bag of basic sandwiches, scraps of vegetables, and an occasional piece of fruit, containing ingredients worth an estimated £5.
If a Tory generation of pinch-penny meanness towards the victims of Britain's low-wage, low-benefit economy is to have its Dickensian "I want some more" moment, in other words, then this is surely it; and yet the man leading the charge is not an opposition politician, but Rashford, whose family came originally from St Kitts in the Caribbean, and who grew up in some poverty in a working-class area of Manchester.
As the Trump presidency grinds towards a violent and undignified end, it's therefore perhaps time to give some thought to these two contrasting faces of celebrity involvement in politics. The difference here has nothing to do with nationality; Britain, after all, currently has a Prime Minister who probably would not occupy that high office today if he had not established a cosily familiar relationship with millions of voters through his appearances on Have I Got News For You.
In the cases of Trump and Rashford, though, both of these celebrities were stepping up to fill what had become glaring gaps in formal electoral politics, particularly at national level. Whatever we think of Trump's brand of right-wing populism, it is clear that millions of Americans felt seen and represented by him in a way that they had not been for decades.
And in Britain – well, the very origins of the Labour Party lie in the civic and trade union response to the poverty, ill-health, poor housing, and social inequality created by the rapid industrialisation of the 19th century.
Yet 120 years on, somehow the millions of children living in poverty in Britain today seem to have no voice, until they are given one by a young footballer with the moral authority and charisma to cut through the mean-spirited right-wing rhetoric that often passes for discussion of poverty in Britain.
At one level, centre-left parties operating in a right-wing climate of debate often seem frightened to point out the obvious about the growth of poverty in their countries, because of a terror of being seen to side with "losers" or "scroungers". Yet even where politicians try to draw attention to these abuses, their words tend to lack the traction and credibility that both the media and the public currently accord to celebrities with fame and glamour on their side.
Like many other celebrities, in other words, Rashford has succeeded in using his fame, popularity and influence in a dignified and entirely positive way. The careers of Trump and Boris Johnson, though, demonstrate that the power and popularity won through celebrity, and the falsely reassuring public personas it often involves, can be brutally abused, particularly when it is transferred from single-issue campaigning to formal electoral politics.
The result has been the emergence of a generation of celebrity politicians to whom normal rules of accountability and good conduct simply no longer apply – witness the continued polling success of the Johnson government, and the apparent willingness of Trump supporters not only to overlook the his constant grotesque lapses of taste and decency, but also to believe in an astonishing range of florid conspiracy theories about the country of their birth, rather than simply accept that their man failed to win re-election.
And so far, conventional democratic politics has often seemed almost helpless, in the face of this kind of leadership. Yet the fact that a massive grass-roots mobilisation of younger and black voters, in some key swing states, finally held back the threat of a second Trump term, and carried Joe Biden towards the White House, suggests that it might yet be possible to reverse this trend; provided parties are willing to engage in the kind of deep reconnection with their political grass roots that exposes the mendacious shallowness of top-down celebrity politics, and that might yet produce a generation of politicians whose appeal comes not from a new haircut and a few successful sessions of media training, but from a burning need to represent the ordinary people of their communities, and to give a voice to their language, their suffering, their priorities, and their passionate hopes for a better and more sustainable world.
This article has been edited as the UK government's free school meals scheme in England was not entirely outsourced to a private company with councils and schools able to choose between supplying meals and vouchers.
A message from the Editor:
Thank you for reading this article. We're more reliant on your support than ever as the shift in consumer habits brought about by coronavirus impacts our advertisers.
If you haven't already, please consider supporting our trusted, fact-checked journalism by taking out a digital subscription.
Comments
 0 comments
Want to join the conversation? Please or to comment on this article.