Donald Trump, America's liar-in-chief, was found out and the truth will out about Nicola Sturgeon's role in Alex Salmond debacle – Susan Dalgety
When Joe Biden told the American people at his inauguration on Wednesday that it was the responsibility of leaders to "defend the truth and defeat the lies", he meant it.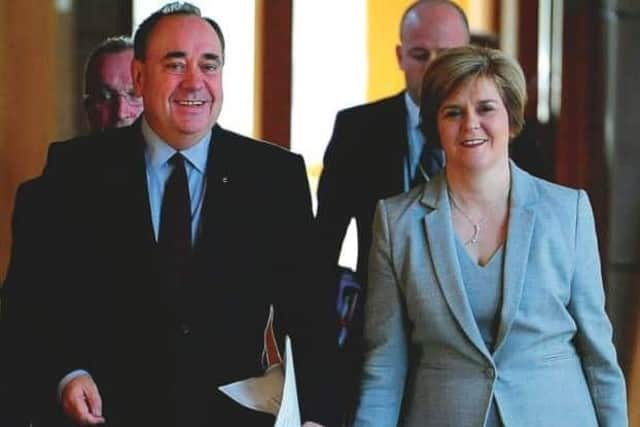 The next day, using the bluntest of language, he warned the country that coronavirus will have killed half a million people by the end of February, an increase of 100,000 on the current death toll.
He didn't sugar coat his warning with couthy tales of his Irish American heritage. Instead he gave it to them straight: "The death will toll will probably top 500,000 next month, the cases will continue to mount."
"We didn't get into this mess overnight. It's going to take months for us to turn things around," he added, making sure everyone knew the gravity of the situation.
This roughly equates to 21 falsehoods a day, quite a remarkable achievement even for the man who claimed a year ago that Covid-19 was nothing to worry about. "It's one person coming in from China. We have it under control. It's going to be just fine," he told a sceptical press pack last January. As of yesterday, 2.1 million people across the world have died of the virus, and the USA has the highest death toll.
Trump is not the only politician who has made a habit of telling lies. Our own Prime Minister Boris Johnson is no stranger to dishonesty. His career is littered with lies – big ones, white ones – he is indiscriminate in his duplicity. He was sacked from his first newspaper job in 1988 for making up a quote. He was sacked from his role as Shadow Arts Minister in 2004 for lying about an extra-marital affair.
Last June, he lied about his knowledge of Marcus Rashford's free school meals campaign. "…to be honest, I only became aware of [it] recent… erm, today," he mumbled. The previous day, Johnson's official spokesperson said the Prime Minister had praised Rashford's campaign. A lie so obvious, even a six-year-old boy wouldn't dream of deploying it.
Yet his biggest lie of all – that leaving the European Union would save Britain £350 million a week, money that could be spent on the NHS – won him the leadership of the Tory Party and in December 2019, the keys to Number 10.
There was a time when being caught telling lies would destroy a politician's career. Richard Nixon, the only American President to resign, did so because he lied about the break-in at the Democrat's Watergate HQ.
Bill Clinton was impeached in 1996, not for having an affair with a White House intern, but for perjury. Senior Tory, Damien Green (remember him), was forced to resign as recently as 2017 because he made "misleading" statements about porn on his office computer.
But since Trump and Johnson came to power, lying has become fact. People believe what they want to hear. My truth is my next-door neighbour's fake news. Black is white.
Here in Scotland, we are not inured from the lying tendency. The First Minister, Nicola Sturgeon, and her ministers argue – rightly in my view – that Brexit is bad for Scotland.
"Leaving the European Single Market and Customs Union would be damaging at any time but in the middle of the current crisis it is unforgiveable and completely unnecessary," said Michael Russell, the Constitution Secretary last month.
Yet both Sturgeon and Russell contend that leaving the UK, by far Scotland's biggest market and a Union we have been a member of for more than 300 years, is not only absolutely necessary, but would strengthen Scotland.
"We can use the powers of independence to build a better future – to grow a stronger and more sustainable economy, tackle poverty and inequality," argued Sturgeon recently.
Two entirely contradictory statements, but both true, according to the First Minister. When does shameless political spin become a big lie, I wonder? We might just be about to find out.
Just as the Watergate cover-up led to Nixon's downfall, so the Salmond affair might end up as Sturgeon's nemesis. It is becoming increasingly clear that in the lead up to Alex Salmond's trial for sexual offences, in which he was found not guilty, there was either a conspiracy to frame him or a simple cock-up by civil servants, depending on whose truth you believe.
It all centres round when the First Minister was told about the allegations against her former boss and mentor.
Sturgeon says she was told on 2 April 2018. Yet in a court document, Geoff Aberdein, who used to work with Salmond and Sturgeon, testifies that he and the First Minister discussed the allegations five days earlier when they met on 29 March.
And further revelations by Sky News yesterday suggest that a close colleague of Nicola Sturgeon's asked to change the account of when the Scottish government knew of the complaints against Alex Salmond.
Labour's interim leader Jackie Baillie, who is also a member of the committee set up to investigate the sorry affair, says the people of Scotland and the women involved in the case "deserve answers as to why those at the heart of the Scottish government have seen fit to spin and deceive on this most serious issue".
On Thursday, Joe Biden's new press secretary Jen Psaki, said her boss is committed "to bring transparency and truth back to government, to share the truth even when it's hard to hear".
Telling the truth, the whole truth, about the Salmond affair may be hard for Nicola Sturgeon to do and for her base to hear, but she has no option. As Shakespeare wrote, "At the length, truth will out." It's only a matter of time.
A message from the Editor:
Thank you for reading this article. We're more reliant on your support than ever as the shift in consumer habits brought about by coronavirus impacts our advertisers.
If you haven't already, please consider supporting our trusted, fact-checked journalism by taking out a digital subscription.
Comments
 0 comments
Want to join the conversation? Please or to comment on this article.