​Dhèanadh sinn a' chùis le torr a bharrachd de luchd-poilitigs mar Angela Rayner
B' e rud gu math cudromach a bh' ann gun do rinn Keir Starmer e soilleir gum biodh Angela Rayner na h-iar phrìomh mhinistear mas e 's gum buannaich iad an ath thaghadh agus gur e na Làbaraich a bhios anns an Riaghaltas.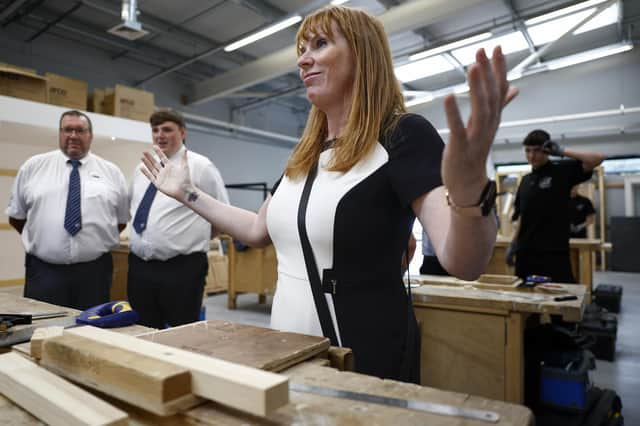 [English-language version below]
Cha chòrd seo ris a h-uile duine – nach e sin poilitigs co-dhiù – agus tha an tè ruadh seo beagan ro dheònach a bhith caran borb na cainnt, rud a tha cunnartach daoine a chur dheth, ged a chòrdas e ri cuid eile.
Ach chan e an stoidhle poilitigs a tha cudromach an seo, ach na tha i a' riochdachadh. Aig dìreach 43, tha i gu math òg fhathast ann an saoghal poilitigs, ach 's e a sgeulachd phearsanta agus mar a thàinig i gu ìre an rud a tha seasamh a-mach mar a bhith diofraichte.
Chaidh an sgeulachd seo innse iomadach uair, ach 's fhiach a dhol thairis air a-rithist, oir tha e a' toirt dòchas dha na mìltean de dheugairean a chaidh an togail ann am bochdainn agus aig nach eil cus dòchas gu soirbhich iad nam beatha.
Na màthair aig 16, cha robh cothrom aice a dhol dhan oilthigh agus thòisich i ag obair mar neach-cùraim (nach deuchainneach cho beag fhathast 's a tha an obair seo a' faighinn a thaobh pàigheadh san là a th' ann.) Thug i ballrachd a-mach san aonadh agus mean air mhean dh'obraich i a' slighe suas gus mu dheireadh 's i aon dhen luchd poilitigs as ainmeile san dùthaich.
'S e sgeulachd inntinneach a th' ann de dh'obair chruaidh, de dheòin is de dhìcheall agus bidh iarraidh gu leòr air a sgeulachd beatha ann an leabhar nuair a thig an t-àm.
Ach, 's e a' phuing a tha cudromach 's e nach bu chòir a sgeulachd a bhith idir neònach. Bu chòir dha a bhith àbhaisteach gu leòr dha daoine a thàinig bhon an togail a fhuair ise a bhith aig ìre ann an dreuchdan poblach.
Ach chan eil agus tha sin, gu mì-fhortanach, a' daingneachadh fìrinn nach eil idir taitneach: gu bheil ana-ceartas domhainn fhathast aig cridhe Bhreatainn an-diugh, far a bheil beairteas agus ceanglaichean ri sgoiltean spaideil a' cunntadh barrachd na càil eile.
Cha leig thu leas ach sùil a thoirt air cò eile a tha sa phàrlamaid còmhla ri Angela Rayner – fiù 's Keir Starmer fhèin – agus chì thu gu bheil àireamh mhòr a' tighinn bho na sgoiltean prìobhaideach, ged is e àireamh bheag dhen sluagh gu lèir a tha dol unnta.
Agus chan ann a-mhàin ann am poilitigs a tha seo fìor. Ann an grunn dhe na dreuchdan proifeiseanta poblach, mar na meadhanan, lagh, fiù 's obair naidheachd, chì thu mòran dhaoine dhen aon shliochd; daoine gam bheil dùbhlain ann am beatha a' ciallachadh càite an tèid iad air saor-làithean an ath thuras. Gu cinnteach chan eil aca ri smaoineachadh air cò às a thig airgead airson biadh no teas.
Tha seo cudromach oir g' e bith dè cho tuigseach no cho coibhneil 's a tha cuideigin, chan eil càil cho cumhachdach ri eòlas beatha airson tuigse cheart a thoirt air cruadal agus ciamar a ghabhas dèiligeadh ris.
'S e fìrinn na cùise gu feum sinn tòrr a bharrachd de leithid Angela Rayner – ann am poilitigs agus iomadach dreuchd eile.
English-language version:
The firm commitment by Keir Starmer that, in the event of a Labour government being successful at the next election, he will move to install Angela Rayner as Deputy Prime Minister is an important statement of intent and for reasons that go well beyond any perceived benefits for his own party. The flame-haired, plain-speaking northerner may not be everyone's cup of tea – which politician is? – and that's hardly helped by a tendency to resort to some unparliamentary language.
That may play well to a certain constituency, particularly given the tribal nature of politics, but it can alienate as much as it can endear, particularly so in the heightened scrutiny of government, if that's indeed what's in store, rather than being in the comparatively carefree position of opposition. However, her style of politics is not what matters here, it's about what she represents.
At 43, she is still a mere baby in political terms, but it's her personal background that marks her out for special attention. It's a story that's been told a thousand times now – maybe there's even in danger of over-cultivation – but it's worth repeating as it provides hope for countless other teenagers raised in poverty and for whom life chances are all but written off.
A mother at 16, university was never an option, so she trained as a care worker (maddeningly still one of the lowest-paid professions in society), joined the union and worked her way up the political ladder of representation to now being one of the most prominent politicians in the country. It's a remarkable tale of fortitude and determination. And when the time comes for her memoirs, it's bound to be a bestseller.
But the rather more important point in all this is that she shouldn't be an outlier; she shouldn't be a symbol of someone able to buck the trend and breaking down barriers. There should be nothing at all strange or unusual about someone from her background making it to the top echelons of public life and the fact that it does speaks to an unfortunate truth: the (still) deeply unequal state of British society where wealth and privilege trumps all.
A quick perusal of Rayner's parliamentary colleagues – even Starmer himself – tells you everything you need to know, with a vast disproportion privately educated when only a very small fraction of the general public is. And it's not just in politics that this is the case. Many of the more prominent professions in society – media, journalism, law – are inhabited to a large degree by those for whom the notion of a life challenge is more likely to be where to book the next skiing holiday. Certainly not where the money for food and electricity is going to come from.
This matters because, irrespective of an individual's capacity for understanding and sympathy, nothing beats lived-in life experience for understanding real hardship and how to deal with it. The truth of the matter is that we need a lot more Angela Rayners – in politics and in many other facets of public life.
Comments
 0 comments
Want to join the conversation? Please or to comment on this article.