Despite Russia's invasion of Ukraine, the UK is still failing to recognise the danger posed by authoritarian regimes – Stewart McDonald
When I visited Ukraine in February 2022, Kyiv was a city of hushed voices, restrained laughter and apprehensive citizens. One year on, those same people have become a global byword for hope and resilience.
Imagine a path as steep as the one leading from Regent Road to Calton Hill in Edinburgh, but with no handrail and black ice beneath the snow. Now imagine that cobbled hill, dominated by a gold and turquoise Orthodox church at its peak, lined with fashionable cafes and bars, packed with students and young people celebrating the end of the week.
Picture among them, if you will, me, stumbling, swearing and slipping up that icy summit to a restaurant where I would have dinner with friends and colleagues from the Ukrainian Rada. This dinner took place just weeks before Russia embarked on the most recent stage of its attempt to redraw the map of the European continent in blood. Eating borscht served inside a hollowed-out cabbage, I sat with people from across Ukraine and spoke about horrors that we hoped would never come to pass.
At the end of dinner, I turned to my friend Dmytro Natalukha, chairman of the Ukrainian parliament's economic committee, and said just that: that I hoped none of these forecasts would come true. Maria Mezentseva, MP for Kharkiv, was sat opposite me. She lowered her glass and looked me in the eye. "We cannot afford to hope," she said. "Hope means waiting for someone else to act."
Maria's words have rung in my ears most days since then, as we have all borne witness to the unimaginable bravery, resilience and ingenuity of the Ukrainian defenders and citizens who have weathered threats and tragedies that no human being should ever have to face.
From the soldiers who died defending Snake Island, using their last moments on Earth to tell the invading army to "go f*** yourself", to the old babushka in Henichesk who poured sunflower seeds into the pockets of invading Russian soldiers, telling them it would make sure that "sunflowers will grow on Ukrainian land when you die", the people of Ukraine have faced the horrors of war with tenacity and the darkest of humour.
They have not waited for someone else to act. The Ukrainian people have volunteered en masse to defend their families and communities and fight for their freedom and future – and the freedoms of people across Europe. We must give them all the support we can.
The war has made it clear that we in Scotland cannot continue our long period of geopolitical slumber, opting out of global affairs because of our small size and location. The world is changing around us, and we have to change with it.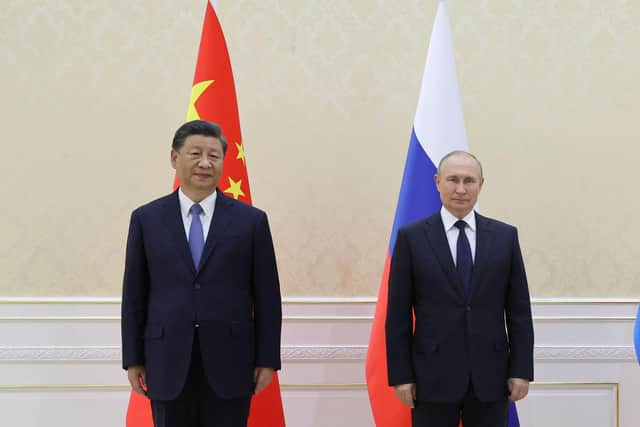 I have written before about remarkable intellectual renaissance enjoyed by the 20th-century Italian Marxist Antonio Gramsci and his analysis of a world in flux. His period in vogue marches on apace, with his name continuing to crop up in unlikely places – most recently at the Munich Security Conference. His popularity, I believe, is because politicians and policy experts alike are increasingly coming to a consensus that we are living through a period where the rules and norms that will define the rest of this century are being contested, shaped and formed.
In his speech at the conference, Jens Stoltenberg, Secretary-General of Nato, noted that China is watching the war in Ukraine closely for this exact reason: Beijing wants to see the price Russia pays for the crime of aggression – or its reward.
The slow erosion of the post-war rules and norms that have guided and shaped state behaviour can be seen all around us. Just last week, Vladimir Putin announced that Russia would suspend its participation in the New Start agreement, a 2010 bilateral treaty between the Russian Federation and the United States which caps the strategic nuclear arsenal of the world's two largest nuclear powers and creates mechanisms for each signatory to monitor the capability of the other.
This is a dangerous and retrograde step for international security. As Stoltenberg himself has repeatedly stated, a world with more nuclear weapons is a world in which we are all less safe. That this simple fact is so widely reiterated by our allies in public and in private makes the UK Government's decision to increase its nuclear arsenal all the more bewildering.
But this inability to see the wider strategic picture and to work in tandem with our allies is increasingly a feature of UK Government security policy – not helped by the fact that we have a wartime Prime Minister who colleagues describe as having "no interest in defence". Rishi Sunak's predecessors, however, were just as bad.
After Russia invaded Ukraine last year, the then Foreign Secretary Liz Truss said that the UK had woken up to the need to reduce its "strategic economic reliance on authoritarian regimes". The next week Boris Johnson went cap-in-hand to a government which just executed 81 men in 24 hours because, in the words of Sajid Javid, "whether we like it or not, Saudi Arabia is one of the world's largest oil producers".
Now, with Nato's Secretary-General also sounding the alarm in Munich about "the danger of over-reliance on authoritarian regimes", it is increasingly clear that the UK Government, pathologically determined to trade long-term security for short-term savings, is leading us down a very dangerous path.
The war in Ukraine should be a wake-up call for governments across the world – including in Edinburgh – to engage with the brave new world that is emerging before us. We are living through a time when the political and economic structures of the 21st century will be born and, amidst it all, the people of Ukraine are fighting for their freedom and for their lives. Their sacrifices and bravery can never be forgotten or ignored.
Slava Ukraini! Heroyam Slava!
Stewart McDonald is SNP MP for Glasgow South
Comments
 0 comments
Want to join the conversation? Please or to comment on this article.