Deposit return scheme's fate is another fine mess, not a constitutional outrage – Brian Wilson
A key test of where the blame lies will come if businesses which have invested millions of pounds on a false prospectus make claims for compensation
I have an image of Lorna Slater as the angry passenger, arriving at check-in without her ID, then looking for everyone else to blame. And check-in time for the Scottish Government's deposit return scheme (DRS) is now approaching.
At Holyrood this week, Ms Slater used the UK Government's intervention on this issue and its reluctance to allow men to self-define as women as evidence of "the broken pieces of devolution". Most Scots, in contrast, see them as merciful injections of common sense on a sound legal basis.
There are many failures and follies which are entirely the province of the Scottish Government. For example, the fact 18,000 Scots died last year while on NHS waiting lists might be regarded as a "broken piece of devolution", for which nobody but Scottish ministers have political responsibility.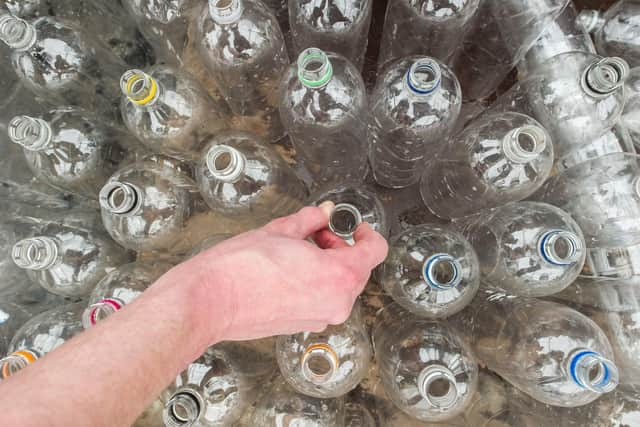 Or they might see the colonial treatment of island communities by an inept Scottish Government as a "broken piece of devolution", betraying the naïve belief that constitutional change would bring decision-making closer to the people, rather than ruthlessly centralising it in Edinburgh. The devolved charge sheet is lengthy.
Understandably, these are not the "broken pieces" that interest Ms Slater or her imperious colleagues. Instead, we have the laborious portrayal of a devious plot to undermine the good works and visionary planning of a blameless devolved government. The deposit return scheme is the most obviously absurd manifestation of that fantasy.
We are seriously invited to accept that the scheme is in good shape and ready to go, if only the UK would exempt it under the Internal Market Act. At this point, and in direct contradiction of Ms Slater's histrionics, remember it has already been kicked into touch twice for reasons unrelated to the Internal Market Act. Quite simply, it was nowhere near ready nor in any respect coherent.
The Scottish Government did not even lodge a request for exemption until March 6 – that's March 6 this year, not last year or the year before. Even if Ms Slater assumed she could bluster her way through, those advising her must have known there was no prospect of its detail being resolved within months of when the scheme was, at that point, due to commence.
In other words, a pseudo-constitutional fight was picked as cover for another costly, monumental shambles. Instead of an orderly approach, which would have involved a great deal of public education and attention to detail, we had a top-down edict which still needs continuing revision in order to make it semi-plausible, even after the self-imposed delays.
The crunch point will come if businesses which have been led into investing tens of millions of pounds on a false prospectus start looking for compensation. That really will be the test of where responsibility lies. The Scottish Government's defence of "it wisnae us – it's the big boy over there" will be as risible in a court of law as it is in the court of public opinion. They should cut our losses.
Let me offer examples of why the scheme is, from my own experience, ill-conceived. I live in a rural area where there are well-used community skips, efficient household collections and an excellent community-run shop. In summer (ferries permitting), the population quadruples, importing tens of thousands of extra bottles and cans, bought heaven knows where. The shop will be obliged to refund 20p on each qualifying receptacle – a logistical nightmare. A system that works well is to be replaced by one which nobody has yet bothered to explain in a rural context.
Or there's the walk I make regularly between a railway station and two of Scotland's iconic sporting venues. It should be a showpiece. Instead, it's a disgrace. The grass is littered with hundreds of cans which never seem to shift. Anyone who thinks these would be returned for their 20p deposits is seriously deluded. To make sure, the vast majority have been crushed, rendering them valueless. For a fraction of the cost, why not restore funding to local councils so they could do their job properly?
Of course, there are deposit return schemes in other countries but nowhere have they been driven by the political motivation to do things differently and in a hurry, rather than by genuine concern for the environment. Unless there is behavioural change on a massive and yet unobserved scale, Scotland's litter problem will persist and damage will be done to businesses already struggling to cope with multiple pressures. The last person on earth to empathise with these realities is the cocksure, blame-shifting Ms Slater.
The Scottish Government is being offered an escape route through the partial exemption that would not, for the time being, include glass which is logistically far more problematic. This is not some wicked invention by the UK Government but is, for example, embraced in Ireland's DRS – due to launch next year and restricted to plastics, aluminium and steel in line with the EU directive. Wales wants to include glass but is committed to the same timescale as England.
In Denmark, which has been recycling drinks containers for decades, glass accounts for just seven per cent, compared to 58 per cent cans and 35 per cent plastic so the inclusion of glass from day one is a question of practicalities rather than high principle. Predictably, Ms Slater has failed to address the practicalities while shouting at the check-in desk about "the broken Union".
I'm told there is another contrived "constitutional outrage" coming down the tracks with plans for Scottish cattle passports to replace a system based in Cumbria. It will again be for the Scottish public to judge whether the right of Scottish cows to have Scottish passports is another sacred tenet of the devolution settlement – or, like gender self-ID and the DRS shambles, another fine mess disguised as constitutional offence.
Comments
 0 comments
Want to join the conversation? Please or to comment on this article.