Definition of a woman: Why feminist group For Women Scotland is asking Court of Session to intervene in row over gender recognition – Susan Dalgety
When does a much-admired global campaigner become a right-wing pariah, to be shunned by all? When she shows solidarity for a university friend who just happens to be a Tory, it seems.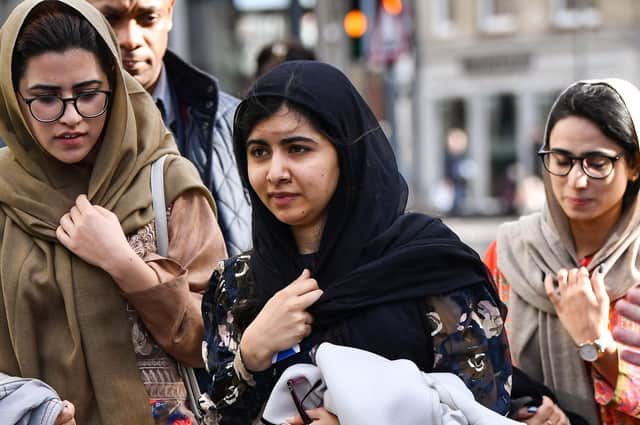 Malala Yousafzai was shot in the head by the Taliban when she was 15 for daring to stand up for a girl's right to an education. She survived and went on to become the youngest Nobel Peace Prize winner, good friends with Michelle Obama, and earlier this year she graduated from Oxford University with a degree in philosophy, politics and economics. She is still only 22 years old.
But her achievements were deemed worthless by the witchfinder generals who haunt social media, when it was revealed on Wednesday that she had expressed support for a friend who is standing for election to Oxford University's Conservative Association.
"Malala is a Tory," spat the cowards from the safety of their bedrooms. "She went to a private school, it was owned by her dad," screamed ultra-lefties, who know nothing about global education outside the confines of their own cosy campus.
And one left-leaning bloke, who describes himself as a "political commentator" and pines for Jeremy Corbyn, opined that he "always suspected she was a disingenuous careerist".
This absurd attempt to demonise a young woman, who has achieved more in seven years than most of us would in several lifetimes, would be laughable if it were not a symptom of a wider problem, the demonisation of women who dare to stand up for… women.
Ruled by a baying mob
One of Scotland's best known and much-loved performance poets, Jenny Lindsay, has had her career, and her life, almost destroyed by a whispering campaign on social media and online forums. Dubbed a "transphobe" for objecting to the violent tone of a transgender activist's tweets, she has been abandoned by literary friends and colleagues who are afraid to be associated with her, for fear of suffering the same medieval fate.
Her essay in the latest edition of The Dark Horse, a poetry magazine, is a searing indictment of Scotland's literary scene, where, it seems, a baying mob now rules.
Reading her essay prompted memories of the cruellest tactics employed by my playground bullies of 50-odd years ago, but this is not Lord of the Flies, this is modern Scotland.
"What happened to me, could easily happen to any of you if we allow lies to become the truth, and women to be policed by standards we would never demand of men," she writes, in one of the most depressing sentences I have read in recent years. Prescient too, because at the same time as the attack on Malala's reputation exploded on Twitter, an attempt to destroy a female MP's career got underway.
A modern witch-hunt
Rosie Duffield's "crime"? She "liked" a tweet that suggested "individuals with a cervix" should be described as "women". Two members of her staff team have resigned in protest at her "transphobia". There are calls for her resignation as chair of the Women's Parliamentary Labour Party and demands that Keir Starmer launches a formal investigation into her behaviour.
Duffield's detractors, who now include a branch of the GMB union, seem hellbent on destroying her. Speaking to The Times earlier this week, Duffield evoked images of a witch-hunt, "It very much feels as though the stake is built as soon as there is even the mere hint of any charges," she said. "A word like 'transphobe' gets spread around without any actual evidence and the fire is lit.''
Hyperbole? Not really. As feminist campaigner and policy analyst, Lisa Mackenzie, pointed out recently, when male Labour parliamentarians Peter Kyle, Pat McFadden and Philip Hunt showed their support for Rosie Duffield and JK Rowling, none were abused.
"I suppose what they have in common is...all their first names begin with 'P'. Yes, that must be it," declared Lisa.
Or perhaps their common feature is another word beginning with 'P'. Women in the public eye are scrutinised with far more relish than men, and even the most woke of young men indulge in a casual misogyny that would have shamed their fathers.
This backlash against women has its roots in identity politics and queer theory, aided and abetted by some politicians.
Judges grant judicial review
Only today, women's campaign group, For Women Scotland, won the right to question the Scottish Government's decision to re-define what it means to be a woman, when the Court of Session agreed to a judicial review of the Government's new rules designed to secure 50-50 gender balance on the boards of public bodies.
The guidance states that transwomen don't need a gender recognition certificate to prove they are female, they can simply assert they have met certain criteria, of which the appointing body does not require proof.
In the view of For Women Scotland and many other feminists, this represents "a wholesale redefinition of women", which is why they have sought clarity in the courts.
As we contemplate a winter imprisoned in our own homes for fear of catching Covid, looking on in trepidation as our economy collapses and our future narrows, a furore over the definition of a woman may seem self-indulgent.
But if it goes to the very heart of equality and a woman's place in society. For centuries, we were prisoners of our sex – denied the rights our fathers, brothers and sons took for granted, burned at the stake for daring to grow old, for speaking out, for being a woman.
Staying silent as our very being is under attack again is not an option, even as the fire is being lit.
A message from the Editor:
Thank you for reading this article on our website. While I have your attention, I also have an important request to make of you.
The dramatic events of 2020 are having a major impact on many of our advertisers – and consequently the revenue we receive. We are now more reliant than ever on you taking out a digital subscription to support our journalism.
Subscribe to scotsman.com and enjoy unlimited access to Scottish news and information online and on our app. Visit www.scotsman.com/subscriptions now to sign up.
By supporting us, we are able to support you in providing trusted, fact-checked content for this website.
Joy Yates
Editorial Director
Comments
 0 comments
Want to join the conversation? Please or to comment on this article.