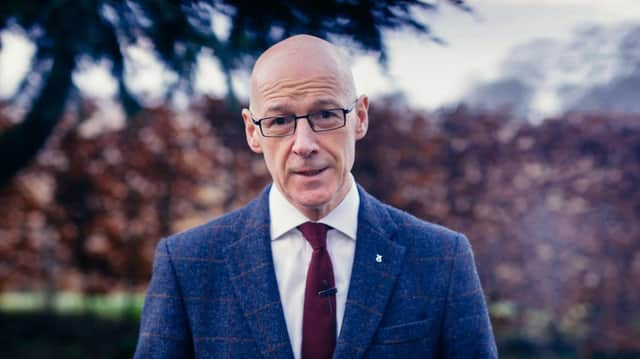 The picture painted was of a Cabinet football match in which the thuggish half-back line of Salmond, MacAskill and Mulholland brutally thwarted courageous striker Michael Russell and his able midfield general John Swinney from scoring the goal which would have won the Child Abuse Inquiry all the sooner. The reality was, of course, far different, as those who know which of the participants actually played football and who did not really at all.
Cabinet had been seeking to ensure justice for abuse victims following on from the Shaw Review in 2007 and the Kerelaw Inquiry in 2009. Work had been ongoing, with the Scottish Human Rights Commission preparing an action plan and a decision on a further inquiry was to be made by the end of 2014.
Given the nature, scale and indeed ongoing difficulties that had beset a similar inquiry south of the border, care was understandably being taken.
A proposal was brought to Cabinet by Michael Russell in autumn 2014. The Lord Advocate very wisely pointed out some deficiencies in it and issues that could arise as a result of it – an intervention made to enhance, not detract, from government policy. And something, as an aside, I should add that his successor would benefit from doing rather than stymieing core government policy whether on another referendum or open government.
That wise counsel was supported by Cabinet and the result was Mr Russell being directed by the then First Minister to improve the proposals but confirm the direction of travel towards an inquiry, which he duly did in a parliamentary statement on 11 November 2014. With the resignation of Alex Salmond that month and Cabinet changes, including both my own and Mr Russell's departure, the announcement of an inquiry was made the following month on 17 December by his successor Angela Constance.
The Scottish inquiry hasn't been without its difficulties, as the time that has passed since the commitment made in Parliament to hold one shows. It's also had own travails but the caution and advice of the then Lord Advocate no doubt helped minimise them. It's to be hoped that justice will soon prevail for all those who have suffered.
But those comments made recently by former colleagues were as flagrant a breach of the ministerial code as you'll see with Cabinet collective responsibility ignored. It also flouts the supposedly sacrosanct nature of law officers' advice, an idea which has seen two Holyrood votes to release information so far ignored.
It does seem strange, if not hypocritical, that advice of a former Lord Advocate can be subjectively released to the Child Abuse Inquiry without even a by your leave, yet the so-called Salmond inquiry in Holyrood, which is in fact into the actions of the Scottish government, has seen two parliamentary votes to release advice thus far rejected.
Addressing historic child abuse is a duty, not a political football.
A message from the Editor:
Thank you for reading this article. We're more reliant on your support than ever as the shift in consumer habits brought about by coronavirus impacts our advertisers.
If you haven't already, please consider supporting our trusted, fact-checked journalism by taking out a digital subscription.