Dear Equity, it's a critic's Line of Duty to comment on how an actor looks – Aidan Smith
Yesterday in this paper while reviewing Line of Duty I expressed the hope that the smash-hit drama's investigation into police corruption wouldn't spread to Spain. You see, I simply couldn't face the prospect of Ted Hastings in shorts, far less Crocs.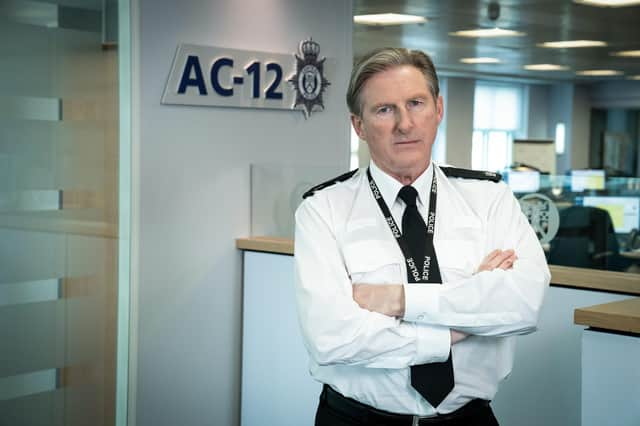 Now this was probably unfair on quite a few levels. Hastings, played by Adrian Dunbar, would doubtless have remained in uniform the entire time he was pursuing his bent polismen. And for all I know he may well possess the muscular legs of an Ulster hurling champion.
What was I doing? Attempting some humour. This seems necessary with a show like Line of Duty. Though a serious work it's also entertainment. It's gripping, unbelievably so at times, and often we're desperate for Hastings to throw in a funny quip as tension release, such as Sunday night's instant classic: "Jesus, Mary, Joseph and the wee donkey!"
Dunbar as Hastings is Supt Water-Cooler, the most talked-about man in Britain. He's tremendous fun to watch, and to write about. Those of us who do this want to describe him in the fullest detail. It's a competitive business so we may stray beyond what we know and speculate on his life beyond that glass-walled lair. What gloop he bungs in the microwave after a hard day's cop-busting, for example. Or the scrawniness of those legs.
But maybe Equity wouldn't approve. The actors' union is urging critics to refrain from commenting on actors' age, race, gender and appearance. The reviewers have hit back, calling the guidelines "positively Stalinist".
In the first instance they've gone out to theatre critics but presumably they would apply to TV and film as well. I get why age, race and gender may not always be relevant and worthy of mention. But surely the rules cannot be hard and fast.
Take age. When Woody Allen in his movies was repeatedly casting himself opposite ever-younger love interests, it was beholden on reviewers to comment on the gap in years. Allen may have acted the part of a sweet, self-deprecating guy and made sure he got all the funniest lines, but was, say, a woman played by Scarlett Johansson, 49 years his junior, really going to be smitten by him?
Then there's appearance. This simply has to be remarked upon. It would have been a dereliction of duty for critics not to have described John Cleese's appearance as Basil Fawlty. In theatre, not available to everyone like TV, there's an ever greater responsibility on reviewers to use the finest brushstrokes to paint a picture of what they're watching.
I've commented on Dunbar's appearance before. For instance, how uncomfortable he looked in his civvies that time he was suspended from duty, although I did confer on him the made-up title of Male Blouson Wearer of the Year. Regarding his swooping silver mane, I've speculated on whether he uses Harmony hairspray, the barnet solidifier par excellence, even if those 1970s ads for the product were unintentionally funny. Here, though, and the same when mentioning his eagle's beak of a nose, I was being wholly complimentary.
Having met the man I don't think he'd mind any of this. I reckon he'd balk at wokeness and po-facedness potentially curbing what critics can and can't write. Line of Duty may occasionally be Shakespearean but it is not Shakespeare. And anyway, surely the likes of Richard Burton performing the Bard would have demanded that the first-night notices made copious mention of the magnificence of his appearance.
I'm sure, too, that Dunbar would be appalled at the idea of Clive James never existing. The great Aussie wit rose to fame as a critic – of TV – who described appearance relentlessly, fearlessly and hilariously.
I interviewed James a few times. On the final occasion, en route to the Edinburgh Festival, he predicted that at least one of his obituaries would be headlined "Schwarzenegger man dies" because, never mind all the fine and lyrical phrase-making, he'd likened Arnie to a brown condom stuffed with walnuts. But did the Hollywood he-man explode into litigious rage at this? No, he didn't.
Perhaps Laurence Olivier was less keen on James suggesting that for a small-screen production of The Merchant of Venice the great, board-treading knight had modelled his – that word – appearance on Scrooge McDuck: "Whatever Olivier had done to his front teeth left his long top lip curving downwards in a fulsome volute… producing a ducky look to go with his quacky sound."
James, indeed, seemed to have a thing about gnashers, writing of Lynette Davies: "Her tremulous lower lip… under the stress of emotion droops to reveal a glistening row of tiny teeth."
No such problems for Cheryl Ladd, Farrah Fawcett-Majors' replacement in Charlie Angels, who possessed teeth as big and strong as those of her predecessor and so, the critic predicted, would become equally famous – because the show's male viewers "harbour an unspoken desire to be eaten alive".
For Linda Gray as Dallas' Sue Ellen, though, problems were "pralms". James wondered: "In how many directions could she move her mouth?"
Turning his beady eye to sports presenting, he insisted that Harry Carpenter didn't move his enough. Thus "Wimbledon" came out as "Wmbldn".
James' description of Carpenter's "little lemon smile" is a phrase I may have borrowed once or twice. Same with his likening of the teddy-boy quiff of Hi-de-Hi! star Paul Shane to "a duck taking off from an oil slick". Maybe the James estate won't be too happy about that. Maybe Equity would be appalled at James' rollicking, ribald reviewing appearing today. But an entire generation of journalists are still trying to write like him.
We see it as our Line of Duty.
A message from the Editor:
Thank you for reading this article. We're more reliant on your support than ever as the shift in consumer habits brought about by coronavirus impacts our advertisers. If you haven't already, please consider supporting our trusted, fact-checked journalism by taking out a digital subscription.
Comments
 0 comments
Want to join the conversation? Please or to comment on this article.