In art and literature, lighthouses are used symbolically to suggest hope and security – literally and figuratively a guiding light.
At 200 million years old, the Bass Rock is an iconic presence standing two kilometres from the shore and only accessible by boat. Its impregnability has meant that it has been used in the past to incarcerate prisoners and, although people have occasionally lived there, in recent times it has been home to 150,000 birds making it the world's largest colony of northern gannets. Until last year that is, when the outbreak of avian flu spread like wildfire drastically reducing their numbers.
The Bass Rock has inspired poems, music, paintings and books, most famously Robert Louis Stevenson's novel Catriona where, finding no English word to express his uneasiness, an imprisoned David Balfour says "it's an unco place, the Bass". For centuries painters have used it, the earliest known depiction being a Bruegel engraving dated 1560-65.
Paintings tend to reflect the artistic styles of their time. In A View of Tantallon Castle with the Bass Rock (1816) by Scottish artist Alexander Nasmyth, the castle is depicted high on the promontory with a stormy sea pounding the rocks below, a perfect example of the 19th century's Romantic Movement where writers and painters used natural imagery to communicate emotional and spiritual messages. Turner also painted it.
Throughout the 20th century, the Bass Rock featured in the work of many well-known artists including William MacTaggart and William Gillies. More recently, for the East Lothian-born John Bellany, it became part of the personal mythology and symbology which informs his work. John Houston painted it often, sometimes using strong colours in an Expressionistic way to communicate his vision.
While visiting North Berwick over recent years, I noticed that the Bass Rock looked white and assumed that this was guano from the birds living there. However in May 2021, I went on a boat trip and as we drew near I realised that the white colour came from the birds themselves. They were packed together on their ledges and every space was filled.
Tragically, highly pathogenic avian influenza (HPAI) arrived last year to catastrophic effect. On my 2021 trip, hundreds of birds watched us from their nests, or wings outstretched, hung like motionless white crosses over the Rock itself. The noise and tumult was deafening.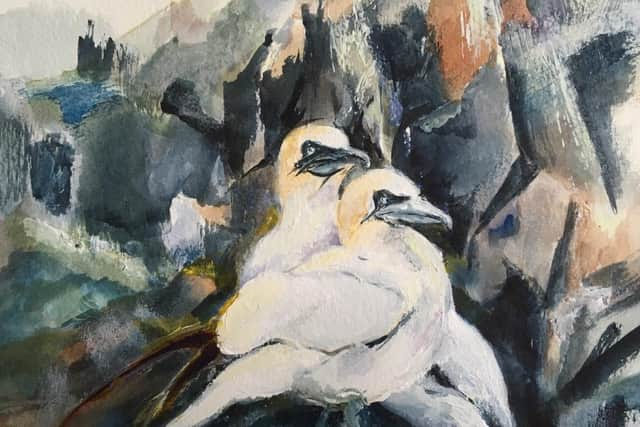 In a recent article in Oceanographic magazine, the Scottish Seabird Centre's conservation officer Emily Burton spoke about the grief she experienced during a visit in June last year: "More than 5,000 dead gannets were counted… Empty gaps appeared where hundreds of gannets once jostled for space… Dead birds scattered the rocks, draped over rocks in awkward positions everywhere we looked."
I wondered about the attendant silence which must have been a haunting accompaniment to a harrowing visit. If art has many functions, one of them being to train a spotlight on what is currently happening, I like to think another is to carry a message of hope, rather like the lighthouse which sends its guiding light out over the dark sea.
Annie Broadley is a Scottish artist. See her painting, Bass Rock Gannets, at www.scotsman.com